Reading Time:
3
minutes
Pablo Picasso once said: "Every child is an artist. The problem is how to remain an artist once we grow up."
When artist Yoge Biju was growing up in the coastal town of Thoothukudi in Tamil Nadu, the world was her canvas.
"I chose pencil, paper and paints over TV and soft toys when I was as little as four," she remembers. "Of course the Picasso in me resulted in a lot of scribbles and paints on the walls and doors of my house. But my parents and older sister nurtured my drawing skills and were understanding of how I express my view of the world."
From that scribbling child artist to now an expert mural painter in Australia, artist Yoge Biju has come a long way. Early this year, a temporary artwork made by Yoge was installed in Halpin Way behind Little India in Dandenong. Titled The Village, the saffron-infused mural reflects Yoge's Indian cultural heritage and knowledge of folkloric art. It features different elements of a village life in her home country.
"The artwork was painted using rich pigments, wet markers and spray paint, ensuring it will remain in place for two years," Yoge tells Indian Link.
Yoge Biju: Ode to Kerala 
Yoge moved to Melbourne in 2005 to pursue Architecture and Urban Design at the University. "As a creative child, I dreamt of designing big cities and buildings," she smiles.
While Yoge did not take any formal training in drawing and painting, she was exposed to colour theories only when she joined architecture school.
After she met her husband Biju, her curiosity for traditional Kerala mural paintings piqued. "This art form stands as the highest in India's artistic tradition, dating back to the 9th century."
After undertaking formal training on Kerala murals, it has now become Yoge's signature art style, showing in a lot of her works.
Interestingly, The Village is her second artwork in the Little India Precinct. Before that, she produced the thoonu (pillar) public art.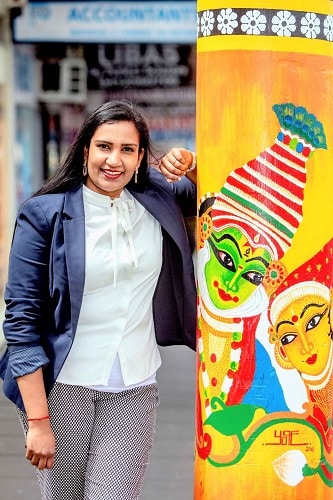 "Columns/pillars are a vital element in the architecture and aesthetic design of Indian monuments and structures. Pillars are perceived as a cultural identity and are an integrated part to the art and architecture of different regions of India," she talks of the artwork. "I created Kerala mural paintings on these pillars."
The mural painting art of Kerala is known for its technical excellence, depicting enchanting narratives through clear and bold strokes by using bright and beautiful colours.
"To experience the aesthetic side of mural painting of Kerala, one needs to comprehend the coherent relationship it shares with the architecture of the building."
Yoge, art guru
Today, Yoge is a frequent exhibitor and is on the executive committee of the Indian Australian Artists Inc. Reflecting back on her artistic journey, she says, "A decade ago, when I started exhibiting my work, there were not many venues and awareness about Indian traditional art in Victoria. In recent years, there has been more uptake and appreciation for multicultural arts. I hope that my work will enable sharing of my knowledge and skills in Indian folk art with partners across the arts and cultural sector."
So far, Yoge has exhibited in over 25 art shows (both solo and group) across Melbourne. She has also delivered large-scale street murals.
One of the most recent works include an art exhibition titled Moments of Stillness, in which Yoge examined visual art as a response to our life in the pandemic-induced lockdown.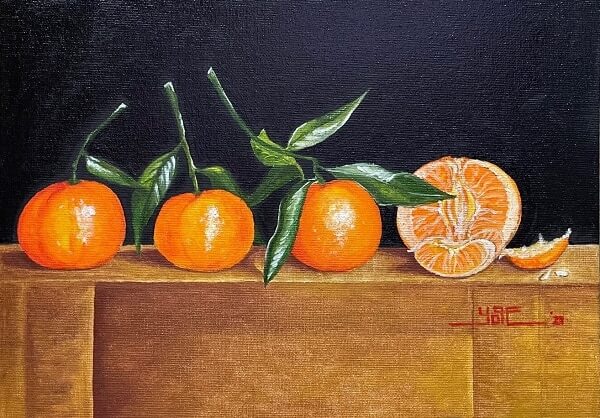 "The exhibition was an expression of my personal learnings, that in a tumultuous world, be grateful for small things, big things, and everything in between. The still life artworks discover the beauty of fruits and vegetables that we encounter on an everyday basis, and the vibrant colour palette emotes 'colour joy'! It hopefully adds much-needed colour into the lives of people and serves as a reminder to all that a brighter day lies ahead."
Next up for artist Yoge Biju is a solo art exhibition later this year. "I am also commencing art workshops for adults and children in the South East suburbs."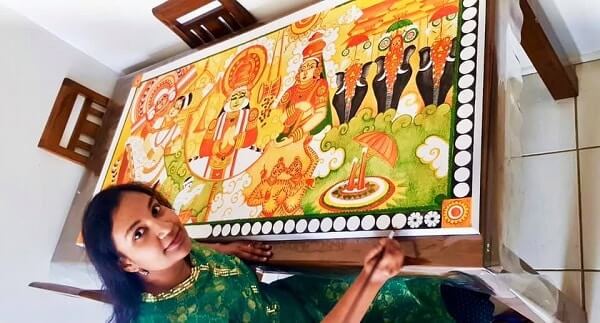 READ ALSO: Artist Kirtika Kain: Finding connect with the Dalit community