Urban Tadka wins Best Indian Restaurant award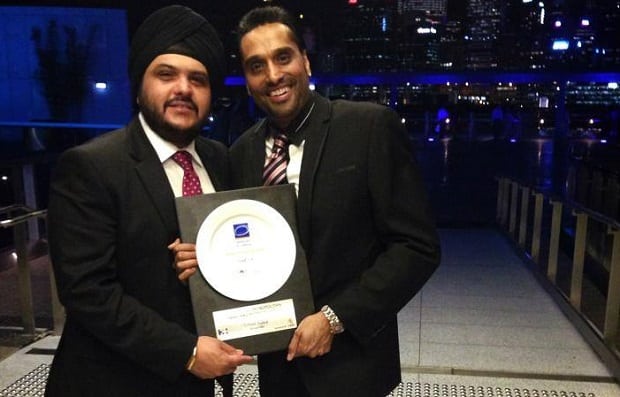 Urban Tadka Restaurant in Terrey Hills was announced earlier this month as Sydney's Best Indian Restaurant in the SMH Good Food Guide 2014.
Only two years and three months old, it took the fancy of the local Indian community almost from inception. Now it is just as popular with the wider mainstream.
Set up by long-time restaurateurs Mandeep Rana and Dimpy Singh, Urban Tadka, nestled in an acreage in leafy Terrey Hills, is modelled along the farmhouse-restaurants of Delhi. The food itself, authentic in style and classy in its presentation, reflects the trends in high-end restaurants in contemporary Mumbai.
It's hard to believe that not so long ago an abandoned farmhouse stood in its place, over-run with weeds, snake holes and spider webs. It was painstakingly refashioned into a swanky restaurant, with a cosy but modern lounge and bar area, an open kitchen, a dance floor and beautifully landscaped lawns.
Urban Tadka, or 'UT' as the trendy set are now calling it, has also gone on to become one of the community's most sought-after function venues.
The 250-person capacity, the dance floor and DJ facilities, the ample parking and specially erected marquees in the sprawling grounds outside, are particular drawcards.
"We took great pains to set it all up," Dimpy tells Indian Link.
His partner Mandeep chimes in, "Now we take great care with our service. Regular guests come in and say, 'Can we leave things up to you?' We know whether they want a tapas-style meal, or the whole deal!"
On the awards night held at Star Casino, the Tadka boys felt quite humble to be amongst some of the finest Indian restaurants in this city, and apparently, were somewhat sceptical of their chances.
"But you know, an unbelievable thing happened just as our category was announced," Dimpy reveals. "I felt a strange urge to push back my chair and start walking up to the stage. 'Get ready, buddy!', I whispered to Mandeep, and saw that same look on his face as he said 'Yes'. Within seconds, they announced our name as winners!"
"Our efforts have all paid off," Mandeep agrees. "And to be recognised like this, is surely a top-of-the-world feeling. Even to be listed as finalists, was immensely satisfying. We thank all our loyal patrons who have made this achievement worth more than we could have ever asked for. A very special thanks to our superb team of chefs, bartenders, wait-staff and kitchen hands, who have all contributed equally in our success," he adds.
Dimpy concludes, "We had a vision – to be the most promising Indian restaurant in town – and we've proved ourselves, by the grace of God, the blessings of our parents, and the support of our families."
And yet, that unmistakable Punjabi self-assurance is never far behind. "This is just the beginning," both say with stars in their eyes.
The national awards are up next, and the Tadka boys, finalists there as well, are keeping their fingers crossed. We wish them all the very best.
Must-try dishes
Dastan-e-Chaman
Murgh 65
Lakhnavi Seekh Hazarvi
Kheema Baingan
Pork Lababdar
Jhinga Malabari
Methi Lachcha Paratha
Kashmiri Naan