In her maiden visit to India, NSW Premier Gladys Berejiklian met with key players from various industries to cement vital partnerships. Her trip has set in motion a slew of new possibilities to strengthen the relationship between India and NSW. Here are some highlights.
Health: Australian tech to tackle diabetes in rural India
In an important move that will hopefully help people in rural India combat diabetes, Berejiklian on Day 3 of her visit officially launched the 'IMPACT Diabetes' program for The George Institute for Global Health in New Delhi.
Part of The George Institute's 'SMARThealth' program, IMPACT Diabetes will train female community health workers in the use of a smartphone app that provides wireless point-of-care diagnostics for the management of patients with, or at high-risk of, diabetes and associated health problems.
"In rural India alone, more than 25 million people have diabetes and the number is rising rapidly," Berejiklian said. "Providing access to affordable, evidence-based and quality-controlled healthcare is a real game changer for these communities and I am so pleased to see our technology helping save lives across the world."
"This is a NSW-India partnership that is going global and benefitting people who would otherwise miss out on the kind of lifesaving healthcare that we in NSW take for granted," Berejiklian added.
Start-Ups: $1.6mn partnership to boost NSW start-ups
India has in the past few years witnessed an exponential rise in start-ups across industries. So the NSW Premier's announcement of a collaboration between the State and India's talent and knowledge seemed like a natural step ahead.
Berejiklian, who visited Mumbai on Tuesday, announced a two-year $1.58 million partnership to enhance the State's start-up, technology and advanced manufacturing sectors. She made the announcement at accelerator Zone Startups and said it will allow NSW entrepreneurs and technology businesses access to new markets, talent and knowledge.
The funds will be used to send NSW young entrepreneurs and start-ups to India to learn from the country's best and brightest, to support commercial connections between start-ups in NSW and India and on fostering collaboration on advanced technology projects.
"NSW is Australia's start-up and technology capital and this partnership will ensure our industries grow alongside one of the world's most dynamic technology markets," Berejiklian said.
"Our state is home to 44 per cent of the nation's start-up founders and 40 per cent of the Information and Communications Technologies (ICT) industry. This important partnership will allow us to learn from India's best and brightest so that we can create the smart jobs of the future. It will also provide NSW businesses with incredible access to some of the best entrepreneurs and technology experts in the world."
Sport: Kickstarting AFL in India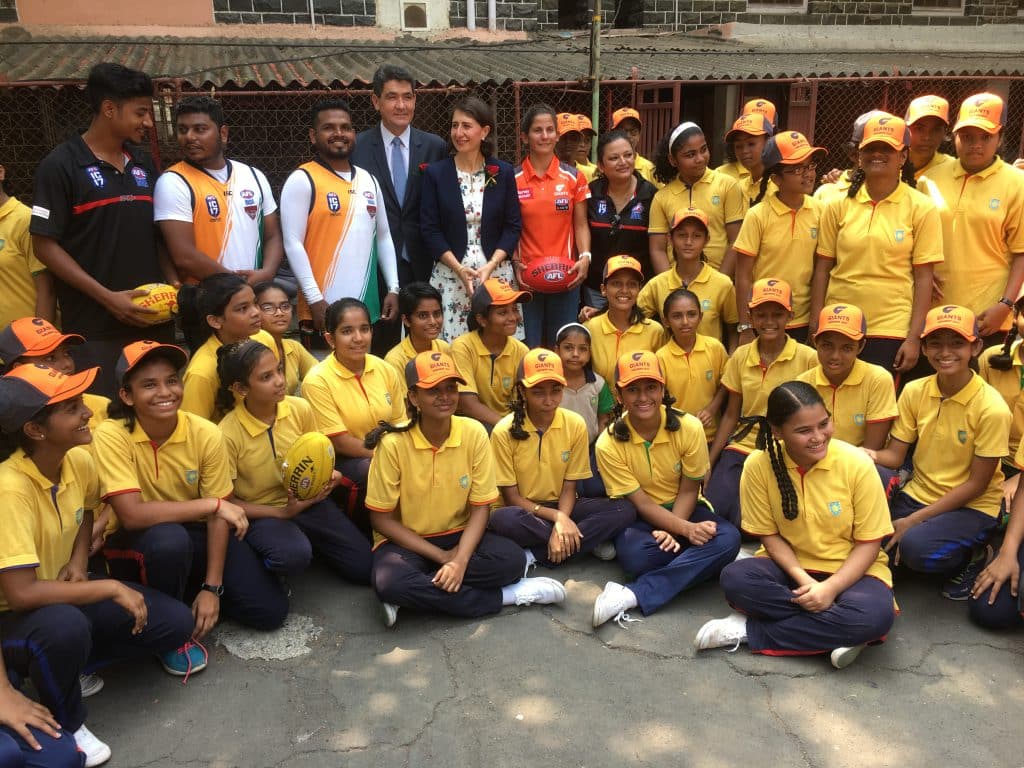 Berejiklian and Greater Western Sydney Giants footballer Jess Dal Pos also visited St Columba Girls High School in Mumbai where female school students are now learning to play Aussie Rules. The Premier said Australia's homegrown game has increased its footprint into yet another nation, paving the way for a potential AFL match to be played in India. "It's fantastic to see GWS and the AFL make such an impact at a girls' school here in India," Berejiklian said.
"This is an incredible milestone and one that may lead to a professional game of AFL being played here in the future with the GWS Giants."
GWS Giants footballer Jess Dal Pos said it was amazing to see the female high school students embrace AFL at a time when AFL Women's is taking off in Australia. "AFL is a fast-paced team sport that requires dedication, training and a lot of team work so I'm thrilled these young girls in India have the chance to play," said Dal Pos.
"I hope it inspires them to see that women can compete at the highest levels both on and off the field – and maybe come to Sydney to watch an AFLW match one day."
One of the first female schools to offer Aussie Rules, St Columba Girls High School is the oldest girls' school in Mumbai and has produced many high achieving women, including India's first female pilot.
The keen interest shown by students in recent introductory sessions has prompted plans to build up an inter-school women's footy tournament in the future and to explore opportunities to field an Indian women's team in the 2020 AFL International Cup.
Cinema: Engaging Indian talent in Australian film academy
When it comes to India, entertainment isn't far behind. To that end, Berejiklian announced the launch of Asia International Engagement Program.
NSW has renewed the rights to host the annual AACTA Awards (Australia's equivalent of the Oscars) for another two years to 2020. Berejiklian also encouraged the Indian film and TV industries to film their productions in Australia.
"The AACTA Awards play a leading role in reinforcing NSW's position as the creative industries capital of Australia, attracting major names like Nicole Kidman, Cate Blanchett and Mel Gibson to help shine a global spotlight on our local screen industry," Berejiklian said.
"Initiatives such as AACTA's Asia International Engagement Program attract additional investment into NSW and celebrate excellence in Asian cinema."
Berejiklian presented the 2017 AACTA Award for Best Lead Actor to budding Indian film star Sunny Pawar, whose debut performance in the Oscar-nominated Lion earned widespread critical acclaim and made him the youngest ever recipient of the prestigious acting prize.
The launch event was attended by some of India and Australia's most influential screen professionals such as Indian actress and 2017 Best Asian Film Grand Jury member Shabana Azmi; National Film Award-winning actress Tannishtha Chatterjee; Filmfare Award-winning actresses Supriya Pathak and Salma Agha; National Film Award-winning director Onir; and Australian Consul General in Mumbai, Tony Huber.
"NSW has a proud history of working with Indian film productions – since 2008 more than 10 Indian productions have filmed in NSW, generating estimated direct production expenditure of more than $14 million," Berejiklian said.
"Upcoming projects like One Less God and The Run will no doubt be hoping to follow in the footsteps of the enormously successful Australia-India production Lion."
In its inaugural year, the Program introduced the AACTA Award for Best Asian Film which was presented to record-breaking Indian box office hit Dangal at the 7th AACTA Awards presented by Foxtel.
Among the Indian films in competition for this year's AACTA Award for Best Asian Film are: Padmaavat, Golmaal Again and Tiger Zinda Hai, three of the top five highest grossing Indian films in Australia from the past 12 months; Indian Oscar entry for Best Foreign Language Film Newton; ground-breaking biopic Padman; Raj Kumar Hirani's film on Sanjay Dutt; and critically-acclaimed drama Hickhi.
The 2018 AACTA Award for Best Asian Film will be presented at the 8th AACTA Awards presented by Foxtel, to be held on Wednesday 5 December 2018 in Sydney and telecast on Channel 7 for the fourth consecutive year, with encore screenings on Foxtel.
Upcoming collaborations between Australia and India include: Australian-American thriller Hotel Mumbai, which was filmed in Australia and India; Australian and Indian-supported documentary The Run, based on Pat Farmer's 'Spirit of India' run; and Sydney-based thriller Honour, which is the first Australian film to be completely funded by Indian private investment.
Besides Indian film stars like Shabana Azmi and Tannishtha Chatterjee, the Premier met cricket superstar Sachin Tendulkar who she described as "legendary, but incredibly humble".
In Delhi, Berejiklian visited the Gurudwara Bangla Sahib, one of the most prominent Sikh houses of worship in New Delhi, and enjoyed a meal at the Indian Accent restaurant, the only Indian restaurant to be included in the World's 50 Best Restaurants list in 2017.