The music maestro performed par excellence at his recently held concert in Melbourne, writes PREETI JABBAL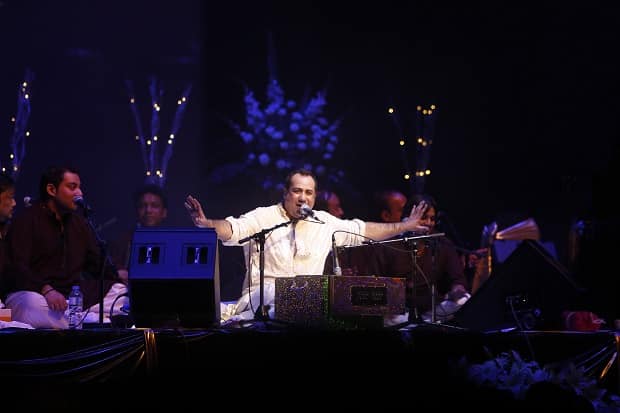 Mind-blowing, fabulous, mesmerizing, soul stirring, sizzling – the adjectives were flowing fast on Facebook and for once, everyone seemed to agree that the Rahat Fateh Ali Khan show held in Melbourne recently, was worth every dollar spent. As an ardent fan of Rahat claimed on her status, "I have been to all the RFAK's concerts in Melbourne and this Rahat Reloaded show was by far the best!" The credit goes to the organisers Sizzlin Events, for not cutting corners with the choice of venue, backdrop or sound.
The recently redeveloped Hamer Hall at the Arts Centre in Melbourne was a fitting location for a power-packed performance from the King of Sufi music, while the backdrop of blossoming flowers and myriad light effects added to the overall experience. The turnout was impressive for a Sunday evening, as the talented singer from Pakistan took soulful music beyond borders, following the tradition of his uncle late Ustad Nusrat Fateh Ali.
Popular Pakistani actress and PTV personality Ayesha Sana ushered the maestro and his troupe on to the stage to the delight of the audience who was getting impatient with the delay. A slickly edited audio-visual clip offered a glimpse of RFAK's musical journey from the early age of three along with snippets of his multiple concerts around the globe.
Once his accompanists, clad in brown and white traditional outfits, settled in behind him, the iconic singer launched straight into a devotional qawwali, Allah Hu. This was followed in rapid succession by many of his popular Bollywood songs including Surilli Ankhiyon wale (Veer), Sajdaa (My Name is Khan), Tere Naina Dagabaaz (Dabangg 2), O Re Piya (Aaja Nachle), Tere mast mast do nain (Dabangg 1) and Dam Mastqalandar.
The pace did not drop at any stage nor did the power of his vocal mastery, as the singer belted song after song with no preliminaries. His interaction with the audience was mainly through his music, lyrics and song. RFAK's accompanists, many of whom had also performed with Ustad Nusrat Fateh Ali Khan, supported him with equal fervour helping him to carry the legacy and tradition of a great musical family.
The evening held its magic right up to the last few songs where RFAK launched into full serenade mode with Teri Ore from Singh is King. This particular song could have been toned down to retain the essence of romance, but ended up sounding like a softer qawwali or at best a raspy ghazal. Try as I did, even with my eyes closed, I failed to be transported to the gondolas of Venice skimming smoothly through the river and being serenaded by the gondolier, albeit in Hindi/Urdu. The recorded version proved far more melodic than the live rendition.
The concert went on till later than expected, but no-one seemed to be overly concerned. Towards the end of the show a raffle was drawn, giving the winner a trip to Agra in India, and all the sponsors were dutifully acknowledged. They included Bank Of Queensland Clayton, Landmark Investments, Aria Hotels, Metropol, KBros and Divine Vibes. The Rahat Reloaded 2013 concert proved to be an entertaining event organised with style and substance