Celebrating Ganesh Chaturthi publicly brought back the flavour of similar celebrations in Mumbai or Pune, reports GAURI GAONKAR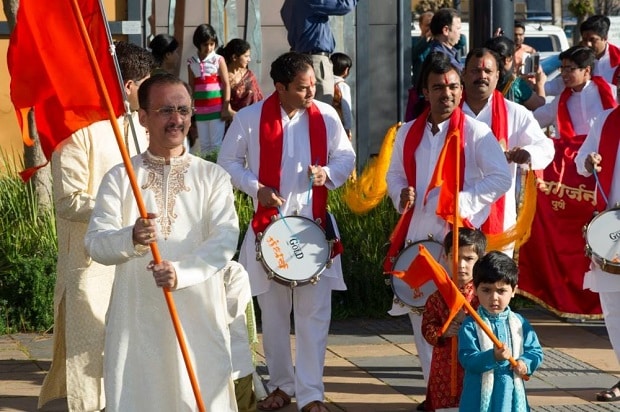 The Adelaide Sarvajanik Ganeshotsav 2013 was celebrated on a grand scale on September 14 and 15 at the Goodwood Community Centre. This public celebration of Ganesh Chaturthi was first begun in Adelaide in 2012, on a small scale by a few enthusiastic Maharashtrian families. Their vision was to celebrate Ganeshotsav in the same way that it is celebrated back home in cities like Mumbai and Pune. Their aim was to make this festival truly sarvajanik (public) by incorporating the various regional Indian communities as well as the Australian public. Children would also be given a platform to participate in the cultural programme to showcase their talents.
Among the extravagant two-day festival program were events like Ganesh sthapana with dhol tasha troupe 'Shivagarjana Adelaide', Ganpati puja, cultural performances to encourage local talent, maha-aarti, Atharvashirsha avartan program and Prasad. It was an enthusiastic way to celebrate the arrival of our beloved Ganpati bappa!
Festivities on the first day began with pratisthapana or installation of the Ganpati idol, that was brought into the venue with a grand procession accompanied by traditional instruments like the dhol, tasha and lejhim. With participants decked in traditional attire such as 'nauvari' and 'phetas', dancing with fervour to the beats of the dhol and tasha, it was hard to believe one was not in Pune!
After a colourful and lively Ganesh sthapana, the Ganpati puja was performed.  In keeping with custom, colourfully decorated pavilions are erected specifically for the Ganpati idol, and are adorned with flower garlands, lights or theme-based decorations depicting religious scenes or current events. This year's theme, skilfully created by one of Adelaide Sarvajanik Ganeshotsav committee members, depicted the great Maratha king Shivaji Maharaj, his spiritual master Shree Ramdas Swami Samarth and his mavlas or soldiers.
Aside from religious activities, a cultural programme was conducted on both days of the event. The aim of the cultural programme was to be inclusive of the various regional Indian communities, but at the same time, keep the flavour of the event quintessentially Maharashtrian. This was certainly achieved! The first day saw everything from bhangra, children's dances and recitations, to typically Maharashtrian presentations like Nandi, Powada, to an elaborate audio visual presentation on the great king Shivaji Maharaj, Jogwa and Mangalagaur. The cultural programme on the second day began with a Stuti and Pushpanjali dance dedicated to Lord Ganesha, with energetic performances such as garba, kirtan, Marathi mimicry, classical fusion dance and a Hindi medley.. The grand finale of the evening was a lively group performance to a popular Marathi song on Ganpati titled, 'Deva tujhya daari alo', which was enhanced by music played by the local dhol tasha troupe.
It was a wonderful two days when raised voices proclaimed 'Ganpati Bappa Moriya!' often and with great fervour. It will be a bigger and better celebration next year, and we will all be looking forward to it, I'm sure!
Sarvajanik Ganeshotsav is the public celebration of Ganesh Chaturthi.  Bal Gangadhar Tilak, a freedom fighter, founded the publicly celebrated Ganeshotsav Festival in 1893 as a means of promoting the dream of Indian independence and home-rule (swaraj). The aim behind celebrating the festival in this way was to unite people from diverse groups, and by doing so, enhance their sense of social belonging. Through the medium of this festival, Tilak brought together all classes of the society against British rule and revived their patriotic spirit.  Ganeshotsav is an integral part of Maharashtrian culture and the most awaited festival in this part of India.
Photos courtesy: Stephen Watts Photography