Reading Time:
3
minutes
The Indian community have rallied together to support the families of Pratibha Sharma, Jatin Chugh and the Bhatias – the victims of the Daylesford pub crash on Sunday 5 November.
Raising money for the Sharma-Chugh family
A GoFundMe page has been set up by the family friends of Sikh community volunteer Pratibha Sharma, her husband Jatin Chugh, and their daughter Anvi, all of whom lost their lives in the accident.
Sharma and Chugh are survived by their elderly parents and Chugh's brother Vikas Sharma. The fundraiser has so far raised more than $30,000 towards alleviating their expenses, which includes transporting Chugh's parents from India to Australia for the last rites.
"It's a moral support and a financial support which is going to sail them through for the next few months," Sudhir Juneja, a family friend and fundraiser organiser told Indian Link.
"We need to support [their families] till the time other things fall in place, because not even a single breadwinner is there."
Ashish Goswami, another fundraiser organiser, also keenly feels the loss of his close family friends.
"I am still in shock…I just saw [Pratibha] last Thursday, she organised mehndi for Karva Chauth," he remembers. "Their place was always a party place; she was a very lively and joyous person, and always bringing a smile to the face. When a person like that disappears in a few seconds, mentally it's unacceptable."
Prabitha Sharma was an active community member, running for State Parliament in 2018 and volunteering with Australian Sikh Support to provide food aid during the pandemic.
Goswami and Juneja hope the Indian community remember Sharma, Chugh and their daughter as an energetic, warm family.
"They were a very good example of a loving family," Goswami says. "Jatin was an amazing father; even when he was with us, serving guests, in the back of his mind, [he would think of] what Anvi is doing. Pratibha was a religious person, and during COVID she helped the community; it takes a lot of energy to leave your work and help other people."
"It's very unfortunate, and [they'll] stay in our hearts and memories for many years."
Raising money for the Bhatia family
Another GoFundMe page has raised more than $130,000 for the Bhatia family, who were also torn apart by the Daylesford pub crash just days before Diwali.
Vivek Bhatia and his 11-year-old son Vihaan both passed away at the scene, and his wife Ruchi and their younger son Abeer were hospitalised. Abeer is currently in a stable condition at the Royal Children's Hospital, while Ruchi is recovering after a roughly 5-hour-long operation at the Royal Melbourne Hospital.
Fundraiser organiser and Tarneit local Preet Singh says the Bhatias were a young family who had recently bought a house and acquired their Permanent Residency.
"We just want to raise as much funds as we possibly can," he says. "By no means is it going to help with recovering the tragic loss of life of [Ruchi's] husband and son, but [it will] at least [help] a little bit of the financial burden."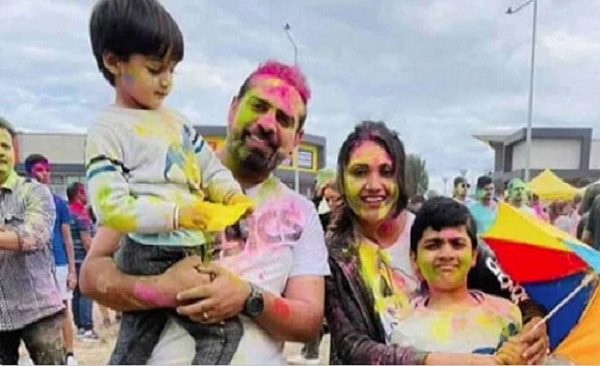 He says the community have rallied strongly to provide all kinds of assistance to Ruchi and Abeer.
"The response from the community has been tremendous. We started off with only $50,000, then increased it to $80,000, but still people are showing generosity."
One of the donors, Grace Anderson, was a responder on the scene.
"I was with Ruchi on the scene in Daylesford. She was so strong and brave – staying conscious and was so much more concerned for her children and her husband than herself – I was so amazed by her selfless spirit. My family and I are sending all our love and hope to her and her son," she wrote on the fundraiser.
Both families affected by the Daylesford pub crash were residents of Wyndham, and last night, Wyndham Council held a vigil at Point Cook's Saltwater Reserve for the community to remember the lives lost.
Singh says the area's 50,000-strong Indian population are still processing Sunday's events.
"Most people are still in a state of shock," he says. "Diwali is coming up, but there's no enthusiasm."
READ ALSO: Community rallies to support the family of Manpreet Deol