Reading Time:
4
minutes
It's often said pictures speak louder than words – artist Priyanka Jain knows this all too well, completing a practice-based PhD at RMIT University on Indian picture recitation storytelling traditions.
Her PhD performance Why Runs the Abhisarika combines traditional dance, characters, and themes with modern set design and scientific investigation to boldly imagine the world of a Sanskrit heroine.
Central to the performance is the use of poetic language and pictorial cloth and sign pieces which Jain has illustrated, all derived from various dying forms of picture recitation once practiced on the Indian subcontinent.
"I'm trying to bridge old and new knowledge," says Priyanka Jain. "We don't find picture recitation interesting now because most stories [in this form] are known to us. I'm interested in how we use these old forms to tell stories of our times."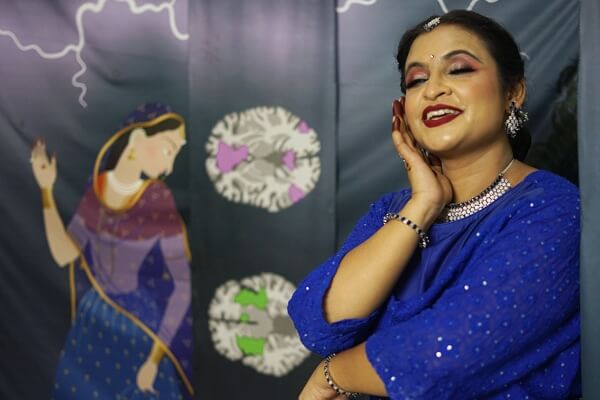 Out of the picture
We've all heard of the travelling bard singing songs to celebrate monarchs and great warriors in Celtic culture; lesser known however, are India's own bards, picture recitation storytellers.
Combining painted scrolls with songs and poetry, 'picture recitation' is an umbrella term for numerous interactive performance styles recounting epics or the stories of deities.
From the Pattachitra paintings of Odisha and West Bengal to Telangana's Cheriyal paintings and Rajasthan's Phad paintings, visual art and performance have been blended to tell stories in India for millennia. There's evidence of picture recitation practice in 2nd century India, with spies for Chandragupta Maurya travelling from village to village to collect information.
With the spread of Buddhism, these storytelling styles travelled as far as China and Indonesia. But now, after colonisation, they are almost extinct.
"A number of these traditions were tagged as folk arts, causing them to be marginalised and neglected," Priyanka Jain explains. "The Europeans took the props and hoarded them in museums, but didn't take the performers along, which has caused this separation between the objects and the performance."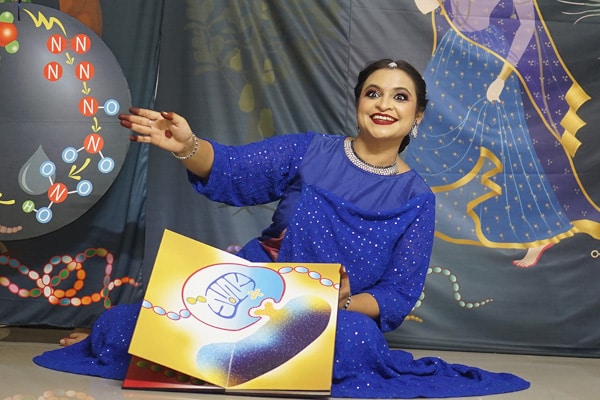 "When the Europeans set up art colleges in India, they didn't include these traditional storytelling forms in the curriculum. The syllabus still hasn't been decolonised in a way. There's no scope of learning these practices and that's why it's only practiced by small families in villages.
Where Indonesia's Wayang picture recitation style is UNESCO preserved, Jain says there is no such acknowledgement for any Indian picture recitation, and it has thus been largely left in the past.
"There's a lack of awareness [for Indian picture recitation]. Other countries are thinking about contemporising their styles; in Indonesia you have shadow puppetry about Batman or Star Wars. Their traditions keep up with the times," Jain says.
The lack of recognition for picture recitation and practice-based PhDs in India prompted her to study in Melbourne, where the groundwork for Why Runs the Abhisarika was laid.
Why runs the Abhisarika?
Why Runs the Abhisarika follows one of eight stock heroines representing the phases of love as depicted in the Natya Shastra, Bharata's centuries old Sanskrit treatise on the arts. Where the other seven heroines wait for their lovers, Abhisarika, the eighth heroine, ignores social convention and pursues her lover, negotiating storms, forests, and snakes as she hurries to her destination.
Just as in ancient picture recitation performances, audience participation is central to the show.
"I think of it as a multi-perspective show," says Priyanka Jain. "I speak on behalf of the different motifs, like lightning, trees, snakes, the ghungroo that have fallen off the Abhisarika's leg, who are all trying to answer why she is running. The audience can choose to hear from any of the motifs, they decide the structure – no two performances are alike."
Jain's performance investigates the reasoning behind the Abhisarika's bold actions through neuroscience, bringing a modern lens to concepts laid out in the centuries old Natya Shastra.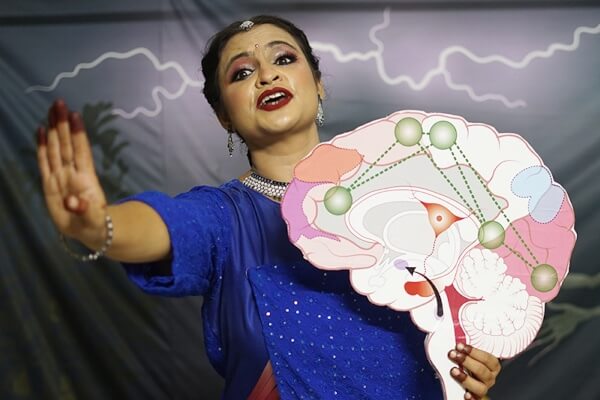 "We hear a lot about dopamine these days, but it's generally negative and connected to addiction. I've tried to understand how dopamine is working in various parts of her body – she's on a mission," she says.
"I'm not from a science background, but I've read a lot of articles, so these concepts have come to me in simplified language, and I convey the information through metaphors, poetry, images."
Aside from the science, Jain feels the Abhisarika character resonates with modern day feminist sensibilities and has a lot to offer today's audiences.
"For me, it's about how old knowledge and new knowledge are interconnected," she says. "Even 2000 years ago, scholars in India knew there'd always be someone wanting to do things differently, and we can see this even now when we talk about entrepreneurs and proactivity."
"We're seeing new interpretations of Ramayana and Mahabharata, which have male protagonists, but are now being reread as though the females were pulling the strings all along. Anybody can be an Abhisarika; there's always been people who think outside the box."
First shown in Calcutta, Jain looks forward to getting a local reception for the show at Melbourne and Sydney's Fringe festivals.
"It's equally comprehensible for people from completely different cultural contexts; we all fall in love, we are all passionate about something, and that's how I'm able to communicate to a broader multicultural audience," she explains.
Why Runs the Abhisarika by Priyanka Jain is showing at Sydney Fringe Festival from September 19 – 23, and Melbourne Fringe Festival on October 7 and 14. 
READ ALSO: Through Our Lens: South Asian writers bring migrant stories on stage