Reading Time:
3
minutes
"This is a remarkable initiative by Adakar theatre group as South Asian writers are now sharing narratives about South Asians residing in Australia, while South Asian directors and actors bring these stories to life on stage, providing an exceptionally authentic portrayal of their experiences," says Vivek Asri, writer of the play 'Packing' to be staged at the Riverside Theater in Parramatta on 7th and 8th July.
In a groundbreaking initiative, the Riverside Theatre in Parramatta is set to host the theatrical event "Through Our Lens" this July, showcasing the original works of South Asian-Australian playwrights. Presented by Adakar Theatre and Cultural Group, the festival aims to bring to light the unique and untold stories of immigrant communities through the lenses of local writers, directors, and actors.
The plays featured in the festival, "Packing" and "Mangalsutra," have been specially created by emerging South Asian-Australian playwrights under the artistic direction of the esteemed theatre personality Saba Zaidi Abdi. These original productions delve deep into the lived experiences, challenges, and triumphs of South Asians navigating life in contemporary Australia, where diverse cultures, races, and religions intersect.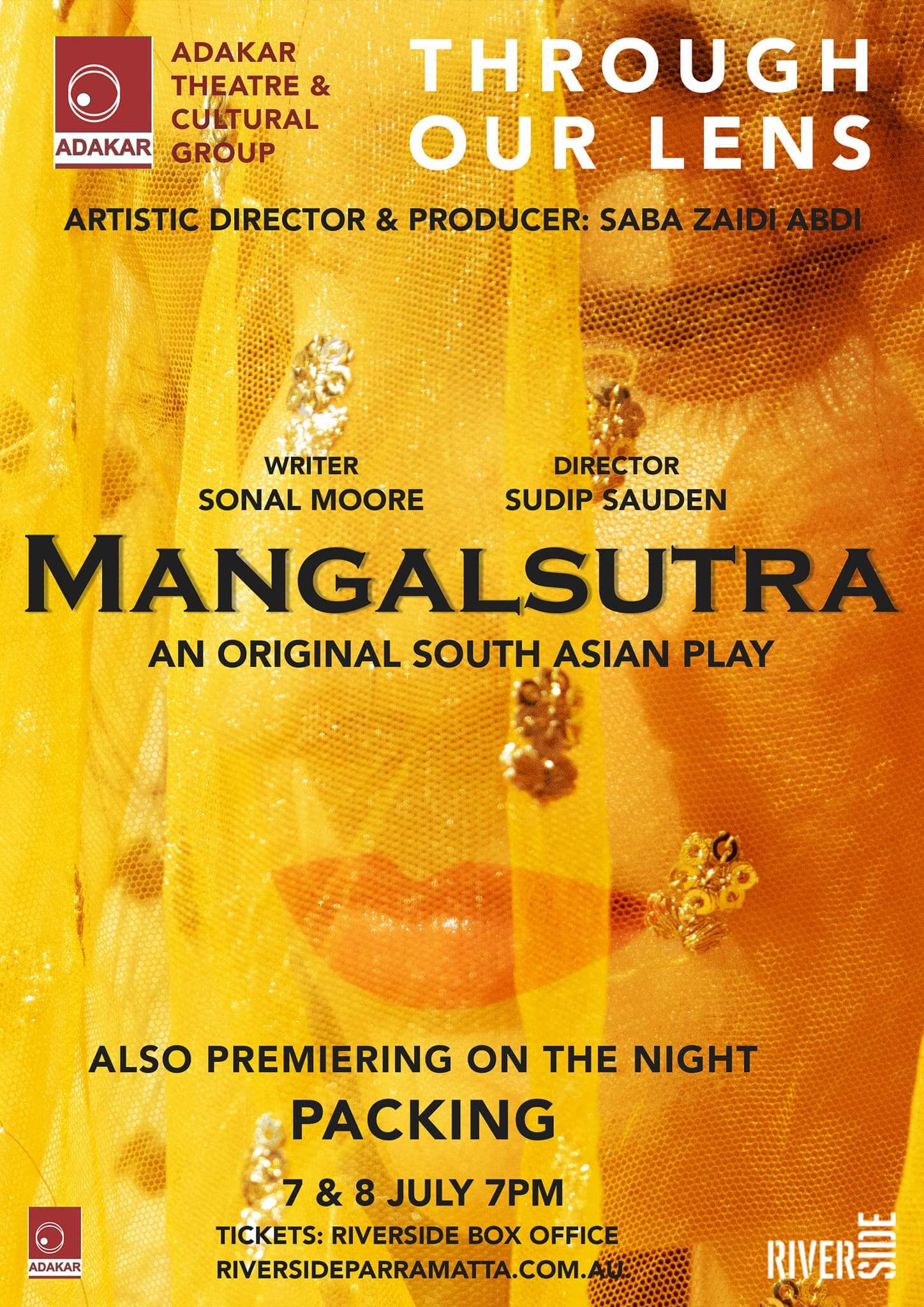 Written by Vivek Asri and directed by Saral Somiya, "Packing" chronicles the gripping journey of Deepak, a determined dream-chaser who leaves everything behind in pursuit of a better life in Australia. However, his path is strewn with obstacles, and over a decade, Deepak must rebuild his shattered life while making sacrifices along the way. Just as things start to look up, a new challenge forces him to question the validity of his choices. The play's suspenseful narrative engages audiences, offering a glimpse into the realities many immigrants face.
In contrast, "Mangalsutra," written by Sonal Moore and directed by Sudip Sauden, explores the complexities of love, belonging, and tradition within the context of two marriages. The play delves into the struggles experienced by three generations of South Asian women as they navigate unconscious prejudices, the yearning for acceptance, and the search for their identities. "Mangalsutra" uncovers the hidden fears and mistrust that lie beneath the surface of cultural blending, ultimately highlighting the shared human experiences that connect us all.
Selected from a scriptwriting competition launched earlier this year by Adakar Theatre and Cultural Group, these two plays represent the rich and diverse perspectives of South Asian creatives living in Australia. By showcasing these authentic and relatable stories, the festival aims to engage mainstream audiences while fostering a deeper understanding and appreciation for the immigrant experience among younger generations.
Saba Zaidi Abdi, the Artistic Director and Producer of the festival emphasizes the significance of developing original plays that genuinely capture and narrate the stories of their communities.
"The importance of authenticity in telling immigrant stories through the voices of immigrant writers and artists cannot be overstated," Ms Zaidi said. "This was the driving force behind our decision to launch the "Through Our Lens" scriptwriting competition. We were thrilled to receive numerous exceptional scripts from local writers that vividly portray the experiences of migrants, narratives that are often overlooked in mainstream media. This festival stands as a testament to our achievement in bringing these stories to the forefront and ensuring their genuine representation."
In a theatrical landscape where such narratives are often absent, "Through Our Lens" strives to bridge the gap and offer fresh perspectives, fostering meaningful dialogue among audiences of all backgrounds.
The directors, Saral Somiya and Sudip Sauden share their excitement in bringing these original plays to life on stage. Somiya admires the nuance and simplicity with which Vivek Asri has portrayed the complexities of life in "Packing" and looks forward to collaborating with a talented team of creatives to create a memorable production. Sauden, a first-generation Nepali Australian and NIDA graduate, feels a deep connection to "Mangalsutra" as it explores the intergenerational experiences of a migrant South Asian family in Australia.
With their powerful storytelling, exceptional talent, and commitment to representing diverse voices, the "Through Our Lens" theatrical festival promises to be an entertaining, immersive, and thought-provoking experience. By shining a spotlight on the original works of South Asian writers, the festival not only celebrates their artistic achievements but also offers audiences an opportunity to gain a deeper understanding of the immigrant journey and the rich tapestry of cultures that make up contemporary Australia.