Reading Time:
3
minutes
Australia is the land of opportunities. Here, people get the chance to thrive and flourish. But as you strive to turn the career of your dreams into reality, it's easy to feel lost.
If you're currently feeling like the slog is impossibly uphill, then Indian-born Melbourne-based career practitioner Naishadh Gadani has got you covered.
Gadani, 47, has just launched two books that celebrate career development and empower job-seekers. The first book titled, The Big Book of Career Doodles: 87 Visual Ideas to Inspire a Great Career!, is a fun and inspiring read, akin to a recipe book.
"It takes readers on an interesting journey of discovery, encouraging them to think differently and take action," Gadani says of this book, which features whimsical sketches. "The doodles provide out-of-the-box thinking, making it suitable for a diverse audience, including secondary school students, graduates, early-career professionals, executives, CEOs, and everyone in between."
The second book, Your Career Journal: 55 Socratic Questions to Untangle and Accelerate Your Career, invites readers to reflect on their career journey and discover what truly matters to them. "It acts as a valuable tool for self-discovery and career planning," he says of this book, which is co-authored with Dr Anamika Sharma, a career consultant.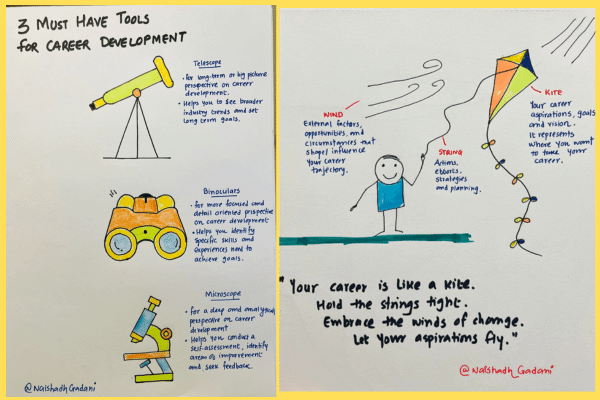 Take a leaf out of his book
Ahmedabad lad Naishadh Gadani moved to Australia in 2007 to build an international career. A mechanical engineer by training, Gadani has had substantial experience working as a sales engineer in India. But his career did not take off well in the initial years in Australia.
"After facing redundancy and termination from consecutive sales roles, I took a moment to reflect and revaluate my career path," he recalls. "During this introspection, I discovered a serendipitous encounter with someone who introduced me to the world of working with unemployed and under-employed job-seekers to help them find jobs. This resonated deeply with me, and I realised that empowering and enabling people in their careers was my true calling."
He has been working in the career and employment sector for 14 years now. But who planted the seed to write the books, we ask.
"During the pandemic, I discovered the therapeutic benefits of doodling as a self-care activity. Combining my passion for career and employment concepts with doodles, I started creating hundreds of sketches. I shared them with my LinkedIn community of over 18,000 followers, and the response was overwhelming."
And thus came the idea to write his first book. "As for the second book, I noticed a lack of journals that encourage individuals to reflect on their careers and make thoughtful decisions."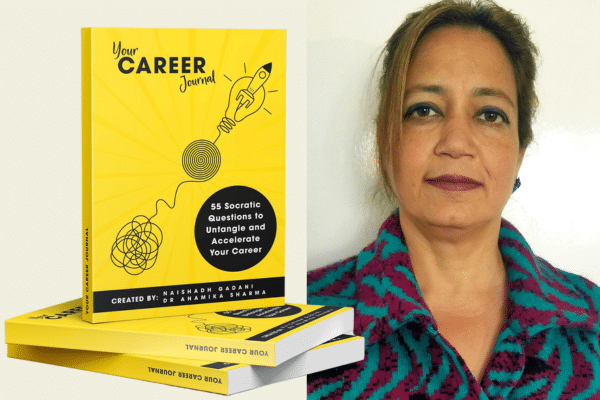 Unlock your career
For someone who has experienced first-hand a migrant's struggle in networking and finding a job, Naishadh Gadani has wise words to share.
"I would advise job-seekers to engage in networking events, both in person and online, to connect with professionals in their field," he begins. "Customise your resume to highlight relevant skills and experiences that align with the Australian job market. Consider volunteering or taking up internships to gain local experience and expand your network."
But Gadani also wants to highlight the common problems that people of minority groups or migrants face while seeking a job in a new country.
"Language proficiency can be a significant barrier to job-seeking success. But you can improve your language proficiency by taking classes. Understanding and adapting to cultural norms in the new country, including workplace culture, communication styles, and professional etiquette, is essential."
Some countries may not fully recognise foreign qualifications, which can hinder job opportunities. "Migrants can explore options for skill assessments and credential recognition to enhance their employability," he answers. "The job search process can be daunting, leading to a lack of confidence and self-esteem. But stay persistent and positive."
Gadani is already working on another doodle book, after a positive reception of The Big Book of Career Doodles. "It will explore further aspects of career development, provide additional visual ideas, and offer practical insights for career seekers and practitioners alike. My ultimate aim is to create a valuable resource that empowers individuals to navigate their career paths with confidence and clarity," he signs off.
Read More: Talking careers: Indian Professionals Victoria – Indian Link