Reading Time:
5
minutes
When Monica Rani Rudhar saw Andrea Heulin's portrait of comedian Cal Wilson arriving at the Archibald Prize this year, she stopped for a second to take a good look.
"I saw it being unloaded off a truck, and I thought, 'that's a really good portrait'. It really popped," she tells Indian Link.  "There were quite a few works coming off that were quite dark, and I was still drawn to darker works, but there was something about this one."
As one-third of the Packing Room Prize judging panel – alongside Alexis Wildman and Tim Dale – she helped pick the Cal Wilson portrait as the winner this year.
She recalls her judging experience fondly. "I felt, like the others, I had quite a big responsibility. We liked that the painter was a woman and the subject was a woman."
Cal Wilson brought cheer and humour to her fans during lockdown by making elaborate crowns with household objects and modelling them over Instagram.
Monica states, "It was nice to find out the story behind that because when we chose it, we didn't know! All we knew was that there was love and mystery that drew us in."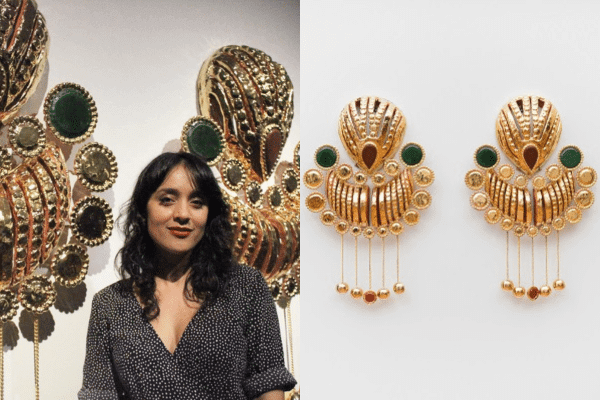 Monica Rani Rudhar, the artist
Monica landed the coveted role of senior installer at the Art Gallery of NSW last year after the legendary Brett Cuthbertson, past senior installer and head packer, retired.
Her own art revolves around themes of cultural displacement, the link to her family and heritage, and finding her identity – themes that 'third culture' children can resonate with.
Monica was raised in South west Sydney by an Indian father and Romanian mother. Her parents met in Granville at a window factory. Their union was rejected by her mother's family, who then found solace in her in-laws' home, immersing herself into the Indian culture.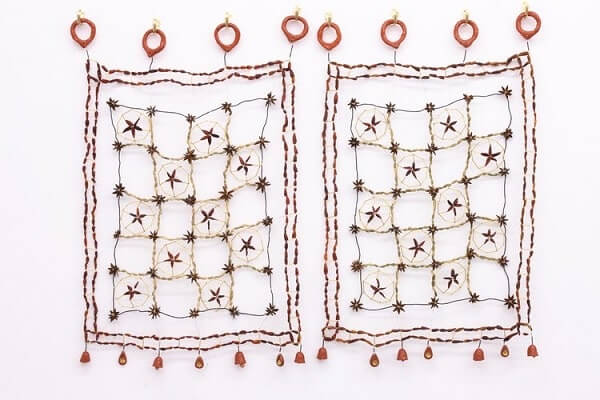 Monica proudly shows me a jar of chillies sitting in her home studio, explaining how the very first art piece she made after a long hiatus was a necklace of common Indian spices – star anise, chillies, and cardamom pods.
Her latest work, commissioned by the Powerhouse Museum, is a visual treat- titled We were connected in a more complicated way than either of us could even begin to understand. The brief was to incorporate the concept of Holi with one of the objects from their collection – a ball of yellow pigment, infamously produced by a cow's bladder after being made to ingest toxic mango leaves. She incorporates the story of her mother's relationship with her pet cow, also named Monica, and her mother's pregnancy cravings of mangoes.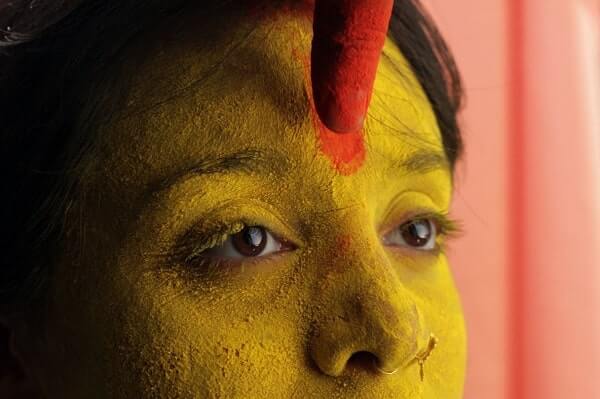 Monica's work has won rave reviews. This year she brought home the 2023 Emerging Arts Prize valued at $5000, for her giant ceramic recreations of her mother's earrings. It is a nod to the heritage of her family who practiced as goldsmiths, and a reflection of lost heirlooms and identity.  Monica has also been announced as one of the two Art Incubator Grant Recipients for 2023, and has just concluded a solo exhibition at Martin Browne Contemporary Art Gallery featuring giant ceramic replicas of pieces from her family's traditional gold jewellery.
View this post on Instagram
Monica credits the lockdown period as being pivotal to her creative process. Her first major work, showcased at Carriageworks as a part of Vivid 2022, (part of Live Dreams: Distance, curated by Talia Smith ) reinforced to Monica about what she wanted to portray through her art – exploring her connection to her heritage.
She dances in a field of wildflowers, wearing a green and red sari, hair cascading in waves down her back. The melody is a haunting rendition of a Punjabi prayer that her late grandmother used to sing to her father when he was younger. Up until making the piece, Monica couldn't articulate her feelings towards her Indian heritage. ''But I suddenly realised something deep within me – that this means a lot to me, this is important, I think this is the direction I want to go in."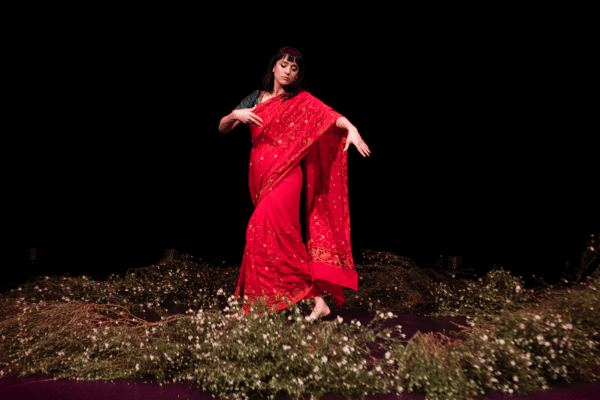 She goes on to explain, "My Romanian family, I didn't feel very connected to, because they ostracized my mum after she married my dad. I felt like I identified more an as an Indian Australian person rather than Romanian. I'm navigating all of those complexities, and it's been a very wonderful and rewarding journey so far."
I ask Monica about what advice she has for the next generation of artists.
"Being one of the faces of the Archibald Prize this year is an incredible opportunity to represent women of colour, especially South Asian women. When I was young, I didn't see that… now I want younger people to see that ambition, and not be scared to follow whatever ambition they might have, in whatever industry that may be, with whatever doubts/resistance they feel. We don't see a lot of brown women in theatre, in arts, in dance, because there's a lot of risk involved, in what are very white dominated industries. I definitely feel grateful and honoured, but I also feel a responsibility in paving a bit of a way in the minds of younger brown women."
As a community, we ourselves embrace artistic pursuits wholeheartedly as side passions, but there can often be misgivings about pursuing it as a career. Monica Rani Rudhar is among a slowly increasing band of creative professionals who are inspiring this mindset to change.
READ ALSO: Kirthana's tribute to Ramesh: Archibald Prize 2023