The best way to handle pressure is to think there is none, says Indian-Australian cricketer Jason Sangha, who is now in the record books of the game as the second-youngest player behind only Sachin Tendulkar to score a first-class century against England, and the youngest to reach three figures in a first-class game in Australia since Ricky Ponting in 1992-93.
Playing against the visitors in their final warm-up match in Townsville before the Ashes began on November 23, Jason saved the game for Cricket Australia's XI scoring 133 in a 263-run third-wicket stand with 22-year-old Matt Short. The young cricketer, who finished school just two weeks ago, counts it as one of his best performances so far.
With their 144-run lead against the young CA XI (3-121) at the start of play, England were eyeing an innings victory. But Sangha, along with Short, held his own against the opposition attack which featured several international players including Stuart Broad, Chris Woakes and Moeen Ali.
In his stunning innings, Sangha, who confidently weathered the barrage of short balls from England, even hooked speedsters like Craig Overton. Sangha brought up his maiden century when he worked Woakes to the leg-side. He was finally out sweeping to leg-spinner Mason Crane in the final session, the only wicket England took all day.
Brushing off questions of how he dealt with the nervous 90s, the young cricketer said, "You can't be nervous or anxious about being in the 90s or who you are facing. You just can't. If you are nervous or at one stage you feel like you can't do it, you won't get there."
The series of bouncers he faced that day was the most intense in his short and bright career so far, Sangha is believed to have revealed to Cricket Australia after the match.
The drawn encounter was called late in the day when the CA XI were 4-364.
Speaking to Indian Link about the way he approached his innings, Sangha said, "What worked for me was just sticking to my game plan, which was simply to keep the scoreboard ticking. I had a clear plan of how I was going to score my runs and I'm glad it really worked. I wasn't thinking too much about the bowler, but focusing on the ball."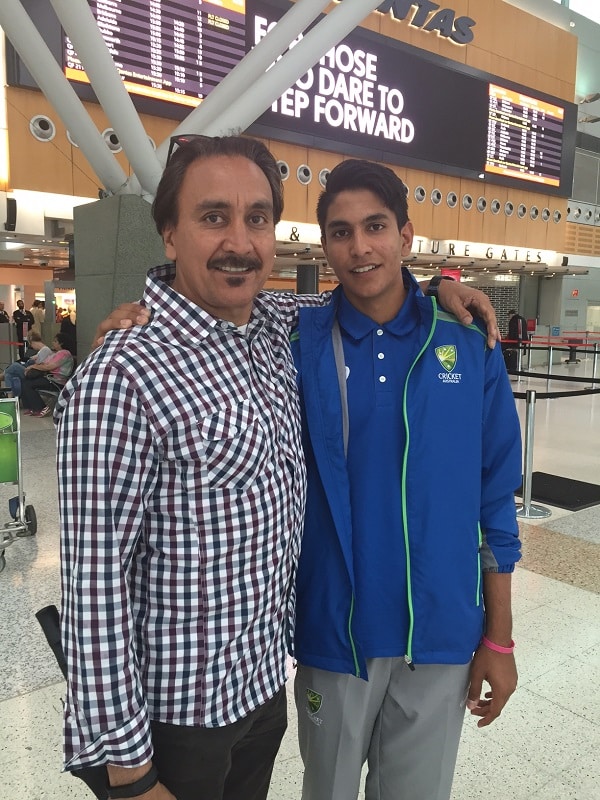 Sangha, whose family migrated to Australia from Punjab four generations ago, has had a phenomenal run since he began his career with the U-15 Schoolboys carnival in Darwin in 2015. Cricket Australia's National Talent Manager Greg Chappell has previously described the top order batsman as an elegant stroke-maker with a touch of class.
And while cricket experts laud him for his solid defense, stylish drives, nimble footwork and insatiable appetite for runs, the talented Novocastrian says his latest innings has boosted his confidence. "I've learnt so much about my own game here, but I've also got the confidence and self-belief that I can compete at this level now," he told Indian Link from the sidelines of a match.
Sangha rates mental strength as the key to success on the field. "Everyone has skill, but whoever has the better mental side of the game will come out on top," he says, pointing to the calm and relaxed on-field demeanor of former India cricket captain MS Dhoni, from whom Sangha says he draws inspiration for his own batting.
Recalling his family's reaction to the feat, Sangha says, "Oh, it has been amazing. My family has been with me through my whole journey. But this is only the beginning."
For now, the talented cricketer is now focusing on further improving his game. "To be the best player, you can't have any weaknesses, so I'm continuing to work on all parts of my game so they are all strengths," he says.
On his wall
CRICKETER HE GREW UP IDOLISING: Adam Gilchrist

ROLE MODELS: Ricky Ponting, Michael Clarke, Joe Root, Hashim Amla.

PLAYERS HE ENJOYS WATCHING NOW: Virat Kohli (India), AB de Villiers (South Africa) and Kane Williamson (New Zealand)
The Record Book: Youngest players to score a first-class century against England:
17y, 107d – Sachin Tendulkar, India, 1990

18y, 68d – Jason Sangha, CA XI, 2017-18

18y, 223d – Hashan Tillakaratne, Sri Lanka, 1985-86

18y, 246d – Mushtaq Mohammad, Pakistan, 1962

18y, 250d – Gursharan Singh, India U22, 1981-82

*** Age at start of match.

Source: www.cricket.com.au
Vital Stats
Full name: Jason Jaskirat Singh Sangha

Birthday: September 8, 1999, Randwick, New South Wales

Batting style: Right-hand bat

Bowling style: Legbreak
Source: Espncricinfo.com
Score Card
Nov 8-11, 2017: First-class debut: Cricket Australia XI v England at Adelaide

Apr 27, 2017: Becomes youngest-ever player contracted by New South Wales while still at school (Jake Doran and Josh Hazlewood are the only other players to have achieved this)

Jan 13, 2017: Scores century (102/113 balls, 13*4, 2*6) at debut playing for Australia Under-19 over Pakistan

2015-16: Became the youngest player in 90 years to represent NSW in a Second XI or Toyota Futures League match