Reading Time:
7
minutes
It's Diwali 2023, and once again, the urge to celebrate the Festival of Lights with its traditional fanfare is upon us. We want to go the whole shebang – new clothes, festive food, decorations, parties, fireworks – to relive the atmosphere of past Diwali celebrations. And so we celebrate with a vengeance, almost, even when Diwali falls mid-week (a lucky coincidence this year it's on a Sunday!) We no longer mark our Diwalis on the closest weekend before or after, but instead, as the past few years have shown, weeks before and after Diwali!
We now celebrate at the family level by decking the house roof to gate in fairy lights – garden and driveway included. (Many of us Indian Australians are happy to go overboard by adding more lights in all possible Diwali motifs, elaborate rangolis and full-fledged dioramas in our front yards – looking at you, Western Sydney).
We celebrate at multiple community events, at corporate functions, and at government levels in all our states including our parliaments, and the highest leaders in the land send us their wishes, their words reflecting they understand the spirit of the festival. The mainstream media reports on our celebrations and our Australian friends wish us Happy Diwali.
We've revived the spirit of Diwali for ourselves here in our new home as Indian Australians. Yet it was not always like this.
How old-time Diwalis inspired 'new' traditions
Yes, we remember Diwalis with that sole box of agarbattis which, in the absence of an elaborate home mandir, single-handedly brought on that sense of transcendence. The mithai platter was mostly Darrell Lea and Ferrero Rocher, with perhaps a single Indian delicacy, overpriced of course. But the house full of friends, the sparklers afterwards, the laughter and happy chatter, the music and the dancing, brought on that sense of community that is at the crux of all contemporary Diwalis.
In this scenario, creating our own Indian Australian Diwali rituals, was but an organic progression.
Many of us who have been here long, have indeed adopted 'new' traditions, ones that we created ourselves in the early days here – 30, 40 or 50 years ago – as a way of improvising in the face of diminished (or non-existent) options.
The new practices we devised, described below, align with Diwali values that have endured for centuries but include aspects of our adopted culture.
In many instances, these new practices have now stuck. The spirituality and meaning we introduced in our individual ways, will in all probability live on as 'family rituals', going forward.
Light 'em up, baby!
Remember the time when the ledges of verandas and doorways were lit with beautifully painted clay diyas? For three days (sometimes more) their little flames shimmered and sparkled in the evening air and despite being a fire hazard, they were tended with loving care and extinguished only after the festivities had ended and the last guest had left the home.
We've moved on now to tealights, votives, floaters, battery-operated flameless candles (love the ones that flicker), fairy lights, and most recently, water-activated candles.
But the 'special candle' tradition lives on in my family. It began by encouraging the kids to pick their special candles from the bargain shops, as a way of getting them involved in Diwali as Indian Australians.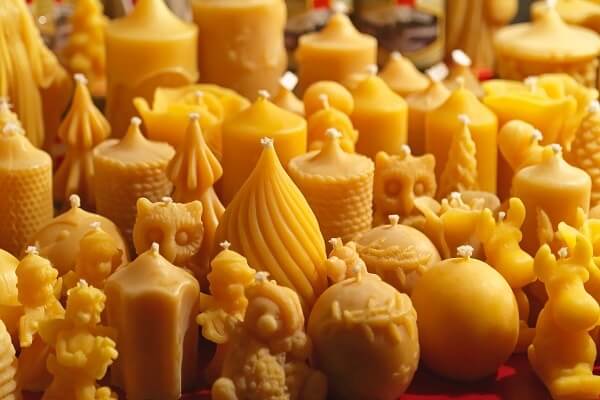 Cactus-shaped, frog-shaped, and car-shaped candles looked a bit out of place at Diwali night puja, but I allowed them for the sake of initiative. (Twice had to gently suggest a change of tack, given the choices turned out to be thong-shaped and skull-shaped).
The number of candles from the annual birthday cake also made regular appearances as special offerings (but may have been my way of reducing my waste footprint, I'm not sure).
Now as young adults, the 'special candle' choices are more mindful – natural candles with no dyes or enhancers, or those purchased from charity-based operations.
Whatever floats your boat, I say. One year not so long ago, this involved making our own candles from scratch (thanks to a candle-making kit purchased online).
Fundraiser Diwali
Where would we be without our Diwali parties! The dhamaka that goes with guests arriving all bedecked in their traditional finest, the women glittering with sequins and stones, the men looking dapper and deodorised. It's time to get into party mode, let loose and dance the night away, helped along the path of toe-trodding with a couple of large whites, browns or whatever's going.
Naturally, everyone brings a plate to make things easier on the host who's put their home at risk by offering to throw the party.
For the Singh family* of Orange NSW, the grand Diwali party is an annual affair but has always come with a special request.
"We ask our guests to carry a small donation with them and place it anonymously in a wishing well at the entrance. This year our collection is going to the Cancer Council."
A wonderful way to get people thinking of sharing and caring on Diwali, without the pressure of attending a formal fundraiser.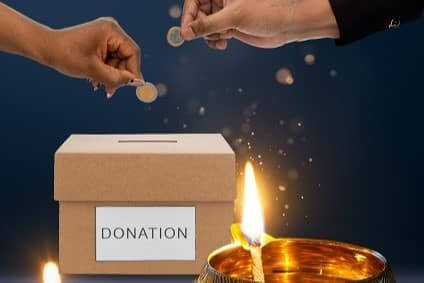 For Sydney's Sarita Chand though, the formal fundraiser is the way to go.
Each Diwali for the past few years, Sarita has helped raise funds for girls' education in India. As Chairperson of the charity Pratham Australia, Sarita's passion has seen her embrace campaigns like #LightaLife and #SecondChance, and she's helped see hundreds of girls in India who dropped out, return to school and finish their education.
"I believe education is the first step out of poverty. I have had many chances in life and others have not, and I want to give back to those who have not," she told Indian Link.
Healthy Diwali
Having just been diagnosed with diabetes, Anita Shetty* of Wentworthville NSW has vowed to have a fruity Diwali.
"I hope it sticks as a family tradition," she told Indian Link. She's looking at fruit platters instead of mithai platters to share with friends and family this year.
There's a wonderful variety at the grocer's for her to choose from, given we are still in spring (although it does not feel like it!) Mangoes, the all-time favourites are still aplenty; there are a whole host of berries (mulberries, blueberries, youngberries); Valencia oranges; cherries, and melons.
Nuts, dried fruit, herbs and seasoning are other things to include in a healthy vegetarian hamper, as well as olives and pickles, cheese, and protein sources like legumes (eg chickpeas and edamame), with whole grain crackers.
Rousing rituals
Now some things are synonymous with Diwali, like the traditional pooja which is attended by the whole family. Some traditions should remain unchanged, but why not invite some of your non-Indian friends to participate in the pooja and the meal that follows, like the Bhambhani family of Henley Beach SA? "I have friends from my mother's group and my husband's work coming over for Diwali this year – a wonderfully mixed group," Sharmila Bhambhani revealed.
And of course, the requests have already come in for saris to borrow, with the mandatory bling to accompany.
Regardless of their nationalities, the Bhambhani guests will get an insight into the festival. Who knows, it could mean the start of a better cross-cultural understanding as they reciprocate the invitation to join in celebrating Christmas or Eid or Rosh Hashanah.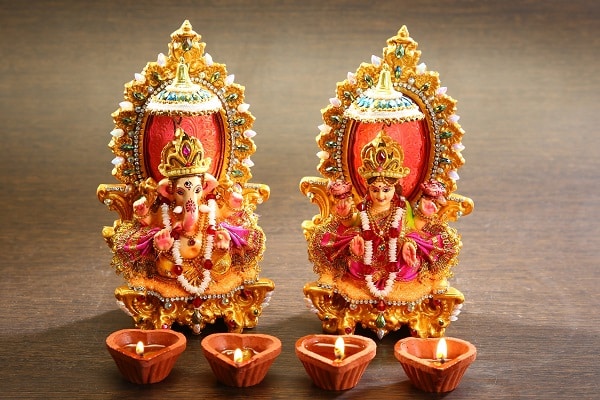 Diwali decor
"I haven't been able to do my traditional Diwali decorations very well in the last couple of years because of our latest family member – the puppy!" lamented Nisha Chaman of Perth.
The tealights on the floor are a clear danger; the floral rangoli becomes an appealing play area for the fur baby, and the traditional swastik markings with kumkum-and-rice mixtures have to be completely avoided, as the pup can lick them clean.
"This year I've stuck upon a new idea," Nisha revealed. "Guests are going to see 'tablescape' decorations instead of rangoli and lamps."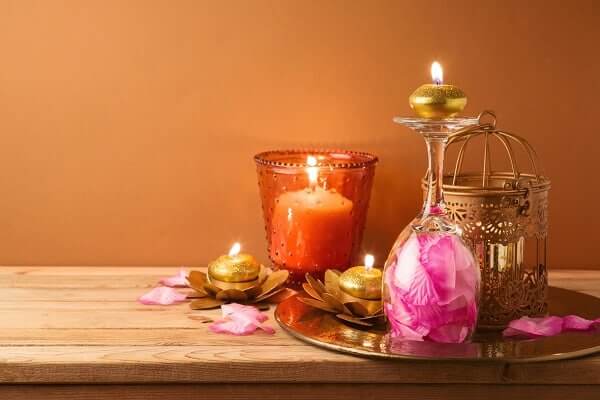 She has picked candles of different sizes to lay out on satin fabric, with matching rocks in silver strewn around, as well as rock dust to decorate. Silver ornaments will be put to creative use, such as pooja items, filigree boxes, silver 'Shubh-Laabh' and Ganesh-Lakshmi coins, and a strategically placed flower or two.
"I think it'll be a nice touch of sophistication, without having to over-decorate."
Meanwhile, there are those for whom the old is becoming new again.
Many in the Blacktown LGA in NSW are currently spending an inordinate amount of time prepping for their Diwali decorations, some even taking time off work.
Manjunath Hukkeri and his wife Sujatha of Schofields NSW, and their next door neighbours Sarita and Apurv Kadukar both have won multiple awards for their Diwali decorations. Ward St, on which they live, and which has many Indian-owned homes, has begun to attract visitors from across the Sydney region simply to see the Diwali decorations, which rival the Christmas decorations of yore.
The dioramas on the front yard of these homes, with Diwali and other regional themes like Shivaji's fort, have become teaching points for community youngsters, and museum-like attractions for others.
Rangoli on the doorstep is another drawcard, more and more elaborate each year, not only at the threshold but also bordering the driveways and going up letterboxes.
A round of taash
The tradition of playing cards on Diwali is an age-old one, and the only day in the year on which you can legitimately gamble. Legend has it that the Goddess Parvati played dice with her husband Lord Shiva on Diwali, and she decreed that whoever gambled on Diwali night would prosper throughout the ensuing year. What better reason to play flush, rummy or teen-patti!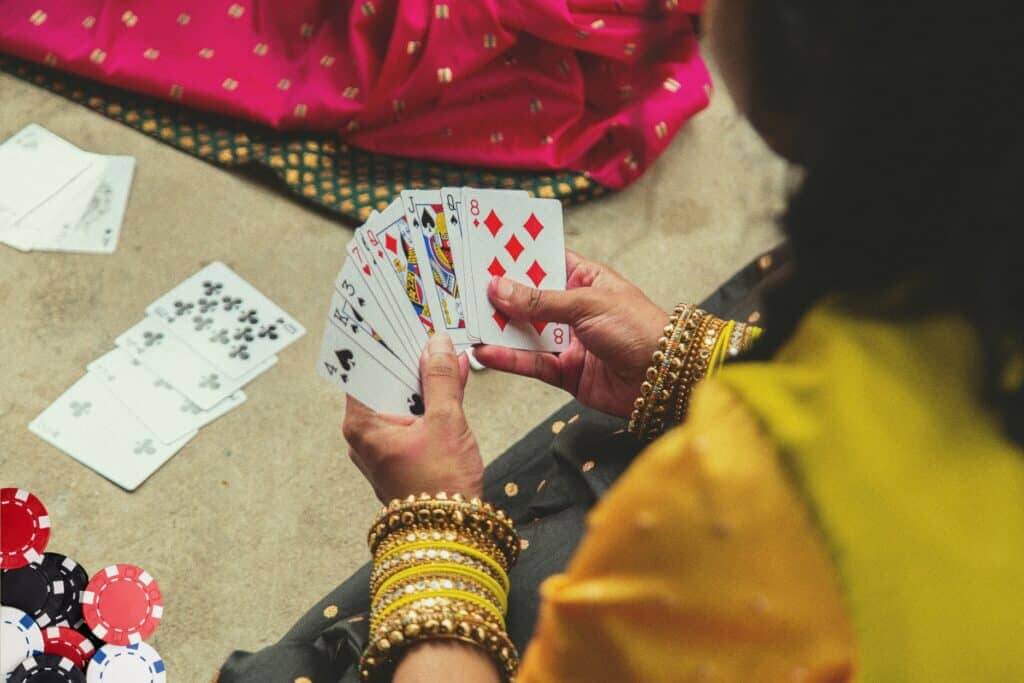 Priyam Sahni* of Melbourne has planned a big do this Diwali as an Indian Australian.
"I'm considering getting the players to pledge a small percentage of their winnings to charity," he told Indian Link.
If you're not into gambling, bring out the UNO or memory card game, and perhaps Lady Luck-shmi will smile on you for the rest of the year.
Diwali is all about starting afresh. It is the Hindu New Year, and there are plenty of new things: new clothes, a freshly spring-cleaned house, new utensils, and even major new purchases like a new car. So how about new ideas for the way we celebrate?
Here's to evolving concepts in Diwali celebrations. They may be unique ways to mark the Festival of Lights, but hey, we'll be creating our own distinctive Indian-Australian Diwali traditions!
READ ALSO: How to 'Aussi-fy' your Diwali as Indian Australians
With inputs from Sheryl Dixit
*Names changed upon request