The former Portuguese colony is a compact delight of cobblestoned streets, Macanese cuisine, churches and modern casinos, writes SANDIP HOR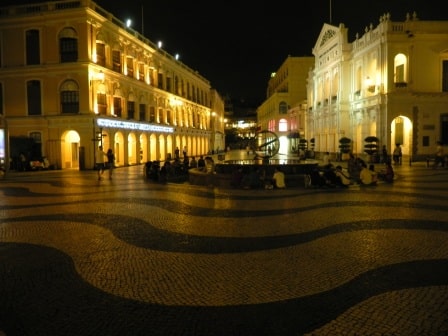 Exotic flavours of a colonial Portuguese milieu which I sensed earlier in Goa, comes back to me the moment I walk into the centuries old centre of Macau, a former Portuguese colony neighbouring Hong Kong and geographically hanging like a fruit bat to the Chinese mainland. The character of the entire historic settlement, clustered with piazzas and cobblestoned streets, baroque churches, stone fortresses neo classical edifices, bustling cafes and inviting shops doesn't take much time to proclaim its European heritage.
After establishing themselves in Goa, the Portuguese landed here in the early 16th century and soon turned the impoverish area into an important trading port, linking Europe with China, Japan and India. During their stay of almost 400 years, they bejewelled the village-like land with architectural marvels and developed it like a mini Lisbon.
In 1999 the colonial regime ended and Macau became the Special Administrative Region of the People's Republic of China. However, the Chinese administration so far has been quite protective of the tiny peninsula's European heritage, despite the Portuguese population being only a small fraction of the regions total number of 580,000. Portuguese is still the official language, alongside Chinese, while street names and sign posts are in two languages. "You can freely communicate here at all levels in any of the two lingos, plus English," says my omniscient guide Aloniro Noruega, an Indian of Goa-Portuguese origin who moved to Macau three decades ago.
The landmark site from the glorious past is the World Heritage listed Senado Square, which is said to be the civic hub of the Portuguese colonial empire. Its striking features are the wave- patterned, stone mosaic streets created specially by experts from Portugal, and the gorgeous pastel coloured buildings.
I feel like trundling along the paths of the European settlement and immediately get absorbed by its buzz, which tells me this is where Macau's heart has been pounding for centuries. Beautified with trees, fountains and benches for people to sit and relax on, the spacious piazza, now packed with nice cafes and boutique shops, nested in lovely old buildings, strikes me as a perfect venue for socialising and holding public events.
At one end of the square is the former Loyal Senate, and opposite it is the 16th century built Holy House of Mercy, the oldest charity institution in China region. It's well known that the Portuguese introduced Christianity into the region, which is why the domain is powdered with so many beautiful churches.
Founded in 1587 by three Spanish Dominica priests, St Dominic Church attracts attention because of its magnificent yellow Baroque exterior, while the serene atmosphere inside gives instant peace. This church is famous for its alter, decorated wooden ceiling, and the treasury of statues, and other sacred art displayed inside a museum occupying the old belfry. A local tells me that it was from here the first Portuguese newspaper in Chinese soil was published.
This church also houses a statue of Our Lady of Fatima, a title for the Virgin Mary, due to her reputed apparitions to three shepherd children at Fatima in Portugal.
"Every year on the thirteenth day of May a procession streams out of this church marking the traditional Catholic feast of Our Lady of Fatima," informs Aloniro. "Senado Square then turns into a sea of people and candle lights, celebrating a Portuguese heritage".
Macau's most familiar landmark is the ruins of St Pauls. Nested at the top of an imposing staircase, not far from St Dominic Church, the facade of what was originally the Church of Mater Dei, built by Jesuits in early 17th century and later destroyed by fire in 1835, is the only part that remains. However, the intricate carvings on the facade are daunting enough to remind modern day onlookers of the architectural ingenuity of the Portuguese builders.
At just under 30 square kilometres in size, Macau is a pretty compact destination.
With history as my companion, I wander with Alonoro through alleyways lined with inviting cafes and shops selling antiques, silk and souvenirs, past even more churches and grand edifices of the colonial masters, and visit bastions built to protect the land from foreign invasions. By the end of this I feel pretty familiar with the character of this old-styled European colony.
Goa once again hits back when I drop in at St Francis Xavier's Church, reminding me of Basílica do Bom Jesus in Goa, which holds the mortal remains of the 16th century Catholic saint Xavier.
There is, however, much more to Macau than reminiscing European legacies. In the last few years charismatic-but-sleepy little Macau has experienced the sort of boom usually associated with cities like Guangzhou and Shanghai. But rather than skyscrapers, flyovers, and shopping malls, the infrastructure investment here has been all about building mega-casinos and hotels; the trigger for this being gambling legal in Macau and not in neighboring Hong Kong and China. So another luring face of Macau is its identity as the Las Vegas of the East. This draws a constant stream of visitors who dream to become instant millionaires. They try their luck at the Grand Lisboa, Venetian Resort or Galaxy, Macau's three extraordinarily plush joints to thin or thicken their wallet.
During their stay, the Portuguese lived and worked harmoniously with the Chinese, and as a result, Macau appears to be a meeting point of East and West. Many of the colonial architecture includes oriental designs, with Chinese style buildings standing next to Art- Deco architecture, and temples sharing space with churches. Portuguese coffee shops and dim-sim eateries run full house and festivals like Senhor dos Passos and Chinese New Year are both celebrated with pomp and glory.
Macao is a haven for foodies and one of its specialities is Macanese Cuisine, which is a unique combination of Portuguese and Chinese delicacies mixed with ingredients from Europe, South America and South East Asia. While sampling some of the items like Galinha à Africana at Restaurante Litoral and pastéis de nata from Lord Stows Bakery, I keep enjoying the beguiling past of Macau where Western culture and Eastern Civilisation have combined to gift visitors a memorable time.
Travel Notebook
Getting There
One option is to fly Cathay Pacific www.cathaypacific.com.au to Hong Kong and then take the fast ferry from the airport. However, if you are staying in Hong Kong, ferry services depart from Shun Tak Centre Terminal in Hong Kong Island, or from China Ferry Terminal in Kowloon. Turbo Jet www.turbojet.com.hk offer services almost 24 hours a day.
Accommodation
Experience the glamour of Macau in style at Sofitel Macau www.sofitel.com located, amidst the charms of the Macau's historical quarter.
Eat
Restaurante Litoral www.ristaurante-litoral.com for Macanese dishes, Restaurante Espaco Lisboa for Portuguese delicacies and Indian Spice www.indianspicemacau.com for curry specials.
Cultural Show
Ranked as Asia's most extravagant live production, House of Dancing Water is a breathtaking water based spectacular show, based on seven emotions from Confucian beliefs.
Visa
Australian passport holders will receive a visa on arrival.
Currency
Macau Pataca (MOP$): 1AUD = 8 MOP (at time of print)
More Info
www.macautourism.gov.mo
[geo_mashup_map]