Reading Time:
3
minutes
Chilli or chilli con carne is a Tex Mex delight; in fact, it is the official dish of Texas. At its heart, a chilli con carne is a rich meat stew with hot chilli peppers and tomatoes. To add or not add beans to a chilli is a matter of much debate and you can choose to make it however you like, but this dark chocolate and beef chilli recipe does have black beans.
Chilli, for the longest time, has been labelled as a Mexican dish though that cannot be farther from the truth. You would rarely find this dish in Mexico except for random tourist spots. History has it that this dish is entirely an American invention by the poor Spanish immigrants who arrived in Texas in the early 17th century. Unable to afford large quantities of meat, this dish came to be – a stew-like preparation with locally available ingredients like beans, tomatoes and peppers which would feed a large family comfortably.
Chocolate is not a typical ingredient in a chilli, but you will be surprised at the depth of flavour that a small amount can add to this dish. It has to be dark chocolate and not the sweetened milk ones, as this would make the dish too sweet. You do not get to taste the chocolate as such, but there definitely is a balance, a meeting of flavours that happens which makes this dish a delicious treat.
READ ALSO: Cricket themed food party, howzzat?
And of course, what's chilli without some actual chilli? This chilli con carne celebrates the chillies and incorporates them in the dish in several different forms. You can play around with the quantities to suit your tastes; my Indian tastebuds desire it hot!
Beef is the meat of choice here, but if you do not eat beef, then lamb would be a good substitute. You really do not need any other accompaniments with a chilli con carne; just a bowl of it topped with jalapenos and plenty of grated cheese. But if you wish, add a side of rice or some toasted garlic bread and you have a crowd-pleaser on your hands.
This dark chocolate beef chilli is a definite winter warmer; a one-pot meal perfect for the cold wintry nights when all that you want to do is languish on the couch with something warm and comforting. And even better, this dish freezes well too, so you can make large batches and freeze away for rushed weeknights or when you simply can't be too bothered to cook. Better than takeaway pizza any day!
So, here's how you make a comforting pot of dark chocolate beef chilli to warm your insides on a cold winter night!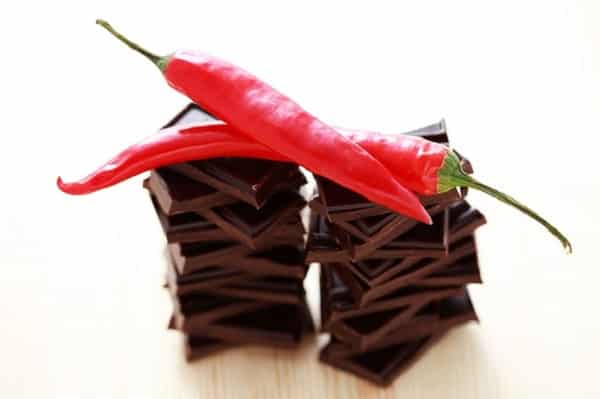 READ ALSO: Breakfast with a twist
Dark Chocolate Beef Chilli Recipe
Ingredients
1 large onion, finely chopped
1 1/2 kg beef mince
1 can crushed tomatoes
3 medium tomatoes; finely chopped
1 can black beans (optional or use any variety you prefer)
2 medium celery stalks, finely chopped
1 medium carrot, finely chopped
1 green bell pepper, finely chopped
3 red jalapenos; finely chopped
2 tbsp red chilli powder
1 tsp cumin powder
2 tsp red chilli flakes
1 tsp cayenne pepper
¼ cup melted dark chocolate
1 tsp brown sugar
2 tbsp tomato sauce
Salt, to season
Black pepper, to season
1 red jalapeno; sliced for garnish
Cheddar, grated for garnish
Preparation
Have all your ingredients chopped and ready to go. In a large heavy bottom pan, brown the ground beef. Next, add the onions and brown for a couple of minutes. Then add all the other ingredients and mix well to combine. Add a little seasoning, to begin with, and build up as you go. Simmer on low heat for around 45 minutes; check and stir occasionally. Taste and adjust seasonings especially the sweet/spice balance. Serve hot with sliced jalapenos and grated cheddar.
Note: If you prefer a thinner dark chocolate and beef chilli, add stock or if you prefer the tomatoey flavour, then add an extra can of crushed tomatoes to the recipe.