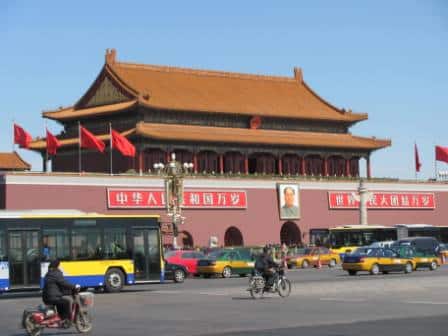 When I first visited Beijing 30 years ago, China had just opened its doors to travellers and even though I carried a sign in Chinese saying vegetarian, I found it almost impossible to eat. I was relating this story to Chef David Pooley, of contemporary European restaurant at the China World Hotel: Aria, who, being under thirty, found this difficult to comprehend. He had come over to my table to ask how I was enjoying my meal. It was the most exquisite meal that I have ever had. Each dish resembled a miniature work of art that I had to forgive myself for eating. Beijing is now the epicentre of cuisine in China, a magnet for chefs such as David Pooley, who previously worked at Sydney's Quay and Claude's.
I didn't find this city of over 20 million inhabitants daunting. While there are ultramodern innovative buildings that defy gravity, Beijing is more horizontal than vertical, with a large urban sprawl that extends outwards in rings. There are many sights to see: temples, palaces, museums and monuments, as well as neighbourhoods to explore, the 19th century Legation or European quarter, and even corners of traditional China, where alleyways crisscross, called hutongs.
Tiananmen Square, built to venerate the Communist Party, is the world's largest public square, where tragically in 1989, hundreds of mainly student demonstrators were killed. The square is busy with Chinese sightseers, many from the outer provinces who make the pilgrimage to the mausoleum of Mao Zedong. The mammoth National Museum of China, which covers 5,000 years of Chinese history is also here.
This is Beijing's ancient central axis. Along the main arterial boulevards leading here are signs of new China, with gleaming skyscraper headquarters of major companies and shopping malls that sell the world's leading designer brands: Gucci, Prada and Chanel. Directly north is the Forbidden City, the largest palace complex in the world, which has monumental proportions, with imposing halls, courtyards and museums.
Beijing's most visited religious site, the Lama Temple, is a Tibetan Buddhist masterpiece with halls and galleries set in vast courtyards, each hung with religious scroll paintings and decorated with Buddha images.
A short walk away is the Confucian Temple, built in 1302, which is a serene place to absorb Beijing's historic significance, with grand halls and shrines dedicated to Confucius. This neighbourhood, known as Dongcheng, is where a network of alleyways branch out. Quaint dwellings built of grey slate dating back 800 years have courtyards occupied by families who have lived there for generations, who have escaped the bulldozer unscathed, while most other hutong areas have disappeared.
Some hutongs, such as Guozijian and Nan Luogu Xiang, have undergone a dramatic shift, having morphed into a hub of youth culture with quirky boutiques, teahouses, including the delightful Songfeng, small bars, restaurants and cutting edge Chinese clad in skinny jeans and stilettos.
The ancient Drum and Bell Towers are impressive, but climbing the steep stairs to the top of each one left me weary. Between here and Hou Hai Lake are more hutongs busy with Chinese tourists following in pursuit of their tour guide holding a raised flag. The hutongs offer the chance to experience the character of Beijing street life with reminders of old China, like elderly men cycling by on rickety bicycles and pots of yoghurt sold in clay pots that I remember from my first visit over 30 years ago.
With snowflakes beginning to fall, I continued on to the massive Mansion of Prince Gong, which has a series of lavish ornate halls and grand courtyards. With crowds of Chinese tourists and over eager rickshaw drivers, it can be a bit overwhelming, so I instead walked around Hou Hai Lake. I walked past elderly men preparing for an icy swim, onto the more austere Former Residence of Song Qinglin, the wife of Sun Yat-sen. Qinglin, a feminist who campaigned for the emancipation of women, as well as a spokesperson for modern China's, rose to become Vice President of the People's Republic of China. I was the only visitor.
The next day I visited the other must sees: the Temple of Heaven, a series of stunning shrines where the sons of heaven, China's emperors; came to pray. And just beyond was my favourite neighbourhood of Beijing, the Old Legation Quarter of tree lined streets, including Dong Jiao Min Xiangto, the longest alley of old Beijing, with European architecture including banks, government offices, churches, embassies, a delightful Sichuan restaurant in the former French Post Office, and Hongdu Tailors (once the tailor to top communist officials). A hotel here quaintly describes the area as filled with "daydreams and nostalgia".
On my final day, I had plans to visit the Great Wall, but decided instead to dine at a restaurant that I'd read about, Made in China, which features specialities from northern China including Peking Duck and Beggar's Chicken. The bean curd and vegetable hotpot served with rice was the high note I was hoping to find before leaving this amazing city.
Travel Notebook
Getting there Qantas and Cathay Pacific have regular flights to Beijing.
Getting Around Beijing is flat, easy to navigate, and ideal for walking. Unfortunately at the time of my visit, smog levels were high. The subway is convenient, cheap, easy to use and crowded at peak times. While taxis are plentiful and inexpensive, ask your hotel concierge to give an indicative price and write down the destination for you and ensure the meter is on, or opt for hiring a car and an English speaking driver for sightseeing.
Where to stay
Travellers are spoilt for choice in Beijing and the standard is very high. A good moderately priced hotel is the Novotel Beijing Peace. T: 8610-6512 8833 W: www.novotel.com.
A chinese style hotel is the Dongjiaominxiang Hotel
T: 8610-6524 3311 W: www.bjdjmx.net
There are many small boutique hotels. At the deluxe end, the hotel of choice for visiting world leaders and dignitaries, including Hillary Clinton, is the Shangri-La China World Hotel. Named one of the world's best hotels, the attention to detail and service are quite extraordinary.
T: 8610-6505 2266 W: www.shangri-la.com
Dining Beijing has a vibrant restaurant scene and night life with hundreds of bars and indie nightclubs. Again, standards are very high in the better restaurants, given that Beijing is regarded as China's showcase city to the world, with regional cuisine well represented. Award winning Made in China at the Grand Hyatt Beijing is excellent.
T: 8610-8518 1234 W: www.beijing.grand.hyatt.com
And for contemporary European cuisine, Aria shines.
T: 8610-6505 2266 W: www.shangri-la.com
Shopping High end malls including the Oriental Plaza are found just east of the Forbidden City and at the China World Trade Centre. Boutiques in Dongcheng, including The One and Lost and Found sell quirky gifts, accessories and clothing. Avoid the Disneyland style hutongs near Qianmen geared at tourists and unless you know your silk, cashmere, jade and pearls, avoid buying them from markets, as they may not be the real deal.
Insider's tip
English is not widely spoken. Credit cards are not widely used. ATM's are plentiful, or exchange money at the Bank of China. Visit the most popular sites early, before the crowds arrive, and because most attractions charge entry fees, the cost soon adds up. A word of warning; resist any invitations to accompany anyone who approaches you on the street to go to a teahouse. You may be presented with an exorbitant bill. Visas are free for those transiting in Beijing for up to 72 hours. Visas for longer stays are for single, double or multiple entry.
[geo_mashup_map]