The Indian community got acquainted with a Liberal party candidate, but an autographed cricket bat won the toss, writes PREETI JABBAL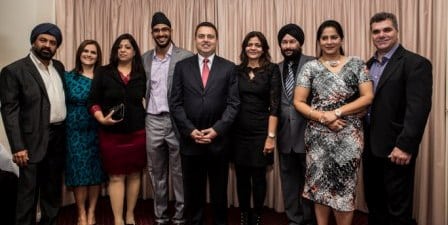 An autographed cricket bat that auctioned for $16,000 and the presence of Shadow Minister for Immigration and Citizenship Scott Morrison, were the major highlights at a recent event held in support of Liberal party's Emanuele Cicchiello. Emanuele is the Federal Liberal candidate for Bruce, an outer Metropolitan electorate that includes the suburbs of Dandenong North, Noble Park, North Mulgrave, Wheelers Hill and parts of Clayton, Springvale, Glen Waverley and Notting Hill. Perminder Rayat from Consolidated Insurance Agencies and Paramjit Jaswal of Imperial College of Technology and Management were the main sponsors of this fundraising event.
The turnout at the Beau Monde International was impressive, despite the event being held on a weeknight. The guests comprised mainly of members from the Indian community, media and local business owners. Russell Hannan as the MC acknowledged the dignitaries, moderated the questions and conducted the auction with ease that comes from experience. Paramjit Jaswal from Imperial College introduced the chief guest Scott Morrison, MP. Representing the division of Cook in New South Wales, Mr Morrison came into cabinet for the first time in 2009 during Tony Abbot's cabinet reshuffle, shortly after winning leadership of the Liberal Party. The former Managing Director of Tourism Australia and State Director of the Liberal Party, Mr Morrison, is currently the Shadow Minister for immigration and Citizenship and Shadow Minister for Productivity and Population.
"I want to restore confidence in our immigration system," declared Mr Morrison while addressing the audience. "As immigration minister the first thing that I hope to achieve is to stop the boats for many reasons. Many people have died on those boats, and safety and lives are compromised. Refugees across the world who have been waiting in the system for years are being denied places because of those who come illegally by boats. Australians have already seen $10.3 billion in budget blowouts due to Labor's border failures, including $5.3 billion since last year's budget. By reinstating proven border protection policies we can stop the boats and end this cost, chaos and tragedy," he said.
The Minister went on to criticize the Labour Government for their 'disgraceful' attack on skilled migration in relation to 457 visas and Minister Brendan O'Connor's allegation that people are rorting the system. According to Minister Morrison, there is no evidentiary basis for these claims. He said that without any justification, the Government is planning on cracking down on people using this system, including a large percentage of Indians. According to him, 1 in 5,457 visas in Australia and almost 1 in 3 visas in Victoria are being given to people of Indian nationality. "The health system is another significant sector that utilizes 457 visas, so all the doctors and nurses and health workers who are engaged in jobs in rural areas are apparently all rorters of this system who this Government says need to be cracked down upon," said the Minister. He alleged that this is a veiled criticism and attack on communities like Indian, Chinese, Irish and Philippines who are the top four users of this system. Mr Morrison went on to say that the real reason behind this rhetoric is the union movement that has always opposed 457 visas and the Government cost cuts and budget blowouts that have caused these problems.
The floor was then opened for questions from the audience, followed by an introduction to the potential member for Bruce. 39-year-old Emanuele Cicchiello is Deputy Principal at Lighthouse Christian College in Cranbourne, and has served as both a Councillor and Mayor with the Knox Council. According to Emanuele, his family came to Australia in the 60s to have hope, reward and opportunity. Most immigrants, including those from India, come with similar aspirations. "Today if any of us wish to have a future full of hope, reward and opportunity, this will be possible only from September 14 if Australians choose Tony Abbott as their Prime Minister and Scott Morrison as their immigration Minister," claimed Emanuele. He went on to allege that under the current government, Australian businesses are hurting and they need a change. He urged all business owners who agree with him to vote for Liberals and get rid of the current chaotic government. Emanuele kept his speech short to allow for the program to proceed.
Generous bids were sought and made during the auction that followed the formal proceedings. Auction items included a 50inch LG Plasma TV, accommodation for 2 people at Beau Monde and Heli Experiences helicopter ride to Yarra Valley. An autographed cricket bat from the historic 2003 Top End Tour match between Australia and Bangladesh raised the entertainment quotient and bid considerably and finally went to Paramjit Jaswal for $16,000. Emanuele acknowledged his generous support by promising to take Jaswal along with him to Australian magnate Solomon Lew's house for a breakfast meeting the next day. The evening officially concluded at this stage, but some stayed behind to socialise and to get acquainted with Emanuele and his wife Isabella.