Reading Time:
3
minutes
Growing up in India, Anudeepa Kadiresan loved to create Tanjore paintings using the centuries-old traditional method.
"Of course, I used aluminium foil instead of the expensive gold foil," she laughed.
The gold is a distinguishing feature in this genre of art, used to emboss raised sections of the canvas. It is a technique believed to have originated in 1600 AD in the courts of the kings of the erstwhile courts of the Thanjavur kingdom.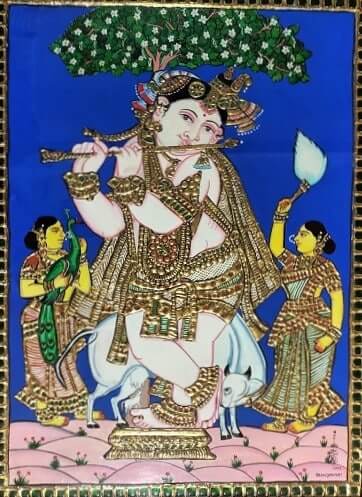 Early exposure to this artform, and a natural inclination towards art in general, instilled in Anudeepa a deep love for all things Dravidian, as the classical art and architecture of her native southern India is called.
Today, as a Melburnian of some 18 years, it has become an integral part of her life.
The Dravidian Art Gallery which she launched in Rowville in 2010 has blossomed beautifully: besides art works for sale, it runs art classes for all age groups.
Anudeepa regularly exhibits her works at The Hut Gallery in Victoria, The Track Gallery, Space2b Social Design, the Brunswick Street Art Gallery, and Docklands Gallery.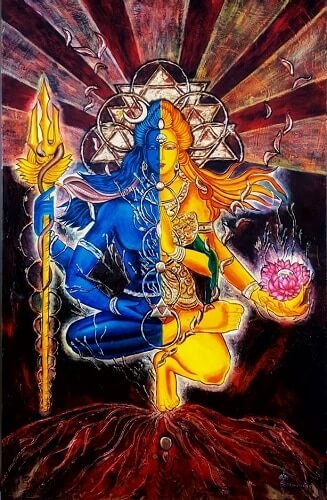 "A solo exhibition showcasing the Dravidian art culture at the Parliament of Victoria has been a particular highlight," she revealed with pride.
For this Tiruppur-born and bred artist, the niche career she has carved for herself here in Australia offers many an opportunity to talk about the Dravidian culture so deeply ingrained in her.
The most common questions are of course about technique.
"I explain how I sketch my figures with agamam (sculptural) rules and then transfer them on to a well-prepared gesso board," she described. "The gold foil embellishments always elicit much interest, and I describe how I use glass beads for inlay whereas traditionally they would have been precious stones."
It is clear that Anudeepa Kadiresan cherishes the effort in the process of this incredible medium.
Subject matter becomes another welcome talking point.
"I love talking about the devotional aspect of this artform," Anudeepa revealed. "The figures are usually Hindu deities or saints or scenes from mythological legends, and is a special delight to enlighten my young Indian-origin students who are born here."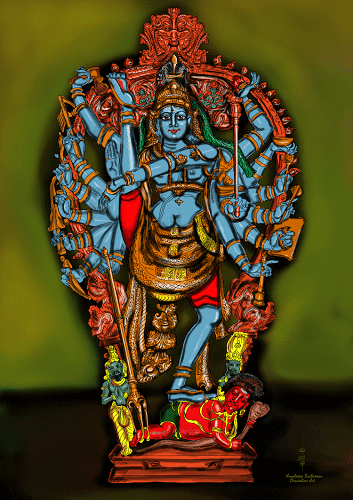 Dravidian art created on wood traditionally adorned walls not only inside temples but also in dwellings, so they were part and parcel of daily life.
"I focus also on sculptural sketching, so there's plenty to talk about on temple architecture as well."
At the end of the day, Anudeepa likes to describe herself as "a Dravidian girl who wants to show rich Dravidian culture and arts in Melbourne."
It comes somewhat as a surprise that Anudeepa never studied art, her professional qualifications and early experience being in software engineering.
"I thought I would take a Masters of Fine Arts degree at ANU when I first moved here," she revealed wistfully. "In my early days I used to visit the city library on Swanston St regularly to gain more knowledge in arts and colour theory. This period in my life taught me a lot about art-related studies. It also somewhere planted a seed to make my own artworks."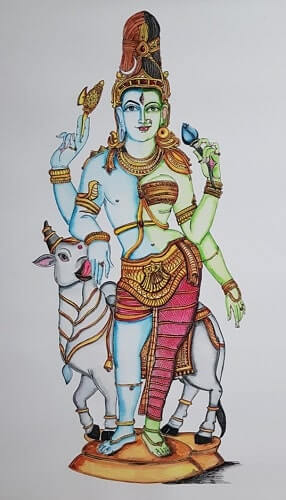 It was looking back at her own roots that ultimately brought creative satisfaction and success.
"I started art with passion, and over time, art has helped me understand more about the true meaning of the ritual beliefs and practices we all follow in different cultures. Today, I wear an art lens when looking at all religious architectures and cultural practices. This perspective helps me in my own practice too."
Currently, Anudeepa Kadiresan is researching the Indian epics Ramayana and Mahabharata, as well as iconic pieces from Tamil literature, to seek out ideas for illustration at her Dravidian Art Gallery.
READ ALSO: Artist Kritika Kain: Finding connect with the Dalit community