Reading Time:
3
minutes
Sydney's Aishwarya Harishankar, 12, has taken top honours in the Junior category of a prestigious annual global Carnatic music competition conducted by the Chennai-based organisation Guruguhaamrta.
The organisation is a not-for-profit devoted to the propagation of the legacy of Muthuswamy Dikshitar (1776-1835), one part of the legendary trinity in Carnatic music.
The contest is devoted to the compositions of Muthuswamy (or Muddusvami) Dikshitar, which continue to be performed centuries after they were first created.
Known as the Global Competition of Dikshitar Kritis for students of music, the contest has gained in stature among practitioners of the art for its serious, focussed and academic approach to the works of Dikshitar.
Numbering 500 in totality, Dikshitar's poems or songs are dedicated to various gods and temples, and are exquisite in their descriptions.
This year, some 200 contestants participated from across the globe including USA, UK, Europe and the Middle East, early in November.
Aishwarya Harishankar was one among nineteen who made it to the finals.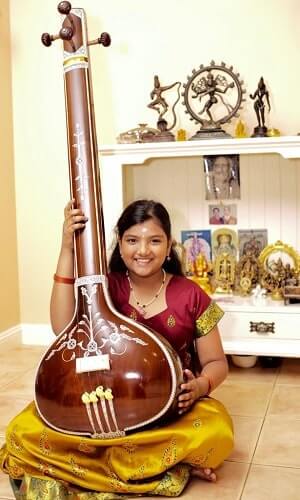 Considerable skill is required to present the work (or kritis) of Dikshitar – firstly because his compositions are known for their excellent diction, and secondly, they are challenging to sing as he exposes the chosen raga to the maximum extent, exploring its entire depth and details.
And so it is no mean feat that Aishwarya, a Year 7 student at The Ponds High School in NSW, successfully competed and won an accolade.
She recounted to me with admirable confidence, "I was asked to sing Sharavathi (in Raga Sharavathi), Vishwanatham Bhajeham (Raga Natabharanam) and Narasimha Agaccha (Raga Mohana)."
That she accomplished her tasks in sparkling glee, is more than evident in the recording of her presentation that day.
She won a Thamboora for her efforts.
"I would like to be a musician when I grow up," Aishwarya revealed, but added, "And a doctor too."
She has been learning vocal Carnatic music for the past four years from her gurus Dr M S Ramanathan in Sydney and Bharathi Ramasubban in Chennai.
"I am inspired by past masters such as M D Ramanathan and G N Balasubramanyam, and also today's legends like Sanjay Subramanyan," the young talent related.
She seems to be on the right track for greater achievements.
With a regular practice regimen of 30-35 minutes every second day, Aishwarya strengthened her skills for the competition with extra lessons from her teacher and also rehearsed during the weekends.
Alongside her other interests tennis, art and swimming, besides school work of course, she must have been a very busy young lady.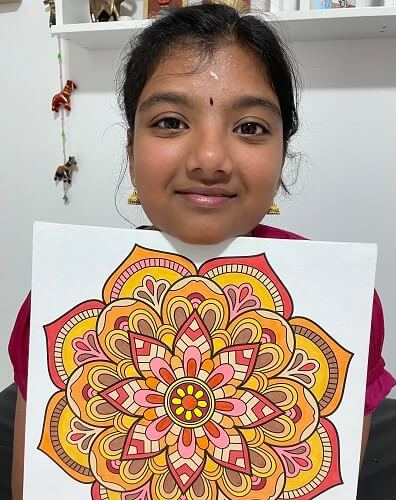 Aishwarya is a regular performer in the Sydney Carnatic scene, presenting at several temples and in music organisations like Yuva Sangeetha Margam, Raagapriya and the Sydney Music Circle.
She thanked her gurus and parents for their encouragement and support.
Music flows in Aishwarya's family. Parents Harishankar Kailasam and Srividya Harish (both IT professionals), as well as her brother Abhinav Harishankar (a vocalist and a violinist) are all involved in music.
Whenever I meet a young talent like Aishwarya Harishankar who is full of promise, I feel confident that our tradition of music is secure in the hands of the next generation. We can safely pass the baton on.