"I never had the sense of self-worth or confidence to apply to MasterChef," starts Loki (Lokesh) Madireddi, "I simply never thought myself good enough to get in, you know?"
One wouldn't believe that this Indian-origin MasterChef contestant, a people's favourite, would have ever said this. For Loki stormed into the popular cooking competition, guns ablaze with his India-inspired dishes that left the judges hankering for more, and won the season's very first immunity pin in what was a surreal episode of fine cooking.
The confidence came after a long bout of self-doubt though. "I was in the real estate industry and I was just very disillusioned with the job. It was becoming difficult to just get out of the bed and face the day. My 6-year-old son Indy (Indryaan) who's wise beyond his years asked me 'If you're so unhappy, why don't you just apply to MasterChef? You watch it every year, you love cooking, so why don't you do it?'
What followed was fate – Loki quit his job, applied to the show and was called in for the audition four days later – and the ex-contestant says he has his son to thank for the incredible experience.
Loki's tryst with food is nothing new. "I was born in Mysore, brought up in Chennai and my family (ancestors) is from Andhra Pradesh. I consider myself more Tamilian than anything else because that's where I grew up and spent my formative years. I studied at Don Bosco, was a back-bencher and stole people's lunchboxes," he laughs.
Following a near-fatal accident, Loki was sort of placed under house arrest. "You know how Indian parents are. They became really protective and I wasn't even allowed to go out and play after that. So I started hanging out with my grandmother who used to cook in the backyard. My father was in the railways and back then seafood used to be transported for export via railways. Thanks to that, our home always had surplus of fresh produce like crabs, fish, prawns. I'd sit with my grandmother and watch her cook."
He adds, "My first cook was a fried egg – I was five years old. I got yelled at for using the stove unsupervised and I had locked myself inside the kitchen because I wanted to surprise my parents. My mum screamed that I could've burnt the house down but I just did what I had seen her do – I'm a visual person, I see someone cook something and I can copy them step for step."
Possibly the reason why Loki never 'measured stuff' in the MasterChef kitchen. "Yeah, I'm not a 'measurer'. I cook instinctively. I mean I get that there are dishes (especially desserts) where you have to keep an eye on those scales for every little gram, but that's why perhaps those aren't my strengths," which was also the reason behind his untimely elimination – in spite of being in the possession of an immunity pin, something he made MasterChef history for.
"Ben (Borsht) took me aside and said to me 'It's okay, go ahead and use your immunity pin. We're all fine if you do.' It was a lovely gesture but it just didn't sit right with me," shrugs Loki, who decided to forego using his pin to "stand by his mates".
While many criticised him for his move, it didn't bother him. "The one person that matters to me the most said that he was proud of what I'd done, so I'm at peace with my decision. If I had to, I'd do it all over again."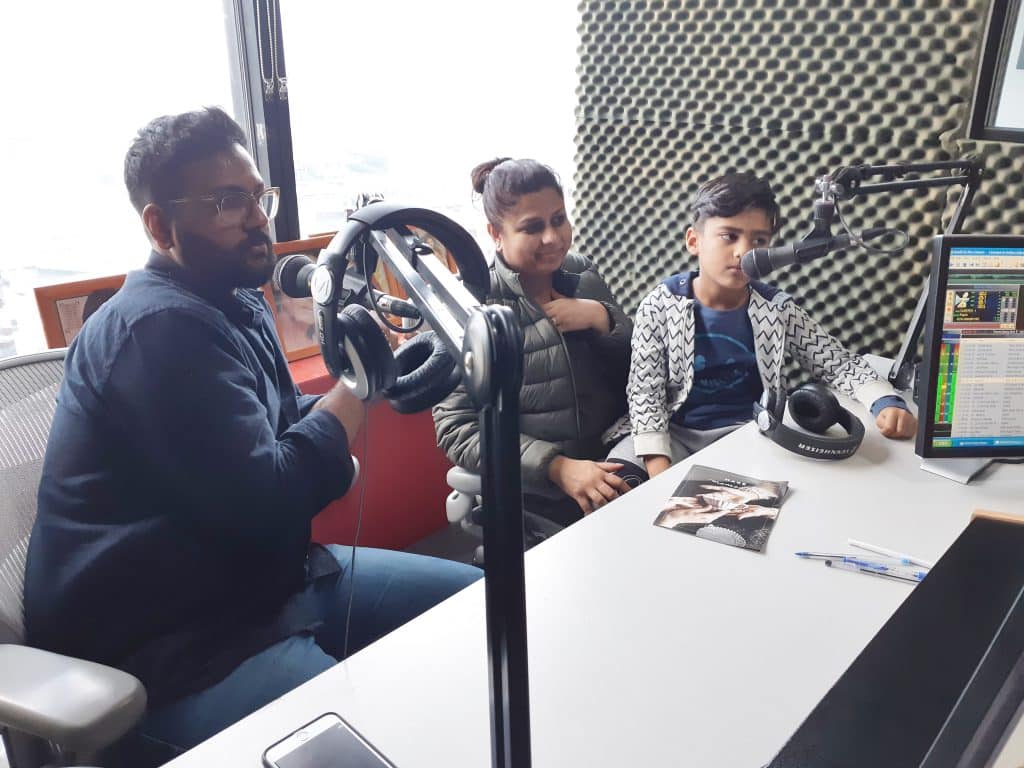 As one might think, though, winning that immunity pin isn't the highlight of Loki's MasterChef journey. "For me, there's only one moment that stands out like nothing else does: the moment I walked out of the audition with the apron hidden behind my back. Indy walked towards me thinking I didn't get it and when I whipped it out, his face just lit up. I will never forget that."
Undoubtedly his biggest fan and influence, Indy is just as enamoured with food as his father. The two have started 'Indy-Loki Adventures', a series of father-son cooking sessions where they go fishing and explore different cooking techniques.
The 34-year-old stay-at-home dad also plans to start a cooking school for kids someday. "I don't really want to teach kids. I want to introduce them to how food is grown and how it makes its way to our plates. They should go out into the rice paddies and see how it's harvested. I want to do workshops where they can really connect with food. I also want to introduce people to India's ancient cooking traditions, like how we cook on coals and not on a gas stove. It's where the flavour comes from, it's the soul of food."