This holiday season, Mitu Bhowmick Lange, Director of the Indian Film Festival Of Melbourne (IFFM), had much to celebrate as she became the first Australian-Indian woman to receive the prestigious Jill Robb Award.
Mitu took home the Screen Leadership Award for Outstanding Leadership, Achievement, and Service to the Victorian Screen Industry and for fostering cultural collaboration.
Jill Robb was the inaugural CEO of the Victorian Film Corporation (now Film Victoria) and a member of the Film Victoria Board from 1983-1989.
As a producer and executive, Jill has been a role model for many screen practitioners, particularly women working in the screen sector.
Mitu is also the director Mind Blowing Films, a film production and distribution company that distributes Indian films throughout Australia and New Zealand.
Mind Blowing Films is three-time winner of the highest grossing foreign language film award at the Australian International Movie Convention for the films Dhoom 3, PK and Dangal.
Mitu's passion and commitment as a proponent of Indian cinema in Australia is visible in her impressive drive in leading IFFM to its current form.
Since its inception in 2010, IFFM has progressed in both scope and scale under her direction.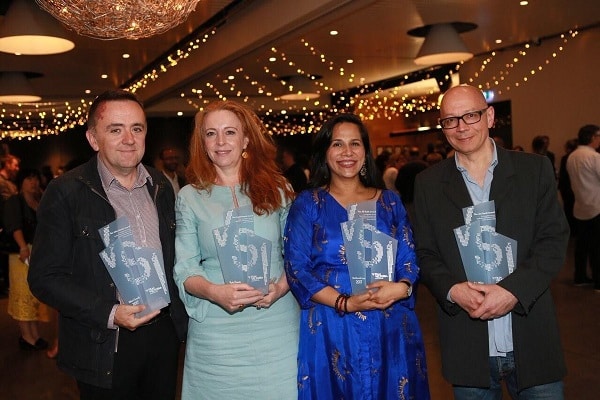 It is an initiative of the Victorian Government that aims to strengthen ties between the Indian film industry and Victoria.
IFFM was the first Indian event to win the 2016 Melbourne Award in the category of Contribution to Multiculturalism by a Corporation.
IFFM aims to showcase the diversity, quality and vibrancy of cinema from India and the sub-continent.
Every year, the Festival attracts a line-up of Indian film industry celebrities and stars.
It also provides a platform for up-and-coming filmmakers, dancers and performers to showcase their work.
In December 2017, the International Film Business Awards (IFBA), supported by the Government of Telangana, honoured IFFM with the title of Most Popular Festival Abroad.
Most recently, the Jill Robb award added another impressive accolade to Mitu's profile. She was understandably elated to be recognised for the prestigious honour.
"The award is decided by Film Victoria and to be honest I had no idea how it came about," said Mitu, flashing an infectious smile.
"I was happily travelling in Bombay when I got a call informing me about the honour. What made my heart burst with pride and joy was that I am the first Indian to win this – especially when the past winners have been legends like Sue Maslin, producer of Dress Maker, Oscar-nominated Jill Bilcock and other women who I really respect and admire," she said.
Mitu's creative and commercially astute approach helped her in overcoming the many challenges that came her way.
"My favourite song is Tagore's Ekla Chalo Re, and that's my mantra in life as well," said Mitu.
According to her, the one characteristic that has always helped her is tenacity and moving forward no matter what.
"The biggest challenge is usually to ensure that we are able to live up to everyone's expectations. As the festival is growing and getting such immense love and following, there is more pressure on all of us to keep doing better, and live up to the love," she added.
Mitu's recipe for putting together a successful show is to create a programme that has something for everyone and is a balance between arthouse and pop culture with a lot of fun and informative and interactive events.
Not one to rest on laurels, Mitu claims she has many goals to achieve.
"I want to make IFFM stronger and start a small film fund around the Festival. I also want the initiative of 'Educate the Educators' to become stronger and more widespread," she said.
"Educate the Educators was launched by our ambassador Vidya Balan, as a platform to help equip educators with the mind and skill-set required to address the teaching needs of special needs children. We had a good outcome in Delhi with our pilot program and we want to build on that," shared Mitu.
According to Mitu, Mind Blowing Films have now started releasing films in Fiji, along with Australia and NZ, so she needs to build on that and also get her dream film up and going.
Asked to provide a message for the women leaders out there who wish to break the glass ceiling and the bamboo ceiling, Mitu said, "Sky should be the only ceiling that can contain us. If we believe and push forward no matter what, the ceilings do stop existing. I truly believe in that and live that!"