Reading Time:
3
minutes
These school holidays, I'm heading to Europa with my parents.
No, that's not a spelling mistake. I don't refer here to Europe the continent, but Europa, one of the moons of Jupiter.
Of course, I'm not literally going there. A space shuttle will take my signature to this distant (holiday!) destination.
I came across this trip while strolling through Google out of sheer boredom. I stumbled on to the NASA kids website https://spaceplace.nasa.gov/ and clicked on it because I love everything STEM, however I also loved the website for its arts and crafts, 3D simulators and games.
Here I read about a NASA mission called Europa Clipper. It is a spacecraft that will explore Europa, one of Jupiter's moons, as space scientists think it has the qualities to sustain life, and not only with water. They already have evidence that Europa has water, close to twice as much as all of earth's oceans combined. WOW!
To support life though, there must also be chemical elements present (the ones from the periodic table). These could probably be there on Europa. When the moon was formed, some elements went rogue into the universe, so it's likely they landed up as one of the foundations of Europa. Scientists also believe Europa has energy, like any life sustaining planet or moon, and it is generated by chemical reactions rather than the sun.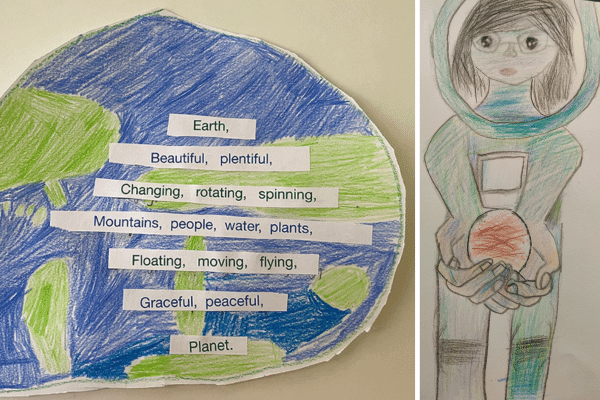 How exciting if this turns out to be true about Europa! The Europa Clipper will probably be able to tell us. It heads out to Jupiter in October 2024.
It will be carrying on board a poem, to which you can sign your name. I was stoked to learn that my name could be on the spacecraft, so I filled in all the requirements (basic details like email address) for me, my mum and my dad, who also liked the idea, and off to Europa we were going!
My mind has been buzzing with excitement since, and I visit the website every day to check this feature called the Participation Map, which tells me how many people from each country have signed their names so far. With a world population of billions, only thousands have signed up till now. I feel sad about the opportunity being missed, so I try to tell as many people about it as I can.
They have added even more ways to participate, including an AR experience of exploring the spacecraft.
I am now hooked on to the NASA kids website. My visits can last hours! There are so many things that you can create and develop here – a myriad of possibilities. I ask questions and learn new things.
They have monthly challenges where you must create an artwork or write a poem based on a prompt they provide, which would later be selected to be on the front page of their website.
You must check it out these holidays: https://spaceplace.nasa.gov/
Here's the poem which will be aboard the Europa Clipper:
You have till December this year to sign your name to the poem, so be quick about it!
Read More: How to navigate school holidays with high school kids