Reading Time:
3
minutes
Selvamanickam Sinnathamby's spiritual connect with Brisbane's Indian community began when he arrived here in 1980. Today, his 42-year service is recognised by the government, in a year that Hinduism has emerged as the fastest growing religion.
On Australia Day 2023 today, he is honoured with an OAM.
"I've been a devout Hindu all my life, and I'm proud to serve my faith and my people," the 91-year-old told Indian Link.
Mr Sinnathamby is one of the better-known and much-loved personalities at the Sri Selva Vinayakar Temple at South Maclean, in the south of Brisbane. Currently he serves as the Temple committee's vice-president, his age not being the slightest deterrent in the dynamic role.
Instead, his energetic and vibrant demeanour is an inspiration, especially as he takes an active interest in the Temple gardens.
"I'm an ardent and vigorous gardener," he described. "I'm particularly fond of Indian varieties like roses and jasmines, which we first cultivated for Temple garlands. Now we also sell to interested people."
The large grounds of the Temple have come a long way since the establishment first came into existence.
Although the new  structure has been standing since 2015, the Temple was actually first built in 1995. Sinnathamby was there when the idea was first mooted in 1983, and then helped a committee see the process through from fund-raising, finding a location, purchasing, putting in development applications and then sourcing deities and artisans from southern India.
"Just like Hindu temples in India, ours is in virgin bushland, set in natural scenic beauty, with the Logan River flowing past us," Mr Sinnathamby described. "It's a peaceful and beautiful place."
The Temple itself is built strictly according to Hindu architectural guidelines.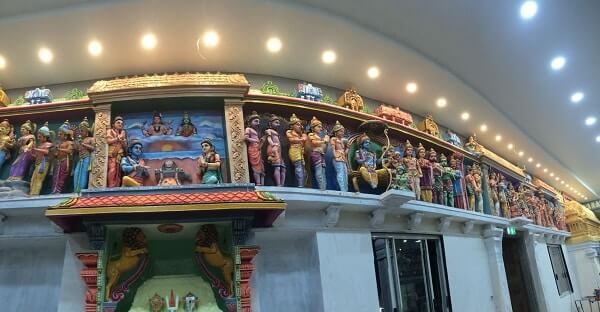 As a Ganesha temple, the deity of Lord Vinayakar has prime positioning.
"But we have all other deities too," Mr Sinnathamby explained. "They are brought out on special occasions for circumambulation."
From a few handful families that began it all in 1983, today nearly a thousand devotees visit on the weekends.
"Weekdays are busy if there is a calendar event on, like a festival or auspicious date," Mr Sinnathamby said. "We also have non-Indians visiting frequently now, such as school groups and others. We take our visitors for tours and explain the significance of various elements. We are pleased to see interstate visitors are also increasing."
The Temple canteen is quite popular, he added, for its south Indian preparations.
"We are now looking forward to having a kalyana mandapam (wedding hall), and scripture lessons for kids."
Selvamanickam Sinnathamby moved to Australia from Malaysia.
"I was a psychiatric nurse, trained in Singapore and UK, and worked in Malaysia before moving to Brisbane," he revealed. "Drug and alcohol rehabilitation was my specialisation."
Transition to Australian life was easy, he noted, given his willingness to adapt to the ways of his new home. "To new migrants I would say, adjust to the conditions here, learn to speak English, mingle with the people. I love Australia; it's a fantastic place. My lawyer son says, 'Dad, the best thing you did in your life was to move to Australia!'"
Serving as a nurse or serving at the temple – which would he say has been more fulfilling?
Selvamanickam Sinnathamby replied with dignity and devotion, "Both have been ways of serving the community.  The last days of my life, I'm content to be spending at the foot of my lord."
READ ALSO: Melbourne's Selvarajah Muraledaran, OAM: Australia Day Honours 2023