Reading Time:
4
minutes
Three doctors and a medical student of Indian origin were recently felicitated by South Australian Indian Medical Association (SAIMA) at a grand function attended by over four hundred invitees.
Every year SAIMA bestows its President's awards on doctors who have performed meritorious work in their respective field of medicine. This function, held after a year's gap due to Covid, was somewhat distinctive in the selection of the candidates. While one of them is deeply involved in research that has gained recognition from Harvard Medical School, a second is still on his way to getting his degree, a third has recently retired after a long innings of half a century of practice, and the fourth has just padded up as a Resident.
While the two senior recipients of the SAIMA honours had their skills tuned in India, the two youngsters are from local universities.
It is to the credit of SAIMA president Dr Seshu Boda and his committee, to have selected such a diverse set of candidates who received their awards at the hands of SA Health Minister, Chris Picton.
Associate Professor Dr. Anupam Datta Gupta received his award in recognition of his research in Rehabilitation Medicine. He is currently the head of General Rehabilitation Unit at Central Adelaide Local Health Network. His research interests include functional restoration of patients with neurological disorders like gait, spasticity, cancer rehabilitation and cognitive biases in preventing diagnostic errors.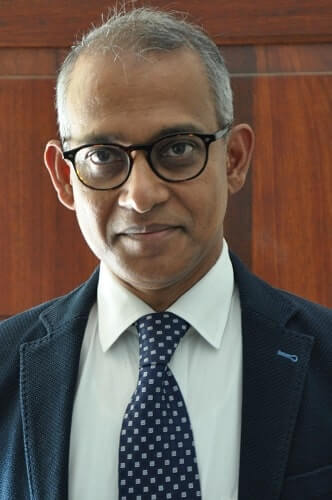 He is a recipient of International Society of Physical and Rehabilitation Medicine (ISPRM) scholarship and also the Clinical Research Scholar Certificate from Harvard Medical School.  His doctoral thesis on the use of botulinum toxin A for improving health outcomes in neurological patients with spasticity and dystonia has led to the extension of Pharmaceutical Benefit Scheme (PBS) listing to help sufferers.
SAIMA, by picking up a student for its award, has shown that it has an eye for spotting bright sparks and throw an incentive for other students aspiring to take up medicine. Shreyans Sinhal, a second year medical student at the Adelaide University, has been a top performer right from his school days scoring six subject merits in his Matric and coveted prizes in Physics, Mathematics and Informatics competitions at state and national levels. As part of his studies, he has embarked on a research project in atrial fibrillation, probably inspired by his father, a well-known cardiologist.
Dr. Jaya Pathi received her award for her work as the longest serving female practitioner. By the time she hing up her stethoscope, she had clocked a total of 53 years, 47 of these in Australia, most of that as a solo practitioner in her own practice.  She landed a job two days after her arrival and worked six days a week ever since. When she retired in 2020, Adelaide's Advertiser published a story on her long innings and an editorial as well – a rare honour. Seeing this article, one of her cousins messaged that 17 of her nieces and nephews, taking her lead, are practicing medicine in half a dozen countries.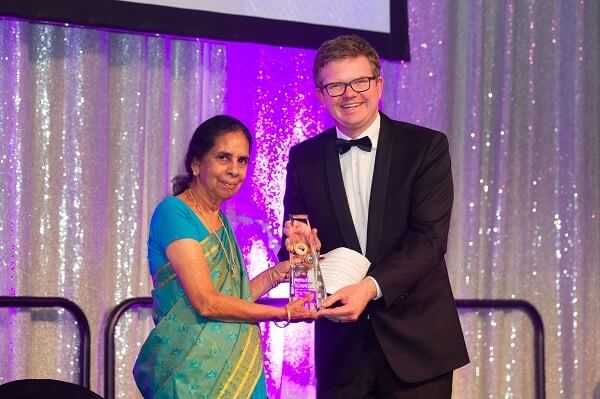 In her acceptance speech, she narrated some interesting facts like a GP consultation cost $3.80 in those non-Medicare days, SA Medical Board registration was only $4 and a GP's weekly salary was around $200 – comments that made many in the audience guffaw. She also narrated issues faced by new migrants, like very little social life because of the small number of fellow-Indians (around one hundred families), and even lack of basic Indian grocery.
The fourth recipient in this year's SAIMA honours, Rahul Malhotra has just started his medical career as RMO after graduating in 2020, winning a couple of scholarships from Max and Bette Mendelson Foundation and John Flynn Placement Programme and, earlier, as Dux of School before entering medical school. While studying medicine, he undertook tutoring in biology and chemistry, mentored first-year students and acted as an investigator in a few medical research projects. With keen interest in anaesthesia, he participates in the management of perioperative patients. His other interest are cyber security, cricket and saxophone.
Dr. Boda, besides co-owning and running a large group practice, has had the enviable task of guiding SAIMA during the peak COVID years and organising a function of this scale.
Child psychiatrist Dr. Huu Kim Le, acting as MC, kept the doctors in stitches with his humorous anecdotes. After all, laughter is the best medicine.
To prove that doctors have keen eyes for the finer things in life, the SAIMA honours event added as entertainment some provocative pirouette routines of Latino dancers.
READ ALSOI: Dr Jaya Pathi: 50 years as a sari-clad GPO