Reading Time:
4
minutes
University of Melbourne Sustainability Engagement officer Raveena Grace says her mother, English Literature graduate Mridula Chopra, is the inspiration behind her passion for the environment.  
Like the nature loving Treebles of their debut book, the mother and daughter duo love to 'frolic through tall grass and jump in the hay', spending their spare time exploring the Great Ocean Road or Victoria's High Country.  
But earlier this year, they took their passion to the next level, teaching kids about sustainability with cute illustrations and catchy rhymes with their children's book 'Rosie Rescues her Precious Planet'. The book follows Rosie, a member of the eco-friendly Treebles, who leads the charge against the greedy Dregs when they take over the Treebles' habitat and exploit its resources.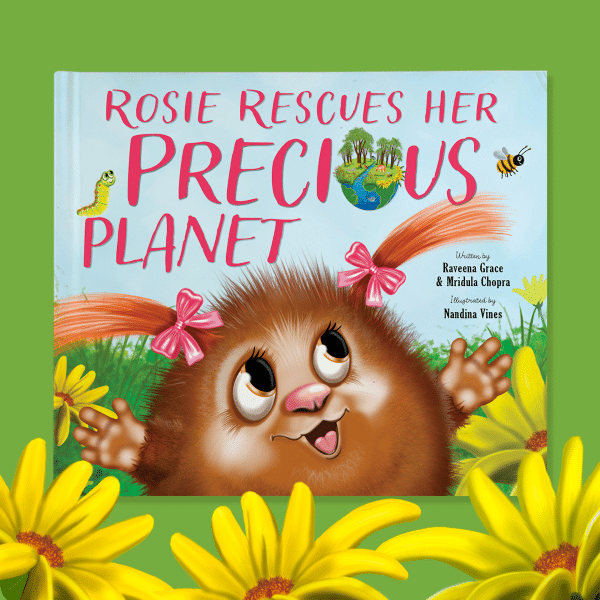 They've now expanded their vision to Instagram, where they post practical tips to help readers be their own 'Rosie' and protect their natural world.  
First-time authors
When Grace was asked to communicate sustainability in a creative way for an assignment during her Master of Environmental Science and Climate Change, she knew she had to collaborate with her mum.  
"Mum and I love using our creative juices. She's a great writer, so I thought it's the perfect time to do something outside of the box," says Grace. "When thinking about the assignment, I wanted it to be something we could do together and that combined writing and sustainability into one – hence a children's book." 
But whilst writing the assignment, they quickly realised the book they were working on had greater potential.  
"It was so fun to see Rav[eena] doing the assignment; but then we thought about the bigger picture and the aim to reach children and educate them," says Chopra. "Rav got great feedback from her professor, and that's when we felt like we should publish it." 
After eight months of redrafting the piece with their publisher Little Steps, in March 2023, 'Rosie Rescues her Precious Planet' was published. As first-time authors, the duo say the experience of publishing their own book has been informative and enjoyable.  
View this post on Instagram
"Each step involved emails back and forth until we were completely happy with the end result…it was such an exciting and rewarding experience and we highly recommend it to anyone who wants to write a book," Chopra says. 
Though a lengthy process, their familial connection and shared eco-sensibilities kept things moving smoothly. 
"It really helps that my mum's already so aware about climate change and sustainability. It's so nice to be able to tell her new information and have her immediately ready to take it on board," says Grace. "We had a shared vision for how we wanted to communicate sustainability [in the book]; we think very similarly."  
Breaking down sustainability
Illustrated by Nandina Vines, 'Rosie Rescues her Precious Planet' breaks sustainability down for young minds with colourful, cute cartoons and poetic language. Grace says they deliberately chose to use fluffy imaginary creatures like Treebles and Dregs over something more humanoid, as it allowed them to explore sustainability in a non-confrontational way. 
"Sometimes when you teach sustainability, people can disconnect if it's not positive messaging or aimed at them," she explains. "I think this is a different way, where you can influence behaviour and make them aware of needing to look after the earth, but not directly offend them." 
Through their book, Chopra and Grace are keen to foster hope and a drive for action amongst youth, even amidst today's dire circumstances. 
View this post on Instagram
"We want to encourage kids, not scare them. Even the Treebles lose hope for a bit in the book, but Rosie encourages them to [keep going]," says Chopra. "At the end, instead of just leaving the Dregs, the Treebles work with them, because they want to change."
"It's important to give people hope, and let them know if we work with nature, there's endless possibilities to restore our planet. We want to show it's possible to have an environment stewardship mindset." 
But saving the environment in real life isn't always black and white, and those who are sustainability conscious can still make contradictory decisions every day. Chopra and Grace are aware of this complexity, and agree it was difficult to distil into a children's book format. 
"It was hard to get all the points we wanted in," says Chopra. "The aim for the book was to get kids interested in sustainability, and then build on that through marketing, our Instagram and talking about it at schools."  
View this post on Instagram
The mother and daughter duo are already planning a follow up to 'Rosie Rescues her Precious Planet', which will explore sustainable behaviour and choices in more detail. But for now, they hope the community will get behind the message and take small steps towards a sustainable future. 
"Sustainability is often seen as a luxury, but we all have the ability to do what we can – even something as simple as recycling properly can make a huge difference," says Grace. "Anyone can be a change maker like Rosie, they just have to have a bit of passion and support." 
"Every individual has a Treeble side, and a Dreg side," Chopra says. "Every day we have to question ourselves in our actions: what would Rosie do?" 
Rosie Rescues her Precious Planet is available now as a paperback and hardback from Little Steps Publishing. 
READ ALSO: The Rainbow Brain: Celebrating Autism-ADHD individuals