Hindu Council event
Swami Vivekananda said, "Jnana, bhakti, yoga and karma are the four paths that lead to spiritual freedom. For this modern age special stress should be laid on Karma Yoga."
With these words in mind, on 21 June, Hindu Council of Australia–SA organised the 4th International Day of Yoga at Victoria Square and Royal Adelaide Hospital.
As declared by PM Narendra Modi, the intention of this day was to promote world peace and harmony. More than 50 people got together and practised yoga in the middle of the hustle and bustle of the city. It was a great message for a community where crime, violence, depression has become rife.
Different schools of yoga participated in the event, like Therapia and Australian School of Meditation and Yoga. And Kelly from Power and Living and Khyati Fadia were among the Yoga teachers. It was heartening to see people gather on the cold but sunny day to practise asanas and pranayama.
The event this year was special in another way: the HCA conducted two yoga sessions for staff at Royal Adelaide Hospital, namely doctors and nurses. It was a lovely gesture to those who spend their days and nights tending to the sick but hardly ever get taken care of. The 7.00 am session was led by yours truly and the 3.30pm session by Srey Man.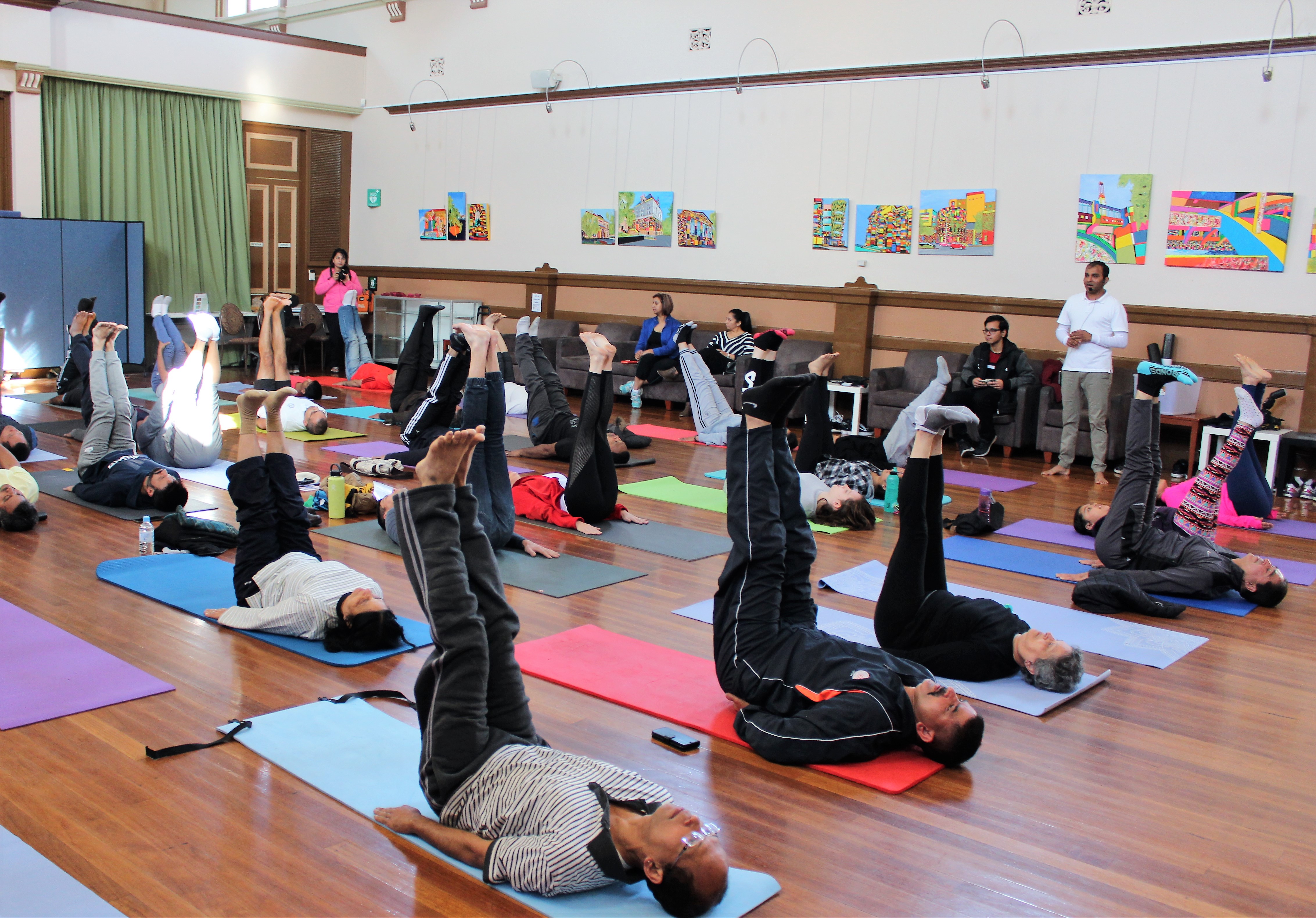 But the celebrations hadn't ended yet. On Sunday 24 June, the Australian School of Meditation and Yoga organised a Bhakti Yoga dominant celebration at North Adelaide community centre that was attended by over 100 people. The event started at 1.30pm with a spiritual talk based on the Bhagwad Gita, and a yoga dance led by Vani on the Maha Mantra warmed up the crowd. The event was concluded with yoga asanas and meditation. Afterwards, people were invited to a kirtan and a delectable vegetarian dinner at ASMY at North Adelaide.
It's encouraging to see so many people coming forward to learn the ways of yoga irrespective of their religious beliefs or cultural backgrounds. People are really beginning to understand the numerous benefits of yoga that can help them maintain an emotional balance in the hurried lives they lead on a day to day basis. If this year's attendance is any indication, International Day of Yoga next year will witness even higher participation.
Vani Shukla
Art of Living – CGI event
Yoga is not restricted to India anymore, in fact, people all over the world practise it. Its popularity to a large extent stems from the fact that it provides both mental and physical health benefits. In the last four years, we even have a day dedicated to yoga to pay homage to its healing and grounding qualities.
Regardless of the branding and "different forms of yoga" that have crept into the market, yoga still remains a unifying force.
Those who practise it should gradually begin to feel more centred within oneself and start to recognise the various benefits that invariably will begin to flow into one's life with asanas, dhyana and pranayama.
This year, scores of people from organisations and schools turned up in Adelaide to mark International Day of Yoga. The event I attended and took part in was organised by Art of Living, South Australia, on behalf of Consul General of India, Sydney, along with The City of Adelaide, at the North Adelaide Community Centre on Saturday, 23 June 2018.
The Consul General of India, Sydney, B Vanlalvawna kickstarted the event by sharing the benefits of yoga in a simple yet succinct manner, even showing the audience a few yoga positions during the session.
Among the luminaries present were Carolyn Habib, MP (Labor Party) who also represented the Premier of South Australia, Steven Marshall, Russell Wortley, MLC (Labor Party), Dana Wortley, MP (Member for Torrens, Labor Party). Lord Mayor of the City of Adelaide, Martin Haese, spoke of his longstanding love for yoga and meditation.
Representatives from more than 20 different community organisations including VHP-SA, Saibaba Sansthan, Ram Sharnam Adelaide, IAASA, Jain Durga Sankirtan Mandal, Hindu Swayam Sevak Sangh, Adelaide Telangana Association, Jat Maha Sabha, Adelaide Kannada Sangha, BHIMA, Yoga with Vani, Soham Yoga and mainstream and ethnic media as well as senior community member, Dr Dilip Chirmuley, OAM, were present.
The attendees, young and old, were enthusiastic in their participation, eager to learn. They did their best to follow yoga master Vivek Kulkarni who led the session verbally with yoga teachers Gerel and Raghu Appana, demonstrating on the stage.
Virendra Nath Tripathi, State Coordinator SA, Art of Living Australia was the emcee of the event.
Once the session came to an end, attendees were offered black tea, samosas and a chance to network with each other. Meanwhile, back in India, to the mark the occasion, PM Modi led an estimated 50,000 volunteers at the Forest Research Institute, Dehradun in a group practice. He rightly described yoga as a force in unifying the world within and the world without, just as it did for us here in Adelaide.
Sunila Vig