Reading Time:
3
minutes
In July 2017, wide-eyed boys Devarshi Desai and Kunal Sitlani moved to Australia from Ahmedabad for further studies.
As is the norm, both took admissions to their universities (Melbourne's Monash University and Sydney's Macquarie University respectively) with the help of education consultants in India.
Very soon though, they realised that issues like finding affordable accommodation and part-time jobs, making new friends, and adjusting to a new culture were outside the purview of education consultants.
And so, the duo decided to do something about it.
They began to post videos on YouTube, disseminating relevant information for other international students – and just like that, Internash was born.
That was 2018.
Today, Internash has over 100,000+ subscribers on YouTube and 23,000+ followers on Instagram, the demand for their content having grown organically.
Through Internash, students ask questions, get help and even make friends in a new country.
"Internash is a trusted source of news, information, and entertainment for international students who are planning to study in Australia and who are already in Australia," Devarshi Desai tells Indian Link.
"It grew so big that we turned it into a media startup," smiles Kunal Sitlani,
Small beginnings
The concerns for the two lads began even before they got to Australia.
It was an honest struggle even to connect with other international students who had taken up the same course in Australia.
"I wanted to understand the ground reality on campus," rues Desai, lamenting the fact that there was nowhere he could turn.
"These education consultants have never studied abroad nor lived abroad; hence they lack experience of what it is like to be an international student," points Desai, now 29. "They only help students with the admission and student visas."
He adds, "We wanted to put our story out there so that even if it can help one person, they can prepare better for their life abroad."
Despite moving to different cities, the two friends were linked through their initiative, Internash. They both brought distinct interests to the table in this joint project.
"Devarshi was always fond of media and content creation, and I have been working in the international education sector," says Sitlani.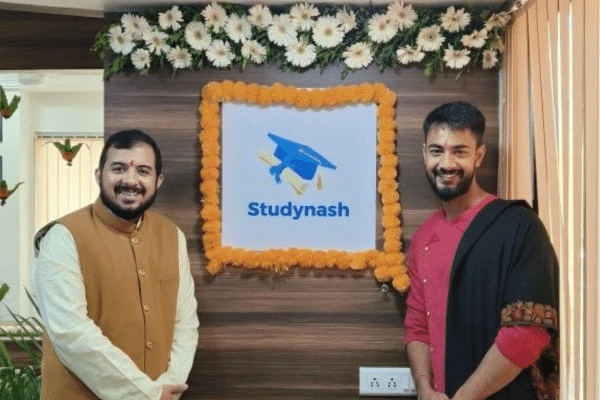 They met years ago at a GMAT coaching class in Ahmedabad, their initial plans being to study in the US.
Conquering new horizons
Clearly, America's loss was Australia's gain.
Last year, the duo set up Studynash – which connects prospective international students with current international students to make an informed decision before relocating abroad. The platform also offers guidance in applying for various scholarships and universities.
"We also want current international students to be rewarded for their time and efforts they spend speaking to potential students. Our platform allows students to book a time and review their ambassadors (current international students). Participating international students make some extra revenue by giving guidance to prospective students," Desai informs.
Recently, the duo secured pre-seed funding from Antler Australia (a Venture Capital firm) for Studynash.
"We are now investing that money in building the technology and expanding the team. Currently, we have offices in Adelaide, Canberra and Ahmedabad. We are hoping to expand the team here and serve many more students in the coming months," adds Sitlani.
While Desai works out of a co-working space in Adelaide, Sitlani handles Studynash operations from Canberra.