Whether it's recipe rescue or fashion faux pas, mums are just a speed dial away. Here's a toast to the superwomen in our lives.
Alicia on her mum Jyoti Vrajlal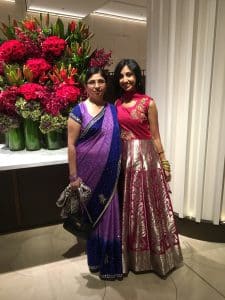 My mum has received some interesting phone calls from me over the years, and as usual, she always knows what to say, no matter what the situation is. A memorable phone call happened very recently when I asked my mum to send my laptop to my office via an Uber after I'd accidentally left it at home.
Bless her! She put the laptop in two bags with multiple padlocks, and wouldn't let the Uber driver leave till she sussed him out. If that's not top level security, I don't know what is. Thanks, mum!
Bhuvi on her mum Vinaya Rai
When my sister and I were in Year 7 we started taking the bus back home from school. Because the bus only came every 30 minutes, we decided in our infinite wisdom to take a bus from the opposite side because there were more buses with the same number. We thought it'd drop us near our home but on the opposite side, you see.
After half an hour of checking google maps, my sister and I began panicking because the bus was going in the opposite direction of where we needed to be. We called mum who calmly asked us to explain the situation to the bus driver. I could sense the panic in her voice as she instructed us not to get into another bus. Unbeknownst to us, Mum had to leave work early and eventually she picked us up. Thank god for her! My sister and I were dreading explaining everything to her, but when she saw the two of us, scared and tired, all she did was laugh. Phew!
Ronit on his mum Preeti Jabbal
I have called my mum so many times I have lost count. But the one that I remember recently was the first day of school when I left my laptop at home. It was an emergency (aren't they all?) because my class was about to start so she didn't have time to dress and instead had to come in her PJs.
Now if you don't know my mum, she is incredibly fussy about wearing the right thing to the right place, so she was not in the least bit impressed. On top of that I missed her call when she arrived and she had to step out in her pajamas to hand the laptop to my classmate. And yes, I copped it that evening when I got home – not so much for forgetting my laptop but for making her commit a 'wardrobe sin' lol. That's so my mum! But I love her heaps.
Manan on his mum Rajni Luthra
I've rung my mum in panic many times. Like when I left my sports gear at home. When I left my music instrument at home. When I left my homework at home. When I left my hat at home. When I left my lunch at home. When I left my blazer at home. When I left my English novel at home. Once, when I left my bag at home.
This happened all the way through school, from Kindergarten to Year 12 (sorry, Mum!) Towards the end of school, when you thought I would be more independent, I still had to seek Mum out when I had trouble with the corsage for my formal date: she wanted one with a real string tie, not an elastic, and I didn't know how to tie it! Mum became my practise test.
And yes, only recently, when I had too many beers at a party, I rang her to come pick me up. You know what they say…you can always count on mum!
Rishabh on his mum Parul Malhotra
I had my HSC exam on 28 October and my mate messaged me "Are you all set for tomorrow?" at 12:15am on 27 October.
I thought he must be kidding and I told him the exam is day after and not tomorrow. He told me to check the date and without realising that it's 12am, I just saw the date and freaked out and screamed "MUM!!"
A few seconds later, I saw the time and realised he was factually correct but also got to know that when in trouble, the first person you think about is your mother.
Azaara on her mum Preethi Perakath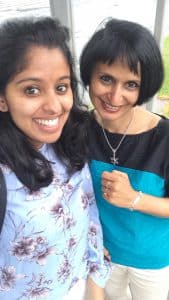 At times, it has felt like my life has been peppered by a series of little panics, but my mum has always come to the rescue. I had a slight wardrobe malfunction involving my sareee while dancing at my cousin's wedding. I was mortified and needed emergency fashion services. As it so happened, it was nothing that my mum, armed with safety pins and needle and thread, couldn't fix!
Mum is also a fantastic cook, which as a result has meant that I didn't cook much at home. Over the summer, I moved to Melbourne to pursue a summer job at a law firm and decided one night that I wanted to make some Mexican food. I bought the ingredients but realised halfway through sautéing the chicken that I really wasn't sure what to do next. I was even more apprehensive about ruining someone else's kitchen with my culinary quest, so I immediately called Mum for help. She calmly talked me through what to do step-by-step and the dish was actually edible, thanks to her!
Being able to dial "1800-MUM" is a much-needed lifeline, and one that I'm sure, even years from now, I'll never stop needing.
Marla, Simren on their mum Jagviner Samrai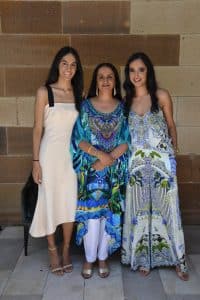 Mum always has the answers…..
When we're stressed about Uni work
When we don't know what to wear
When we're making major purchases/mistakes
When we ask what's for dinner
When we need life advice
Mum's always there to…….
Make us a fresh home cooked meal despite our picky eating habits
Remind us to pack our opal card and even make a second trip to the station to deliver it when we forget it anyway
Drink copious amounts of water
Pamper us treats when we're stressed with work and study
Appurva Raaj on her mum Kayalvizhi Rajasekaran
Amma,
In your eyes you cradle the world,
the world you have made me brave enough to face,
and audacious enough to change.
In your lips you hold pearls,
pearls of wisdom and of strength,
for when I cast doubt upon my own.
In your heart, Amma, that's made of,
gold, steel and stardust,
you espouse empathy to the many truths of our fellow humans,
and the tenacity to challenge our own ignorance,
to surpass the meekness of the mundane
to set forth and seek my own fate.
And, through it all, in your hand you hold mine,
guiding me through the unknown,
from my first steps to my last,
my Amma.