For a man obsessed with Truth as the ultimate guiding principle in life – "Truth in thought, word and deed" – how would today's post-truth world be bearable?
Mahatma Gandhi's antidote, Shoma Chaudhury suggested at this year's Gandhi Oration at UNSW, would be to look within himself.
Chaudhury, an award-winning Indian journalist and political commentator, set the backdrop to her address quite succinctly, describing the post-truth discourse that has come to dominate our social consciousness.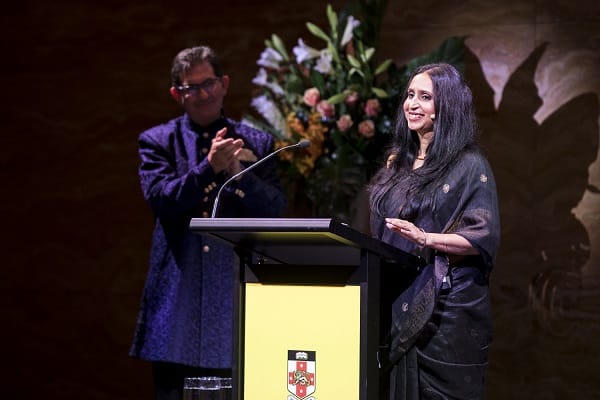 "A post-truth world is a world where evidence and fact have no value; where public discourse is defined by hyper-nationalism and a dizzying hatred of others, and driven by appealing to hyper-emotion and to fear-mongering," Chaudhury described. "It is a world where there can be no disagreement, only denunciation; where there's a refusal to dialogue, and a refusal to evolve. It is a world where there can be no range of emotions or positions, complexity or multiple perspectives, and where the idea of individuality is lost."
This systemic breakdown – infiltrating government, economy, the justice system, education – is fuelled by social media, which reinforces the prejudice.
How do we navigate this dangerous, dehumanised world?
A Gandhian perspective, suggested Chaudhury, would be to become self-aware and active citizens, not self-interested ones. To engage in scrutiny and dialogue with our moral selves, and to bring the soul force back into public life. To reclaim agency and speak up for moderation and maturity and a more reasoned discourse. To have the audacity, like Gandhi, to think new thoughts. The pushback must come from us regular folk: we must be the change agent.
"We must reclaim the sovereignty of the self and ask ourselves daily: do I pass the humanity test?"
That is Gandhi's legacy, and leaders as well as citizens can benefit from it.
By the end, Chaudhury had the audience convinced that the onus to break free from a dehumanised post-truth world lies squarely with each one of us. Stability will be restored if we all do our bit: we are each the "grain of salt" with which Gandhi urged an entire nation, some 70-odd years ago, to make a difference.
Indeed, to paraphrase Gandhi in one of his most-quoted utterings, we must be the change that we want to see in society.
*
Chaudhury might rest assured, the world is slowly but surely cottoning on.
On an individual level, there is a gradual understanding seeping in that social media can have addictive and socially corrosive qualities; that we must tidy our newsfeeds; that we must 'like' and 'share' mindfully.
On a larger social movement level, last year's global March for Science on Earth Day saw people across the world sign a pledge (https://www.protruthpledge.org/) to reclaim the truth by "sharing", "honouring" and "encouraging" it. One stated commitment in that pledge – to "reevaluate (and retract) if my information is challenged," shows that Gandhi may have been prescient when he himself claimed to have changed his position on various issues, thanks to his deeper understanding of them, urging readers to take the later of his pronouncements as true; a fact that Chaudhury highlighted to some amusement.
*
Articulate and insightful in her analysis of both Gandhi's methods as well as the forces that are shaping today's socio-cultural narrative, Chaudhury stamped her 45-minute address with her characteristic imprint – a penchant for scrupulous research, capacity for perceptive debate, and a keenness to examine all sides of an issue.
These very characteristics have won her many Excellence in Journalism awards and places on women-of-influence lists.
Chaudhury has worked in some of India's leading English-language publications, and was co-founder of the much-acclaimed investigative magazine Tehelka. Tehelka folded in 2013 after 16 years in operation, when allegations of sexual misconduct were made against Chaudhury's colleague Tarun Tejpal. Today she runs Algebra: The Arts and Ideas Club, a forum for critical conversation which she likes to describe as "an instrument for intellectual and emotional persuasion."
Yet, she was a surprising choice as speaker at the Gandhi Oration – only the second woman in a line-up of illustrious orators, and in her early 50s, one of the younger ones. She came across as graceful and dignified – in a handloom sari that would have won Gandhi's approval, no doubt – and yet sharp and surgical, as she cut through to the nitty-gritty of what ails contemporary society. She based her observations in her native India just as much as in the Australian milieu in which she delivered her address.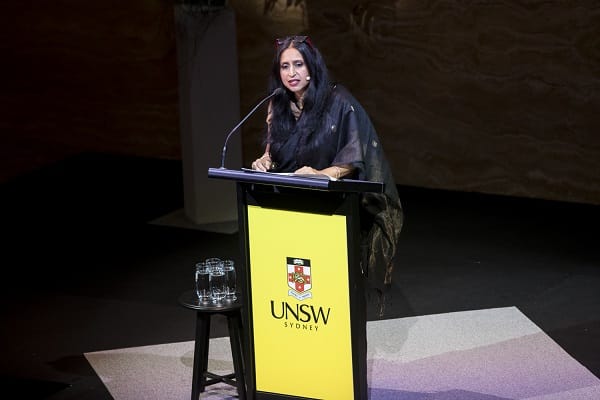 We are used to hearing platitudes about what is common between India and Australia – cricket and commonwealth; curry and coal; the coincidence of our national days falling on the same date. But when a careful observer and analyst like Chaudhury casts a Gandhian eye over the state of our two nations, other parallels emerge. We may celebrate the coincidence of 26 Jan, but Chaudhury brought out the deeper and more real commonality of a brutal truth: that the wounds gained from nationhood have not healed in either country. That while both may be proud and robust democracies, there is a latent desire for supremacy in the dominant sections in our societies. That a sense of fair play, and compassion for the weakest in our society, is lacking.
More than a few feathers in the audience may have been ruffled as she proceeded to list the inconvenient truths about YouTube-d love-jihad attacks, the working conditions of 'hell-diving' sewage cleaners, the marginalisation of Dalits on the one hand; and on the other, the comparative incarceration rates of Indigenous and mainstream Australian youths that once even eclipsed those in Apartheid South Africa, the turning back of the boats from Australian shores, the billions of dollars spent in keeping asylum seekers locked up, and Victoria's 'African' crisis.
The insights that can be gained from these observations? "That democracies are precarious, contingent and flawed, needing constant 'demajorification' and repledging."
The take-away for both societies, then, could be that in order for the mutual relationship to move beyond the three Cs – toward the Ds, Es and Fs if you will – perhaps they need to step back and fix their own Democracies first, by bringing in a greater sense of Equity and Fairness in their respective social fabrics.
In a Gandhian sense, both India and Australia need to work towards "a society where there is no discrimination; a society where a fight for the underdog would also salvage the powerful."
As Chaudhury concluded, Gandhi is relevant wherever there is an unfinished project of humanity.
(The Gandhi oration is held every year on 30 Jan at UNSW)
Photos: UNSW