Reading Time:
3
minutes
When I arrived on Sydney Uni campus, I just couldn't believe myself. I had made it. A boy living in a Delhi slum had moved to Sydney University.
My first thought was, this is such an amazing place. I loved the big buildings and the traditional structures. I thought, it is just beautiful. This is what beauty is.
It was an amazing feeling.
Back in Delhi, preparing to come here to do my masters, there were apprehensions. Will I make friends, I wondered? I have so many friends here in India, but how will I make friends in Sydney? Would it be tough for me to adjust to the culture?
Today I can say I am very fortunate. I'm lucky to have got into St Paul's College, where everyone is so so friendly, and the people are so loving. I'm enjoying my time here.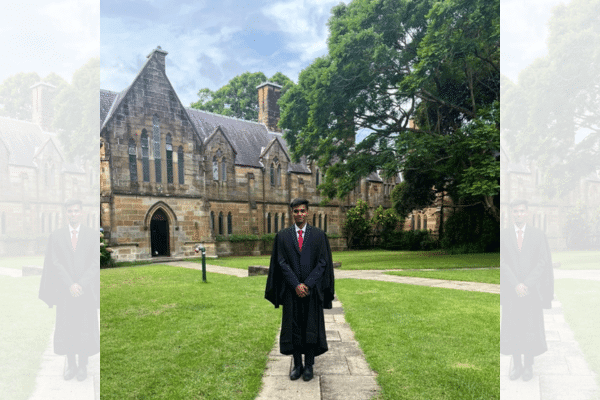 I'm studying public policy. I was not a very good student in my school until Year 10. I was a very average student. I liked science and wanted to become a scientist. I soon realised though that mathematics is not my cup of tea!  So I decided to take humanities subjects in Year 11, economics and political science. Then I thought I would like to pursue economics in the future – I will do something in it.
When I sat in the plane at Delhi – my first ever plane – I looked at the map on the screen in front of me, which showed the flight path to Sydney. I became very emotional then. I thought to myself, Sumit, you're going so far away from your family, but you're going to make your dreams come true.
I'm loving Sydney. I think the people here are very friendly. Another thing which I love about them is that they're so disciplined in everything. Everything is so organised here… like the public transport, so much more organised than Delhi public transport!
Growing up, my family didn't allow me to go out a lot, or make friends in my Tigri community. The reason is that my home is just next to an illegal liquor shop. So it was the right thinking on my parents' part, that that environment, that surrounding would have a negative impact on my personality, a bad influence on me.
So I didn't have many friends in my community. And there were so many other challenges as well. Like we don't have adequate water supply in the community. I remember when I was preparing for my final exams, I had to spend all night carting buckets for the next day, so we would have water for our home chores.
Being an Asha ambassador, I have worked a lot in my community. During my bachelor's degree Dr. Kiran Martin ma'am, who is the founder director of Asha, picked me for higher opportunities. It is because of her that I came here from the slum community to study at the University of Sydney. So yes, I feel a great sense of responsibility towards Dr. Kiran Martin ma'am, and Asha, and towards my own Tigri community.
I'm a firm believer in the Asha values of generosity, gratitude, affirmation, paying it forward, positive thinking, and nonviolence. I'm not doing my bit to encourage and mentor other youngsters. I take value classes online for university students at Chandapuri, which is another slum community in Delhi. I take these classes weekly.
I do this to pay it forward – and to provide my experience, and to inspire other youngsters to rise. I don't think it is difficult to take an hour or two out of my day to do this. It is a debt I owe to my people, my community, and those people who made me capable to come here and do my master's.
…As told to Torsha sen
Read also: Delhi boy wins USyd's first generous scholarship of $60,000