Reading Time:
3
minutes
When pediatrician Dr Raj Khillan arrived in Victoria from Punjab in 2004, he did not expect to become the state's Australian of the Year.
Today, he can look back on a twenty-year career in the state, replete with contributions, with satisfaction. He is currently Director at Western Specialist Centre and Senior Pediatrician, but has left his mark in a variety of roles at the Melbourne Clinical School, Notre Dame University, and the Royal Australasian College of Physicians.
He has also served with distinction at the Overseas Medical Graduate Association and the Multicultural Association of Community Empowerment, and is President of the Healthcare Awareness Society of Australia and Founder of the group Doctors Against Domestic Violence.
Yet Dr Khillan, well-known in Melbourne's Indian community and with his patients simply as Dr Raj (short for Angraj), is not one to rest on his laurels.
"Receiving this award is an honour and a privilege," Dr Khillan told Indian Link. "I am conscious, though, of the tremendous responsibility that comes with it. As an acknowledgment of the work that we are doing, it gives me the incentive to work harder. Not only in the field of medicine but also in the multicultural space, towards greater inclusivity and to promote tolerance and acceptance."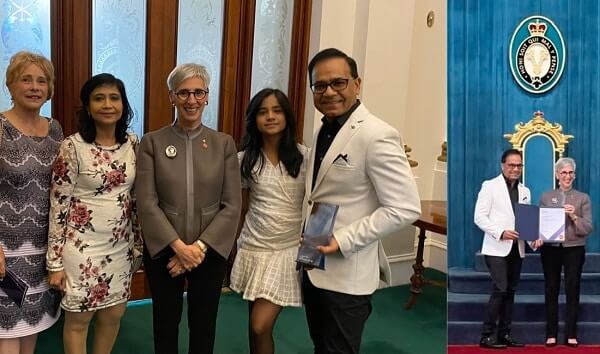 Dr Khillan was drawn to medicine as a child on a doctor's visit. "One particular doctor that my mum took me to, left an indelible impression," he recalled with fondness. "As a child, I loved that he was like 'a friend'. I know now that was his interpersonal style as a doctor. I think it was he, his behavior and passion towards treating children that inspired me to become a pediatrician myself."
The last two years may have been a real test for medical practitioners across the world with the emergence of the COVID-19 pandemic, but Dr. Raj believes it has been much more difficult for children. He said, "Yes, it was the children who suffered a lot, and continue to do so. It is understandable that parents were concerned about exposing their children to a virus we were still understanding, but the loss for the younger members of our society was substantial. School is more than merely learning the three Rs: it is about learning interpersonal relationships, and resolving challenges in the social sphere in daily life. These are important skills to learn, and having missed this for two years, their overall, holistic development has been hampered. Mental health issues such as anxiety and depression soared reportedly, and we may continue to see their effects into the future."
Dr. Khillan's work also entails working closely with multicultural communities. His own background, as well as his exposure to multicultural ethos having worked in countries like Saudi Arabia, Nepal, and UK, have come in handy. "Cultural sensitivities can and do impact health care practices," he observed. "I believe the way we perceive our health, the way we perceive the diagnosis, and the way we follow the medical advice given by the medical practitioner, are all governed by our traditional cultural and spiritual values, and what we have learned from previous generations."
Social stigma in health concerns like autism and domestic violence for example, are easy to spot, he noted. In this regard, his work in the inception of Medical Education program is particularly benefiting the state's multicultural community by promoting diversity in clinical medicine and facilitating culturally appropriate medical practices.
Dr Khillan has revolutionised the provision of multi-disciplinary healthcare through the creation of Australia's first combined Women's and Children's Health Clinic which provides specialists services from multiple locations. His work in this regard has won bipartisan political support.
Of course the Indian links continue for the Moga lad: he continues to contribute by providing medical expertise and fundraising.
Given the stereotype of Indians as doctors, we asked Dr Khillan – what makes Indians good doctors?
He replied with a laugh, "Indians from a very early age learn how to work hard while negotiating adverse circumstances, and some strong competition. When you want to become a doctor in a population of 1.5 billion people, it is pretty difficult! That inculcates a good work ethic, especially if you are driven to achieve in a field you are passionate about."
With the school year now finished for our Year 12s, there are many especially in our own community who might be contemplating a career in medicine. Any message for aspiring doctors?
"Make sure you have a passion for it before you decide for sure. Be prepared to work very hard. But know that no other profession can give you as much in life as the medical profession can."
READ ALSO: Meet NSW Local Hero 2023 Amar Singh