Reading Time:
3
minutes
Warmth and sun make the school holidays fun, writes ANANYA WAKHARE
I cannot believe it's already the start of Term 3!! Honestly, looking back, half the year has actually finished and wow, just wow! Since last time, so many things have happened, including a break from the cold here in Sydney straight to warm, bright and sunny Brisbane. But as everyone knows the school holidays always include work in them because after all the word 'school holidays' has the word 'school' in it.


In the last week of school, all of the Year 7s got to attend a full-day workshop that about self-esteem. Instantly I thought that the workshop was going to boring, but it turned out that was totally wrong. We met a really nice lady called Francesca. She said we could call her Fran since we were going to work with her for the rest of the day. All day we shared funny stories and enjoyed little mini workshops Fran conducted. My favourite mini workshop had to be making diaries. Fran explained that as girls, it is important to have a mechanism to express our emotions. So she handed out notebooks and we worked in groups sharing decorating material. We were asked to write nice things about others in the group. We passed around our diaries and wrote things, straight from the heart! When I got my book back, I read all the nice comments which were so sweet, I loved it! I think Fran did a very good job handling us all for a whole day and motivating us. When I walked out of that room I seriously felt a lot better, which was the whole point of it.


When the moment I was waiting for since Term 2 started, arrived I was so happy! The holidays!!!!!!!!!
Unfortunately, I fell sick as soon as they started, which meant, slouching around for the next few days. When I was sick my aunty told me that it was Harry Potter's 20th anniversary. So considering that fact, we watched 3 Harry Potter movies back to back in the next 3 days. My favourite scene was from the 3rd movie, The Prisoner of Azkaban when Hermione punches Draco in the face. It was really funny!


In the second week of holidays we drove to Brisbane for a break. We left at 8:00pm on the Saturday night and at around midnight stopped at a bed and breakfast place near Taree for the night. We woke up to an amazing sunrise. As soon as we had breakfast and got dressed we were off. Dad said with a couple of breaks for lunch and tea we would reach at around 6:00pm. Wow, it was going to be a long drive! When we finally arrived in the heart of Brisbane city, it was a cool feeling (honestly I thought it wasn't very different from Sydney, but anyways) with all the pretty lights, especially Story Bridge. The whole bridge was lit up! It seemed liked it was the Vivid festival here every night, how cool! After we were all done with the 'wows' we were shown in to our serviced apartment and explained how things worked etc. The next day I got up like holiday standards, super late, but hey, we deserved that honour. When everyone was ready we got out of the apartment to explore the Brisbane CBD. It was so warm there, at one point I remember it had gotten to 26°C! The holiday was great fun, we did heaps of things – look out points, movie, dinner with friends, a ride on the giant ferris wheel. When we got back to Sydney I thought it was freezing! I was definitely going to miss the pleasant weather of Brisbane.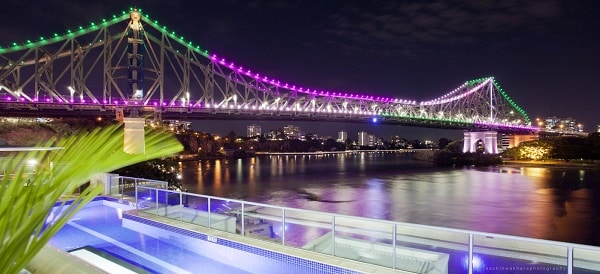 The last week went well and I caught up with school work and my primary school friends. I know it's time now to hit the ground running with Term 3 work!