It is taboo in the cricketing world to mention one's feats – no matter how excellent – in the same breath as Sir Donald Bradman. But 19-year-old first grade cricketer and business student Varun George has recently earned that right.
Announced as the Bradman Scholar for 2018 in recognition of his all-round achievements, Varun will receive an allowance of $5,000 a year for three years to assist with his tertiary study expenses, but for Varun – as with past recipients – the scholarship holds far deeper meaning.
The Bradman Scholarship, first awarded by the Bradman Foundation in 1990, rewards excellence in sport, education and community involvement, also taking into account personal and social skills.
Varun was chosen as the most recent recipient of the scholarship by a panel of highly distinguished names, including Bradman Foundation Chairman Dr Maurice Newman AC and former Prime Minister John Howard OM AC.
Speaking about him, Bradman Foundation Executive Director, Rina Hore said, "Varun is an outstanding individual and will be an excellent ambassador for the Bradman Foundation, sportsmanship and the Spirit of Cricket."
Encouraged by his father and his cricket club to apply for the scholarship, Varun was not even expecting to proceed to the interview stage, acknowledging the competitiveness of the prestigious scholarship and the calibre of other applicants.
It was not until much later, sitting in a lecture theatre at the University of Sydney, that Varun received a call from Hore informing him that he'd been selected for the award. "I stepped out of the lecture and I was really happy, I couldn't contain myself, I gave my dad a ring and he had a similar reaction – and the same with my friends as well."
Varun's journey to this point has been characterised by excellence in all of his endeavours. A top-order batsman for Mosman's first grade cricket team, he also plays first grade hockey for Sydney University, has a black-belt in karate, and is an active participant in the Sydney University Drama Society. With up to four training sessions a week for cricket alone – as well as strength training in the gym – it's a good thing that by his own account Varun is more productive the busier he is.
Having participated in community service at the Anglican Retirement Village and Smith Family reading program through his school, St Ignatius College, Varun is also keen to continue giving back to the community through his work with Ash Doolan at Cricket Appeal, one of the largest junior cricket coaching enterprises in Sydney.
He also plans on transferring to a Commerce/Law degree next year at the University of Sydney, to build on his strong communication skills in the field of industrial relations.
Despite the many feathers in his cap, it is cricket that continues to occupy a special place in Varun's heart. "The nature of cricket can be described by its trade-offs," he says. "The difference between the highs and lows is as big as it gets in any sport. As a batsman, on your best day you could be batting all day, but on your worst, you could be out there for just one ball."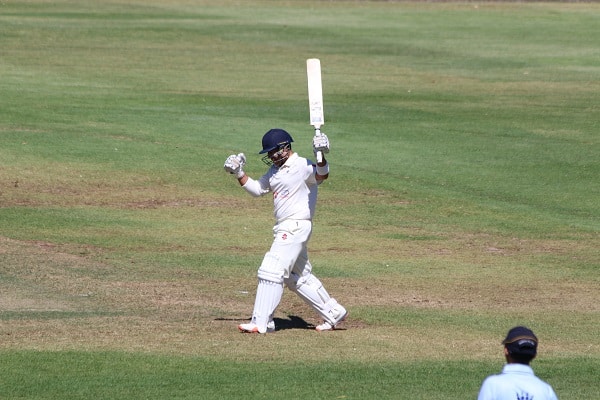 Varun is also acutely aware of the unashamedly elevated status in which cricket is held in the Australian psyche. With a nod to the recent ball-tampering controversy and subsequent review into the culture of the Australian cricket team, he notes, "The constancy of events going on shows the weight of events in cricket and the scope for informed journalism to make sense of these events. I think the public does feel everything that happens and the intent behind [the cultural review] is good. Cricket is the only game which has "spirit" enshrined in the laws. It's all about the co-existence of competition and integrity, and you could say the balance might be slightly out at the moment. So the intent behind any action to resolve that is ideal."
Humility, too, is an important trait of a Bradman Scholar, and Varun is no exception. "My parents have been the reason for any success I've had," he says. "My dad has been an inspiration for all my sport and mum has also been motivating me in all aspects of my life. Ash Doolan at Cricket Appeal has also played a big role in coaching me and in my approach to cricket more generally."
Speaking to Indian Link about how the honour has shaped his outlook for the future, Varun is both aware of the opportunities ahead of him and conscious of the path he has taken to get here. "Initially there was happiness and elation that came with it. But the best of it is yet to come. There will now be events which I may need to publicly speak at which I quite enjoy. It has also reinforced to me the importance of having a breadth of life and having many dimensions to it. It's what the qualities of the Bradman Foundation are predicated on."