The Last Word by Rahul Bedi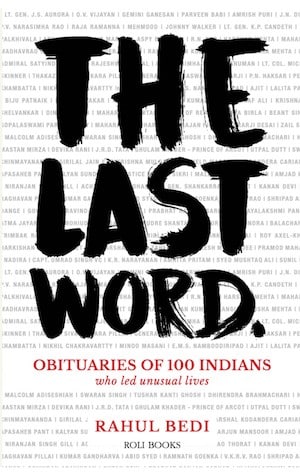 (Publisher: Roli)
An anthology of 100 obituaries written by journalist Rahul Bedi. Published between 1990 and 2008 in the Independent and Daily Telegraph, the collection ranges from obits written for people like Harkishan Singh Surjeet to Minoo Masani, and from Morarji Desai to Vijayalakshmi Pandit.
These obituaries celebrate the extraordinary life of people who have changed the idea of India. Many of these were young professionals, politicians, film actors, writers, musicians or scientists when India got Independence and have played a crucial role in their fields of work.
Prime Time Crime by Vrushali Telang

(Publisher: Vishwakarma)
Within a month of joining City-news, Ritka an intern manages to get an exclusive TV interview with sophisticated gangster A.T., the recent crime sensation. During the interview Ritika and A.T find themselves getting attracted to one another. Soon they share a torrid chemistry and find is difficult to stay away from each other. Does A.T love Ritika, or is he using her as a pawn for a dangerous plot?
Did he manipulate circumstances so that only she could get through to him? Does Ritika love A.T or is she playing along in order to get leads for investigative crime stories? Is she out to catapult her career from an unknown intern with a local network to being a star reporter with a national news channel? Set against the backdrop of Mumbai underworld in 1999, Prime Time Crime is a story about a relationship that is ruthless, passionate and manipulative.
A story that stinks of lies, deceit and death. Did they ever, even if it was for a moment, truly love each other? Are relationships as honest as we'd like them to be? In the unholy nexus of mafia and news media who can you trust? With vibrant characters, razor sharp plot that moves at breakneck speed, this book is an overpowering love story that will hunt you for long.
My Husband and Other Animals by Janaki Lenin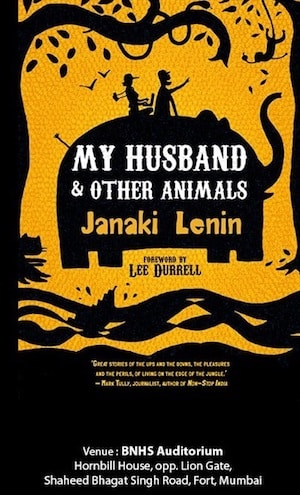 (Publisher: Westland)
With this compilation, the author returns with more stories of the quirky and wonderful life she shares with her husband, Rom Whitaker, and an array of wild creatures-from leopards to king cobras.
Janaki's enthusiasm and passion for the wild finds a voice in the pages of her book, while her curiosity about the world she inhabits infuses these lighted-hearted, yet thought-provoking stories with unique insight.
As much a chronicle of Janaki and Rom's unusual life as it is a wild and eventful journey, My Husband and Other Animals 2: Wildlife Adventure Continues is a witty, delightful read.
All Doors Opened by Inder Sharma

(Publisher: Allied)
This is the story of Inder Sharma, the canny creator of SITA World Travel India, the towering giant of India's travel industry and later the Chairman of India's most iconic and celebrated shopping centre, Select CITYWALK, as told in his own words.
Love Knows No Boundaries by Sujay Kantawala

(Publisher: pblishing)
As the son of a State Governor in Chad, Sayed Shaquille Ahamat, has little to worry about. However, his family expects him to eventually take over his father's business, marry a local girl and settle down, and there is a little reason for him not to fulfil their wishes.
Then, a polo accident leaves him nearly paralysed below the hip and turns his life topsy turvy. As he struggles to return to a semblance of normalcy, his efforts bring him into contact with an Ayurvedic centre in Sharjah. The head of the treatment centre is a beautiful ascetic, Ritambhara Devi, and Shaquille falls in love with her. To everyone's surprise, she reciprocates his feelings.
Meanwhile, Ritambhara's position and responsibilities elevate constantly at the Swami Samarthanand Ashram where she has lived since childhood. She will not give up her country, her religion and her Guruji to join Shaquille. Neither is Shaquille willing to forsake his way of life. So, what next?
The Tale of Two Countries by B.K. Karkra

(Publisher: Rupa)
"The outside environment seemed to have completely overshadowed his genes. He was getting more and more Anglicised with every passing year and almost felt embarrassed of being the son of his parents. He felt that they were out of tune with life in Britain…"
Having survived the horrors of Partition, young lovers Guru and Sukhi begin a journey of blissful matrimony. Supporting each other through the various ups and downs of life, they migrate to England, start a business and see the birth of their only child, Gursukh, in due course. Everything seems perfect, yet the couple makes one last journey back to India.
What makes them take this journey? Weaving history with fiction, this is a moving saga of a family and as well as a commentary on the lives of hundreds like the Grewals who, lured by life abroad, take the plunge, and have to deal with both the pressure to make good in an alien land as well as the longing for the motherland left behind.
Earth Republic: Chatter from the Capital's Cauldron (and Beyond) by V. Shruti Devi

(Publisher: Notion Press)
This is a collection of 10 free-wheeling articles written in conversational style, verging on the informally careless.
The potpourri of commentaries on theatre, sports, food, agriculture, world politics, Bruce Springsteen, Imran Khan, women's rights, world peace, people's belief systems, the right to privacy judgement — all with the flavour of New Delhi, right up to the present-day NCR, with tribal India and outer space forming a billowing backdrop for the grand production that is the Republic of Earth.
Earth Republic brings to the recliner, as well as to the office-desk-trying-to-look-busy, thoughts from time and space, and last night's rally at the mantle-piece. It is an invitation to forge reality and rattle the galaxy, all in one pranayama-yoga clarion call.
IANS