Reading Time:
4
minutes
Andrew Charlton's recount of how the Sydney suburb of Harris Park got its name, won him the loudest cheers last night as he launched his new book Australia's Pivot to India (Black Inc Books).
He probably knew it would.
Which is why he probably presented it up first in the book as well.
His story goes that the suburb was founded by John Harris, who arrived in Australia in the 1790s after serving ten years in India as a naval surgeon in Bengal.
"So Harris Park's first resident was a doctor from India," the Member for Parramatta revealed to a largely Indian-origin audience.
They packed a hall at Parramatta's Riverside Theatres to see Prime Minister Anthony Albanese formally launch his third book.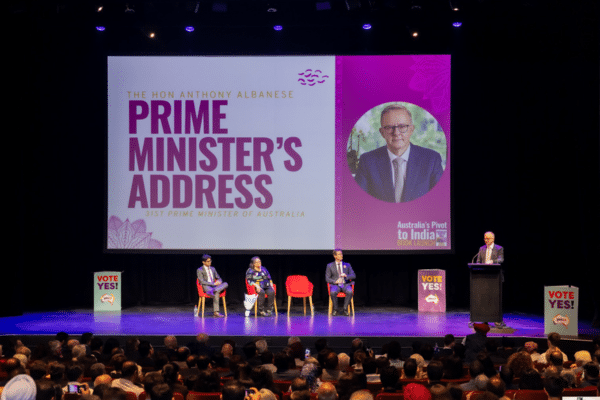 Among those present were the Indian High Commissioner Manpreet Vohra, former Australian High Commissioner to India Barry O'Farrell, MPs Tim Ayers, Warren Kirby and Donna Davis, City of Parramatta councillors, head of the Australia-India Business Council Jodi McKay, and everyone who's anyone in Sydney's Indian community.
Charlton is well-versed in the subject matter of his book Australia's Pivot to India, having observed trends in India closely for more than two decades now, and the bilateral relationship even closer.  He takes us through the growth of modern India, especially the opening up of its economy and its particular bent on foreign affairs, and looks at how Australia's relationship with India has ebbed and flowed, given Australia's own stance in its economic and foreign policies.
There are wonderful insights to be gained here for everyone watching this space, especially as the economist in Charlton comes to the fore.
As someone from within the diaspora, this section particularly interested this writer, not only for the analysis but also for its penmanship, such as in Charlton's names for the subsections: 'False Dawns and First Dates', 'Setbacks and Squalls', 'Strategic Misalignment' are some of the descriptions that unpack what Prime Minster Albanese chose to describe as the 'diplomatic deep freeze' in the bilaterals.
For someone reading from outside the diaspora, perhaps the main insights will come from the sections that follow – those that describe the characteristics of the Indian-Australian community, their deep-rooted connections to the land of their birth, their contributions to their adopted country, and the professional, social, sporting, religious and cultural expressions that define their lives. These descriptions go some way in understanding the 'bridge' that they are, or are expected to be, in drawing India and Australia closer.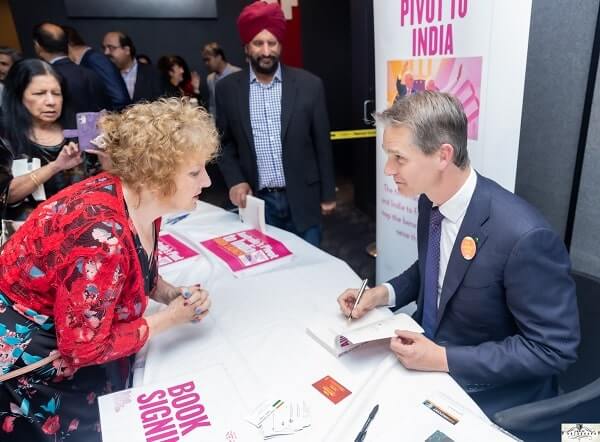 As the 'seeds' to plant in the 'fertile ground' of the Australia-India relationship, the diaspora is vital in developing the relationship further.
Charlton segments this relationship in the book as moving from Acquaintances to Friends to Family to Partners – and those are his chapter names.
"The relationship is in a magic moment," Charlton said at the launch. "India will change Australia for the better, inside and out, over the next few decades."
The Prime Minister echoed the sentiment, stating with certainty, "We see beyond summits and statecraft – we see it in our people. They are the engine taking the relationship forward into a deeper and more diversified relationship."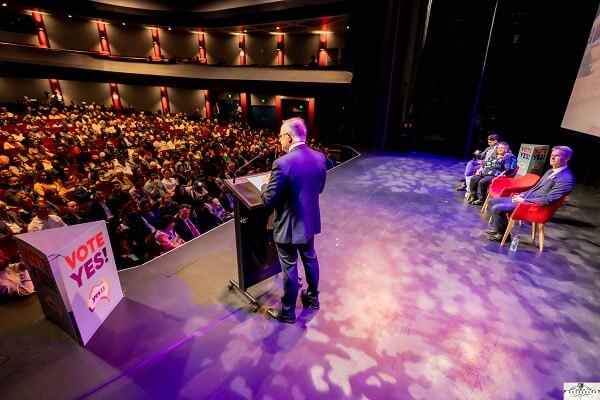 He described the book Australia's Pivot to India as a "scholarly work" that he "read in two straight sittings".
"It's a thoughtful, warm and optimistic work that educates us about the past – also challenges us about the future," he said. "Well written and readable, it will expand our understanding of India."
He took the opportunity to retell some of his own favourite stories from India – backpacking there in the early 1990s, the train journeys, the video buses, an uncomfortable ride on camel back, and another (more comfortable?) ride on a chariot in a cricket stadium much later.
Talking about India emerging from colonial subjugation (its economy famously dropping from a quarter of the world's GDP from the 1st to the 18th centuries, to 4% in the 1950s), provided both Charlton and Albanese the perfect opportunity to bring up a topic of current concern – the Voice to Parliament.
"Both (our nations) are dealing with the legacy of the past," Charlton said. "For India this means the nation moves proudly beyond its British legacy; for Australia, dealing with the problems of the past and recognising our own history. It means recognising Indigenous people as our First People and giving them a place in our founding document – listening to them, ensuring that we stop making policy about them, without them."
PM Albanese said more directly, "A No vote takes us nowhere; a Yes vote opens up possibilities."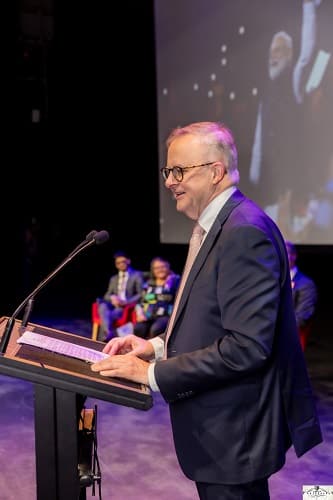 He added, "We're seeing a great response from multicultural  communities. Because they get it."
That very thought was raised as an impassioned aside in a surprise cameo later that evening.
"Who better than us (Australian-Indians) can understand the ongoing pain, suffering and impact of colonialism? Who better than us, can understand what self-determination can result in?"
The speaker was Khushaal Vyas – lawyer, writer, activist, and Andrew Charlton mentee.