Haalaat khench laye hain apno se kitni door,
Do chaar ke hoon paas hazaron se door hoon
(Circumstances have brought me here far from my own,
I am close to a few but far from millions of my own)
Many of us who have moved away from our homeland may have thought this very thought, but it was left to Om Krishan Rahat, well-known community personality, to express this so poetically.
Om Krishan Rahat, an Urdu poet and afsananigaar who dedicated his life to literature, passed away on September 12, 2018 in Sydney. He leaves behind his wife of 68 years Sudesh, a son, two daughters and their families, including six grandchildren and six great grandchildren. He is mourned equally by a large circle of literary-minded friends, fans and readers, spread across the Indian and Pakistani communities of Australia.
Having arrived in Australia in 1996, following his retirement, to be close to his children, Rahat became the glue in a nascent community of poets that was seeking a platform to air its views. He already had 13 books to his credit by then, and penned three more, two of which are written both in Urdu and Devnagri. His book Do Kadam Aagey took shape with the encouragement and support of Tilak Kalra of the Australia Hindi Indian Association.
His very first book Shuaaye Noor came when he was but thirteen years of age. Growing up in Ludhiana, he was creatively inclined from a young age and after finishing school went to Government College with the likes of Sahir Ludhianvi, a stalwart in India's poetic world.
He saw life from close quarters and wrote from his heart about the inequalities created by man. He often questioned the creator of this universe about the sufferings of the poor. He stayed away from the rigid norms of society, questioning the relevance of these in daily life.
Jawaab chahta hai apney har sawaal ka jo,
Khuda ke rubru aisa bhi ek sawali hai
(He who seeks an answer to all the questions,
I am that questioner who stands in front of the Creator)
Rahat Sahib won much acclaim for his written works, including the Khwaja Ahmed Abbas Award as well as the Rajinder Singh Bedi Award. Whilst he spent much time in Sydney mentoring many emerging poets, no mushaira across the community nationwide was complete without the presence of Rahat.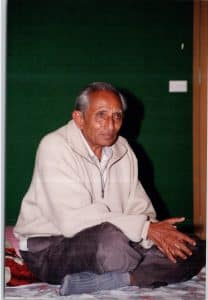 The Sydney-based organisation Urdu International of Australia organised an evening recently to remember Rahat as a poet, as an "Ustaad" and to acknowledge the contributions he made in the literary circles in Australia.
Attending were lovers of literature and poetry from both the Indian as well as Pakistani communities of Sydney. The event under the direction of renowned writer and poet Ashraf Shad, saw Mrs. Rahat present a tribute and read from her husband's works. The second half was presided over by Dr. Baqar Raza an Urdu poet himself and Dr. Akhlaq Gilani, who is also a renowned poet visiting from Pakistan. He brought along with him messages from old friends for Rahat Sahib.
Ashraf Shad said, "The coming of Rahat Sahib to Australia was a blessing for many upcoming poets here, who he mentored whenever they approached him. He became a bridging figure between Indo-Pak communities."
Dr. Shabbir Haider, a senior poet, remembered Rahat Sahib's first mushaira in Wollongong in his early days here, where he mesmerised the listeners and a long journey of love and affection began.
Sadiq Arif, Tariq Mirza, Rekha Rajvanshi and Kaneez Fatima Kiran were others who spoke fondly at the tribute. They recalled Rahat Sahib's saadgi; his mentoring; his inability to wait for his turn to recite; his impatience when poets did not pronounce words correct, and the standing ovations every time he concluded.
The United Indian Associations (Inc) announced on the occasion that an award will be given to an emerging poet each year in Rahat Sahib's name.
Sant Ram Bajaj of AHIA recounted, "Rahat Sahib was so down-to-earth it took us a while to know him and his illustrious career as an accomplished writer and poet. He was no ordinary poet, he was a born poet. His 16 books have all been awarded and he was a poet of the masses. He wrote about the corrupt socio-economic system, the miseries of the downtrodden, and the challenges of everyday life."
Rahat Sahib recited his poems frequently in AHIA's seniors group and formed many strong bonds of affection there. Subhashini Channa once asked him teasingly why he didn't write about romance. He replied, when there is so much suffering and inequality in this world, how can I even think of it?
His philosophy of life was about self-reflection; knowing oneself before pointing a finger towards others.
Jab jab bhi apne baarey main janana pada,
Apney hi dil main mujhe jhankna pada
(Whenever I needed to know about myself,
I had to search the depths of my own heart)
Rahat Sahib was an avid reader and loved reciting poetry to the end of his days. His devoted wife Sudesh was always close at hand, gently supporting him if he occasionally slipped up in the later years of his life. She herself translated his Urdu works in Hindi and Punjabi.
Rahat Sahib captured the nuances of human psyche in his words.
Phailata hai haath gharaz ka jab koi majboori main,
Har jaani pehchaaani surat anjaani ho jaati hai.
(When in need someone asks for help,
Every known person becomes a stranger.)
Main ne insaan sa khudsar nahin dekha rahat,
Apne mohsin ko bhula deta hai ehsaan ke baad
(I have not seen anyone as selfish as the human,
It is only mankind who forgets the one who has helped them.)
Iqtedar Abdi who referred to Rahat Sahib as "OK Uncle" often visited him with his wife Fahmida, and was with him a day before he passed. "Janaab Om Krishan Rahat was a humanitarian from the core who always stood for betterment and equality of human beings," he recalled.
One of Iqtedar's own favourite Rahat couplet shows this brilliantly.
Is bulandi se tujhey khak nazar aaonga,
Aey falak dekh mujhey mere baraber ho kar
(I may not even appear as a speck of dust from your heights,
But O Maker, look at me by standing equally with me.)
Another literary stalwart Abbas Raza Alvi has captured Rahat Sahib's works in music in the album Dooriyan. Currently in production is Alvi's Rahat where he has put to music many of
Rahat Sahib's ghazals and nazams in what he describes as a mix of musical sounds of the Indian subcontinent and Australia. The album is slated for release in March 2019.
Alvi said, "Rahat Sahib will be regarded as one of the best Urdu poets in Australia and will always be remembered through his words which reflect the feelings of ordinary people."
Rahat Sahib, in saying alvida, one can but use your own words:
Khoon huaey hain sarey armaan ab fursat hi fursat hai,
Jab ae maut kahegi hamse saath tumhare ho lenge.
(All my desires have foiled, now I am free,
When you, O Death, ask me to come, I shall walk with you)
Apni is zeest se ab jaan chuda li jaye,
Jisney yeh bakshi thi usko hi sambhali jaye
(Let me be free of this life now, the One who gave life to me,
Let me return it to Him)
Bakhuda sher merey sher nahin hain rahat,
Mere afkar ka bikhra hua sheeraza hain
(O Creator, my poetry is not just mere words,
They are a scattering of my thoughts)
Utthake layen hain kaandho pe mujhko markad main,
Sahara aaj bhi yaaron ki dosti ne diya
(I have been brought to the end of life on these shoulders,
As always even today it is my friends who have given me support)
Compiled by friends and family