Barangaroo
Reclaiming a headland that was once buried beneath concrete and container wharves, Barangaroo is Sydney's newest park. Built on six hectares, it offers expansive grassed slopes with plantings of 80,000 native trees, shrubs, ferns, vines and grasses. Sandstone blocks form a seawall and pathways hug the harbour foreshore.
Historically significant, Barangaroo was the wife of Bennelong, an aboriginal who taught Australia's first Governor, Governor Arthur Phillip about aboriginal culture and language. The park attempts to recreate the landscape when the Gadigal clan of the Eora nation lived here.
What to do: View the many native plants, take in sweeping harbour views.
Nearby: Visit Australia's oldest pubs, the Lord Nelson and Hero of Waterloo.
Getting there: Ferry or short walk from The Rocks.
Observatory Hill
A stone's throw from Barangaroo, Observatory Hill Park surrounds Sydney Observatory with its copper telescope dome built in 1857-59. The park offers spectacular views of the harbour from the highest natural point in the city shaded by majestic Moreton Bay Fig trees. Gaze down onto rooftops of Victorian era terrace houses towards the Harbour Bridge and across to Darling Harbour.
What to do: Visit Sydney Observatory, now a museum, and take in the views.
Getting there: A short walk from The Rocks
Tumbalong Park and Chinese Gardens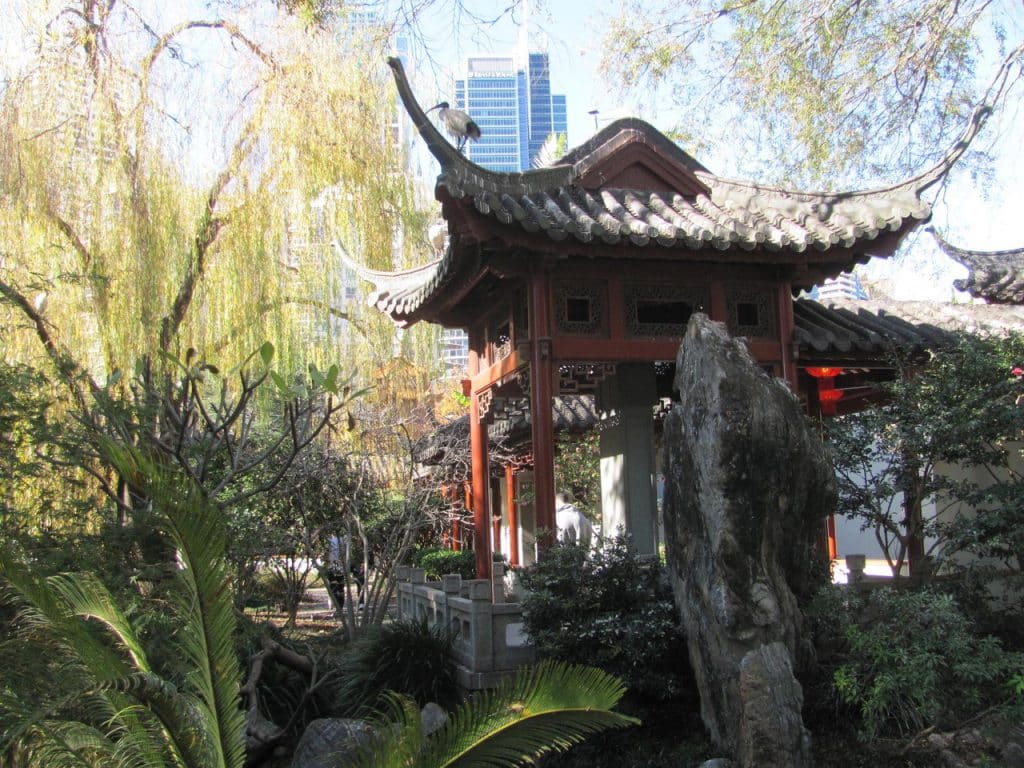 Once Sydney's industrial heartland, Darling Harbour was an area where wharves, warehouses, factories and railway goods yards once stood. Today, it's a recreational amenity with Tumbalong Park at its centre, a five-hectare park with a large grassed amphitheatre surrounded by native shrubs, trees and water features. At the southern end the Chinese Gardens (there is an entry fee) offers respite behind high walls as you stroll beneath weeping willows past lakes with koi carp and pavilions with tiled dragon roofs.
What to do: The park is ideal for families thanks to its well-equipped playgrounds.
Getting there:  Ferry or pedestrian walkways from the city centre.
The Goods Line
Beyond the light rail line that skirts by Darling Harbour is the Goods Line. This elevated elongated park reclaims part of a railway freight corridor dating back to 1855 that transported wool, meat and wheat to Central Station with sections of the track embedded in the pathway. It's landscaped with native grasses with rocks, picnic tables and a children's play area. You'll walk by the University of Technology's architecturally stunning Business School designed by Frank Gehry until you reach the exit on George Street. From here, you can cross to Central Park.
Central Park and Chippendale Green
Chippendale was once the scruffy backdoor suburb to Sydney University with a mix of run down terrace houses and disused manufacturing. Urban renewal on a large scale saw it morph into Central Park, a mix of shops and apartments and the new civic space of Chippendale Green. The award-winning architecture is stunning with Central Park veiled in cascading vertical green gardens with plants hugging the façade. Sculptures, trees and water features enhance the open lawn that leads to the White Rabbit Gallery, a gallery showcasing contemporary Chinese artists.
What to do: Visit White Rabbit Gallery, eat authentic Asian cuisine at Spice Alley.
Getting there: Bus or train to Central Station
The Royal Botanic Gardens and the Domain
Sydney's most beautiful park, the Royal Botanic Gardens is an oasis right in the heart of the city. Sited on Farm Cove, it was here that Australia's first farm was established, and the Botanic Gardens in 1816. Thousands of exotic plant species were collected on voyages from around the world and planted to cohabit with native plants. Soft grassy slopes and wandering paths connect gardens down to the harbour's edge.
What to do: Free guided tours depart regularly or pick up a map as you enter. If you would prefer not to walk, hop on board the trackless train.
Getting there: Bus or train to city.
Nearby: While here, make time for a visit to Government House built in a Gothic Revival style by Edward Blore who built the British Houses of Parliament and worked on Buckingham Palace and Windsor Castle. Enjoy the formal garden with expansive views of the Opera House and harbour beyond.
 Hyde Park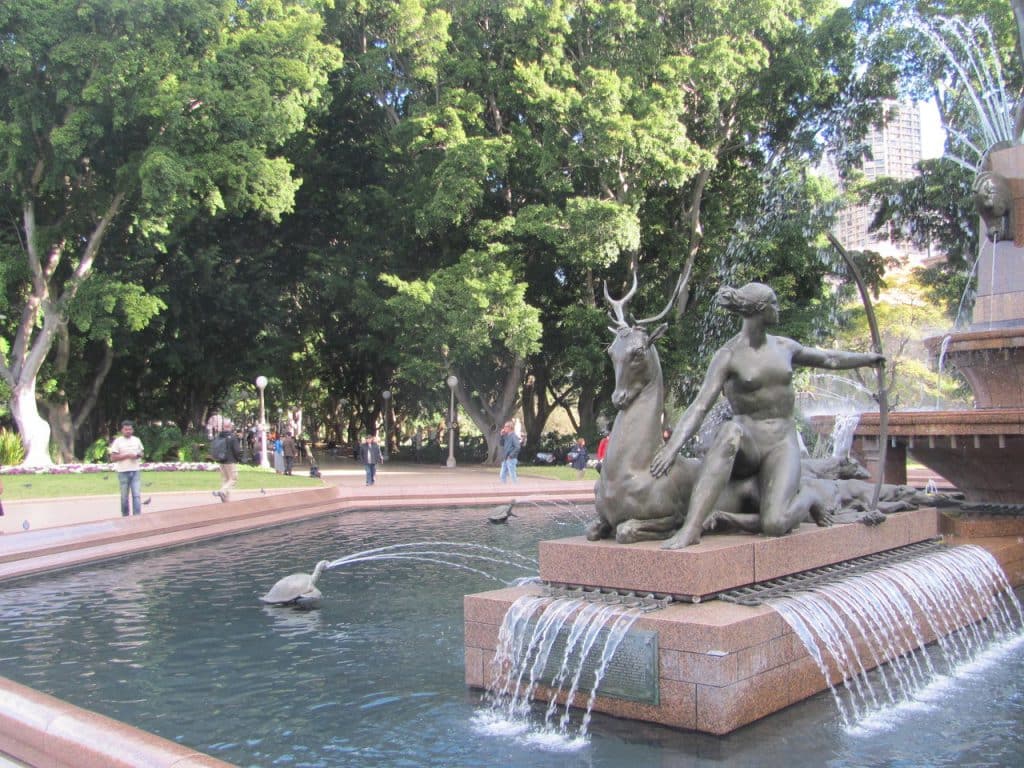 Australia's oldest park named after the park in London dates back to 1792 when Australia's first governor set the land aside for use as a common for grazing animals and collecting firewood. Later, it was used for horse racing and cricket matches before being dug up to make way for an underground railway line. Re-established in the 1930s, the Art Deco architecture is reflected in the Anzac memorial and Archibald fountain. The park is shaded by expansive native fig trees, their broad trunks providing an arching canopy along the central pathway.
Getting there: Bus or train to city.
Paddington Reservoir Gardens
Built in the 1860s, the reservoir was a holding tank for water from the Botany Bay pumping station until 1899.  The park was created by incorporating the reservoir's steel framework and aged brick arches to create a multi layered space of sunken gardens, grassed rooftops, and sunken pool with deck chairs are scattered for relaxation.
What to do: Come on Saturday when the Paddington Markets are open
Getting there: Bus M40 from Chatswood, 380 or 333 from Circular Quay, 440 from Central
McElhone Park
Heading eastward will bring you to some hidden gems. Begin at Elizabeth Bay House, once the finest house in the colony built in 1835. Opposite McElhone Park lies an ornamental lake with koi carp, a stone bridge and panoramic views of the harbour.
Getting there: 311 bus or train to Kings Cross
Rushcutters Bay once known as Rush Cutting Bay because the swampy land was covered in rushes is where you'll find boats bobbing in the bay, children's playgrounds, cafes and walking paths where locals come to walk their dogs.
Getting there: train to Kings Cross or Edgecliff
McKell Park
Continue onto Darling Point to discover a hidden gem, McKell Park that commands panoramic harbour views and manicured lawns built on the ruins of heritage listed Canonbury, the ruins that form the centrepiece of the park with grassed terraces stepped down to the harbour foreshore and ferry wharf.
What to do: Bring a picnic
Getting there: Ferry from Circular Quay or Watsons Bay
Centennial Park
In 1888 the then Premier of NSW Sir Henry Parkes dedicated Centennial Parklands as a 189-hectare open space. Hundreds of unemployed men were enlisted to turn swamps, scrubland and rocks into a grand park in the Victorian tradition with formal gardens, ponds, statues and grand avenues. On Jan 1, 1901, the nation focussed on the park as the site of the inauguration of the Australian Federation. Home to diverse flora and fauna and trees including figs, oaks and pines, the park has up to 140 different species of birds with varied habitats from wetlands to urban forest and open plains. It is one of the most popular urban spaces in Australia ideal for BBQs and picnics alongside ponds and gardens.
What to do: Cycling, playgrounds, birdwatching, horse riding.
Getting there: Bus M40 from Chatswood, 380 or 333 from Circular Quay, 440 from Central
Sydney Park
Monolithic chimneys are relics of deep clay brick pits and kilns that operated from the 1890s to the late 1940s. Later the land was uses as a rubbish tip, for manufacturing and storage. Now the 44-hectare park has been replanted with native trees and shrubs, and there are grassed areas with landscaped gardens, pathways and viewing decks. Grassy hills with city skyline views cover the old clay pits and ponds create a wetlands habitat attracting animals and birds.
What to do: Playgrounds, cycling and birdwatching
Nearby: Newtown's King Street is close by
Getting there: Bus 370 or 422 from the city or train to St Peters
Parramatta Park
Parramatta Park is the site of Australia's first successful farm while Old Government House is the oldest public building in Australia. This vast park of 85 hectares offers picnic areas, a cycle loop, creeks, and native plants including paperbark and iron bark trees.
Getting there: Train or Rivercat with a shuttle bus to the park.
Nearby: Harris Park with its many spice shops and Indian restaurants
On a recent visit to Parramatta Park, I opened my picnic hamper and took out my sandwich. A kookaburra swooped in decisively and snatched it with his long beak, even as a blue-tongued lizard looked on from the safety of spiky native grasses. A fitting end really, for Sydney's parks are shared with our native wildlife, many of which you will encounter.