When we think about the origins of Yoga, we envision sadhus and yogis on Himalayan peaks and in jungles, living an ascetic life. Fast forward to 2019, when chic studios are brimming with athleisure-clad, eco-mat carrying, kombucha-drinking fitness enthusiasts that have tried every trendy yoga class in the city! Yoga purists may look down upon these trends as ridiculousness, but hey, even the goofiest fad makes people put their phone aside and focus on stretching and breathing. Maybe the kooky-sounding trends help break the 'serious and boring' image of yoga and welcome more first-timers than 'native yoga'.
On International Yoga Day, Indian Link (with inputs from Kira Sprucys-Tahar) explored the various possibilities and opportunities attached to various forms of yoga practice.
Noga (Nude Yoga)
Most people completely baulk at the idea of doing anything naked, much less something as physical as yoga, but, at Twisting Peacock Yoga in Perth, Melissa Howard has embraced the notion.
Six months ago, Howard's teacher Rosie Rees came to her with the idea of naked yoga."There was a mixed reaction, definitely," Howard says. "People said 'No way!' 'Hell, no!' but they've all come around." A qualified relationship coach and sexologist, Rees teaches restorative, Kundalini, Hatha yoga in the two-hour long classes.
Attendees are taken through a series of modest sitting and laying poses along with meditative breathing exercises in a darkened room lit with candles, accompanied by gentle music.
"There's no downward dog or anything like that!" Howard explains. "It's all about empowering people. The aim and goal is for women to destroy all the negative images they have of themselves – it's a really liberating experience."
Reinforcing body acceptance, the three classes held so far have been fully booked, welcoming students ranging in age from 21 to a woman in her fifties. "There are tears, and lots of giggles, but it's a really beautiful practice where we have women celebrating the perfectly imperfect."
Finding yoga classes at the local gym ten years ago, Howard admits she was initially drawn to the practice for its physical advantages. "I had some body image issues and I saw people who did yoga as toned and flexible," Howard explains. "Slowly but surely, the teachers weaved in the spiritual aspects and I began to feel the benefits of the meditation as well." This lead to Howard opening her own yoga studio which runs predominantly hot power yoga classes up to 20 times a week. Though, with the success of the naked yoga classes, Rosie Rees and her partner will soon expand their lessons to include a two hour couple's workshop. "There are also talks of running a mixed class in the future," Howard says.
While not yet popular in Australia, there is Naked Yoga Sydney billed as "classes for men interested in the practice of yoga without the restrictions of clothing" and Fempowerment workshops of women-only naked yoga.
SUP Yoga
It's physically demanding at the best of times, so why would you try throwing Stand Up on a Paddle board into the yoga mix?! That's exactly what Catherine Moore, along with Di Morrison, does as part of SUP Yoga Sydney or Stand Up Paddle boarding yoga.
Moore began practicing yoga as a teen and continued throughout her twenties as a means of sustaining herself through injury. After finding life as a diving instructor too physically demanding, she followed her passions of teaching and yoga and combined it with her love of paddle boarding.
"It's the same poses and postures, but certain postures are more challenging on the board," Moore admits. "With our SUP yoga classes we usually start with beginner sequences even for seasoned yogis because it's difficult learning to balance on the board." Most people who try SUP yoga have never tried conventional yoga and those who participate range from children right through to people in their seventies. "People fall off all the time," Moore says. "It's about having fun and learning."
Goat Yoga, HoGa (Horse Yoga), DoGA (Dog Yoga), Cat Yoga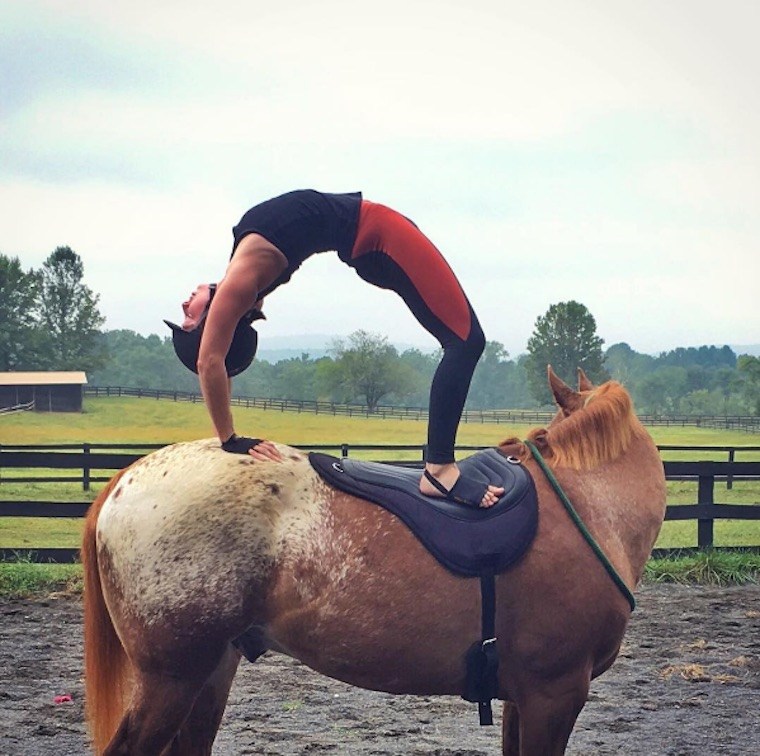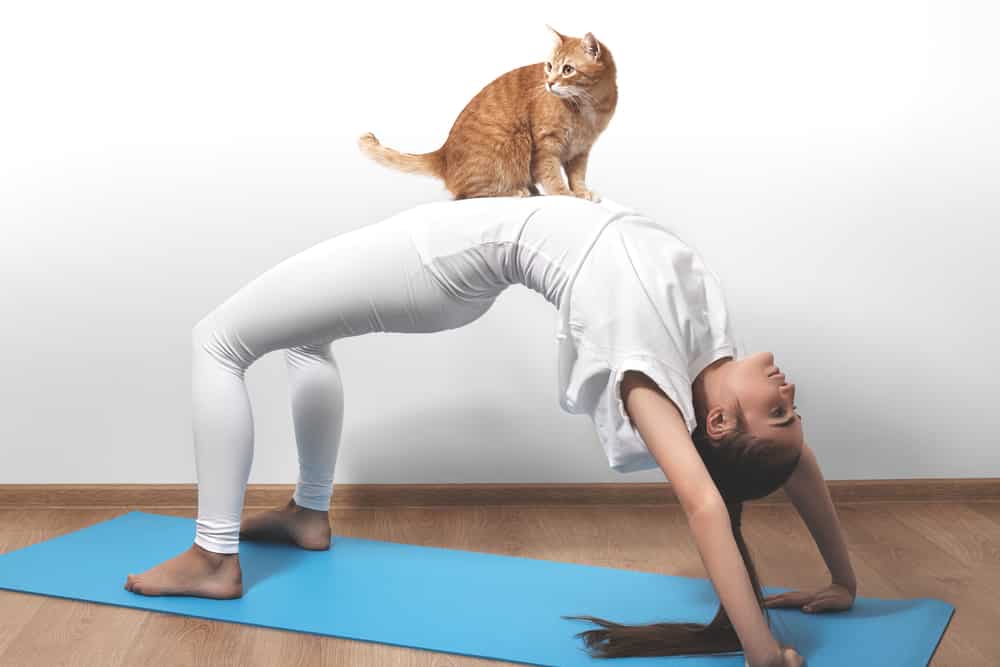 It may sound really goofy, but the purpose of these kind of yoga are energy exchange with the animals, and establish a meaningful bond between humans and animals.
'Doga' was started by Suzi Teitelman in New York in the year 2002. In this form of yoga, dogs are used as an object or sometimes as a partner. Of course, they can also act as your teacher
In Goat Yoga, while you do yoga, goats do their thing. They might jump on your back, give goat hugs or burp in your ear, but would be curing anxiety and depression for sure.
Ganja Yoga
Dee Dussault, the San Francisco-based yoga instructor who created Ganja Yoga, encourages students with medical marijuana cards to partake before or even during class, which entails a fairly slow and gentle hatha yoga routine. Being a little high fosters a deeper mind-body connection and increases relaxation, Dussault says on her website.
Beer Yoga
Berlin, Germany took yoga one level further and married beer and yoga, which are two forms of relaxation and enjoyment.
Harry Potter Yoga
Wingardium Vinyasa! Two women from Austin, Texas, came up with this idea and it was an instant hit! Renaming the poses as Downward Dumbledore and Slytherin Cobra pose makes it more fun!
There are still many like BROGA (Bro Yoga), Yoga Rave, Hot Yoga, Cold Yoga, Aero Yoga, Laughter Yoga, Kilted Yoga, Tantrum Yoga, Parent Yoga, Hoop Yoga, Karaoke Yoga, Snowga, Salt Yoga, Metal Yoga, Dominatrix Yoga, Pop-Yoga and much more *phew*!!
Whichever form of yoga takes your fancy, be sure to join in the celebrations for International Yoga Day.