Reading Time:
5
minutes
Over 30,000 aasthikas (devotees) congregated at Sri Venkateswara Temple (SVT) Helensburgh for Mahaa Kumbhaabhishekam to mark the official completion of renovation and expansion works undertaken at the sprawling six-acre temple premises. Strictly adhering to customs prescribed in Vedic texts, the religious ceremonies were concurrently supervised by five Vaishnava (follower of Lord Vishnu) and 15 Shaiva (follower of Lord Shiva) priests.
Originally scheduled for April 2022, several community groups, led by temple president and Kumbhaabhishekam committee chair Dr Kanag Baska and Dr Meena Baska, came together to plan and deliver the historic event. They were ably supported by hundreds of volunteers who worked tirelessly both in the lead up and on the day. Elaborate arrangements were thoughtfully put in place for logistics and crowd management.
In Sanaatana Dharmaa (an endonym used by Hindus to refer to Hinduism), the temple is not just a congregational edifice but an architectural delineation of the Supreme Being, comprising sukshma (subtle) and sthula (gross) aspects. It is therefore believed to be surcharged with enormous positive energy that plays an integral role in spiritual and mental well-being.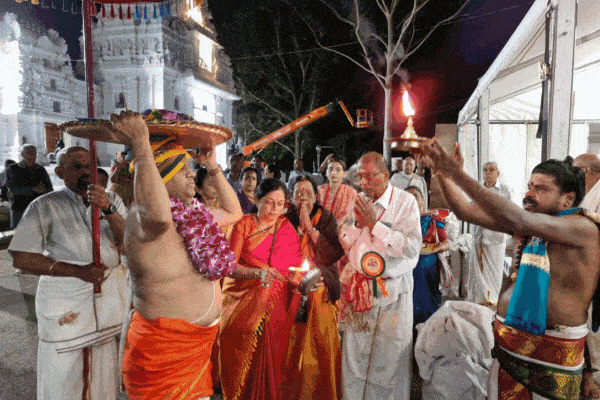 Performed once every 12-18 years for the welfare of all humanity, Kumbhaabhishekam refers to the pouring of ritually sanctified waters from kalasam (sacred vessels) over vigraham (statues of deities) and temple gopuram (entrance towers).
Commencing with yaagasaalai pooja, divya homam or prayer to sacrificial fire, and offering oblations with fire to the deities as poornahuti, the four-day consecration ceremony (7-10 April 2023) concluded with a ritualistic procession of sacred kumbam and abhishekam (pouring from the peak) for vimaanam — the tower that crowns the innermost sanctum of a temple), raajagopuram literally meaning the royal tower, and all deities within garbha griha or the the sanctum sanctorum. This was followed by worship, lighting of oil lamps, shodasopachara or worship by offering 16 means of service, and food donation or anna dhaanam. The final elements of the elaborate celebrations included various utsavam (celebrations) such as: Veethi, kalyaana, yajamaana, aacharya  followed by fireworks.
"During the Jeernoddhaarana (renovation period), the divine presence of the statue of the deities must be transferred to the holy waters in a vessel, which are then housed in a Baalaalayam (little temporary abode)," Sri Venkateswara Temple, director Subra Iyer described to Indian Link.
Repair work is then carried out around the pedestals of the idols. Ashtabandhana (special paste) is used to cement the idol firmly to the pedestal. Priests perform a special pooja called the "Ashtabandhana pooja" prior to the construction work in the shrine around the idols, Iyer explained.
Scheduled pooja for Moola vigraham— the idol of the main deity — can re-commence only on the Mahaa Kumbhaabhishekam day, he added.
Detailing the complex Vedic process, Iyer stated that "acharya experienced in such rituals, are invited to conduct the proceedings. Wearing prominent turbans, they are the centrepiece of the proceedings. A Yaagnasala (a specific area to conduct rituals, mainly for the fire-altars) is built by the side of the main temple. Apart from the pedestal for the main water vessel at the centre of the yagnashala, five homa kundam (fire altars) are prepared for the main deity, besides individual fire altars for other deities. These are intended for the five forms of fire — Sabhya, Aahavaniya, Anvaharya, Garhapatya and Avasathya. The main altar is sanctified through various rituals. Kumbhaabhishekam is simultaneously completed for all deities. Vimaana (steeple), Dwjasthamba (flag post) and Balipeetha (sacrificial pedestal) abhishekam are also done at the same time. The priests then perform auspicious prokshanam (holy water sprinkling)," he noted.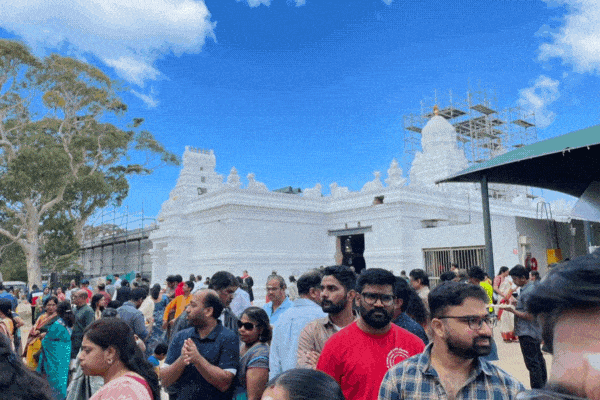 Amidst the chanting of mantras and traditional music that was being played live, thousands of devotees witnessed these auspicious ceremonies.
"On behalf of all the Rithviks (priests), I would like to congratulate the entire temple committee for carrying out this enormous task so smoothly," Subramanyam Ramarathinam, chief coordinator Vedic & Cultural Centre Australia (VCCA) acknowledged.  "It was truly a blessing for us to watch the kumbhaabhishekam in a temple of this size. Such an opportunity cannot be imagined in India. I cannot thank them enough for giving us this lifetime opportunity."
For Ramesh Varadarajan and 150 Vaishnava bhagavatha (devotees) of Sydney Andal Group Inc (SAGI), the whole experience was blissful and deeply fulfilling, the highlight being Sri Paadha Thaangi (carrying the deity). "Our service to God included poori sales to raise money in the weeks prior and preparing food donations during the festival, helping the garland team, sponsoring two priests from Mannargudi, Tamil Nadu, besides assistance with various rituals by highly qualified volunteers," Varadarajan stated. "Young and old Bhagavata well-versed in Veda were tasked with saathumurai duties, chanting Vishnu Sahasranamam, Naalaayira Dhivya Prabhandham, Desika stotram throughout the period. We look forward to continuing these activities," he stated.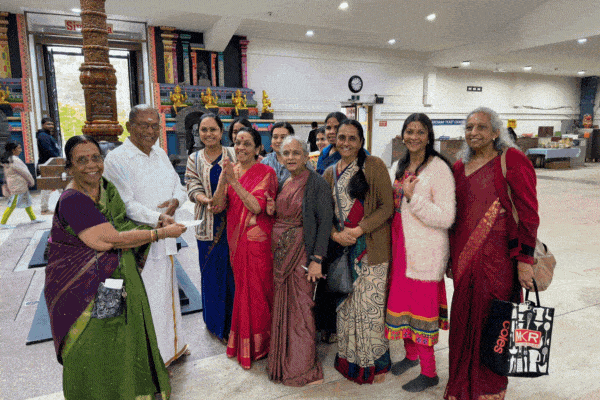 "It was heartening to see tens of thousands attend the Mahaa Kumbhaabhishekam celebrations," said Dr. Kanag Baska, chairperson of the Kumbaabhishekam committee.  "Our aspiration is to create a vibrant temple precinct that is financially viable, self sufficient in every way and provides wide ranging benefits to the community. To this end we have undertaken massive expansion and beautification projects during my ten year tenure. We take this opportunity to invite both Hindus and wider mainstream community to visit, participate in various activities and enjoy these facilities."
Costing $3 million, among the projects undertaken were construction of Vasantha Mandapam at both Shiva and Vishnu complex, colour painting of gopuram, installation of new vigraham (idols), peetham (a sacred place) and yaazhi (a mythological creature) as well as structural enhancements and door renovations. New installations include Suryan, Chandran, Nataraja Sabha and Naalvar sabha. Safe room, garland room with cold storage facilities, and madapalli are other additions to improve volunteer experience.
Specialist masons and painters were flown in  from Chennai as was a container load of construction materials.
The Sri Venkateswara Temple Helensburgh journey commenced in 1978, when a group of seventeen families conceived a grand vision for a Hindu temple, albeit with humble beginnings. Mahaa Kumbhaabhishekam was performed in June 1985 for Varasiddhi Vinaayakar, Sri Venkateshwara, Mahaalakshmi and Aandaal. Representatives of surviving families graced the historic occasion. Nearly half a century later, Sri Venkateswara Temple,  Helensburgh, continues to offer Rasanubhava for the growing Indian community, and lasting legacy for generations to come.
Read More: Vic Govt provides $500K for upgrades at Shri Shiva Vishnu Temple