Viva Vega!
She was just 16 when Indian Link first wrote about her, but today this former Sydney girl has gone on to become a critically acclaimed actress in Tamil, Telugu and Hindi films back home in India.
Check out her latest Hindi film Amit Sahni Ki List released this month. She stars opposite Vir Das, another child of the diaspora, who started his acting and stand-up career in the US.
Vega Tamotia was in school at Randwick Girls High in 2001 when she bagged the lead role in a Doordarshan telefilm titled Bitiya. We spoke to her then to do a story about her return from the month-long shooting schedule. Imagine our surprise when Vega revealed she had moved on from the film and was already headlong into her latest passion, the YMCA NSW Youth Parliament program.
The chatterbox also told us about her other hobby, sport (she was then playing tennis, volleyball, soccer, softball and cricket).
But her particular passion, she revealed, had always been photography.
And her favourite subject at school? Maths and software development.
And yes she liked drama, she had done six different shows in the past two years.
Prodigious, to say the least…
Vega went on to UNSW and IIM Bangalore before moving back permanently to India.
You might remember her as a suave, sari-clad young thing MCing at community functions. If you knew her back then, tell us your Vega stories on our Facebook page.
Sonam fully exposed in new film
Actress Sonam Kapoor has revealed a little more than just the trailer of her upcoming film Khoobsurat.
She recently stated that film's director Shashanka Ghosh, and producer, who is Sonam's own sister Rhea, had "exposed" her completely in the film.
But don't get too excited. It's not in the way that you think.
"There was no problem on the set because Rhea, Shashanka and the writer (Indira Bisht) knew me so well that very shamelessly they have taken every part of my personality and exposed me completely in the film," is what she actually said. Sorry to disappoint you.
Although it is her home production, Sonam did not have to take on any extra responsibility other than acting… and being "exposed" of course.
"I am just an actor, there's no responsibility. It's only Rhea and Shashanka's responsibility, I have only done the acting and nothing else," said the 29-year-old. "When I take on a job as an actor, I only concentrate on doing that, otherwise there is a conflict. You have to just do your best with what you've got".
In the recent past, Sonam has been part of hits like Raanjhanaa and Bhaag Milkha Bhaag. However, her last release Bewakoofiyaan bombed at the box office.
Khoobsurat is a re-make of the 1980s hit of the same name. Shashanka insists his version takes the story forward.
"The original was just a clash of values within the family and here we have taken it a little further but we have held on to the core idea," he revealed.
Meanwhile, Pakistani heartthrob Fawad Afzal Khan will be seen as the male lead in the movie. Now if anyone is going to be exposed…
Rhea Chakraborty riding the show business rollercoaster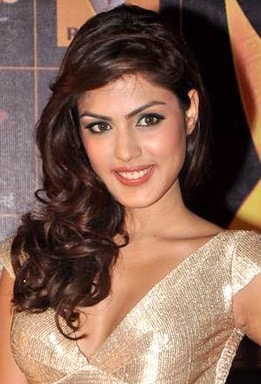 Actress Rhea Chakraborty has been signed up as the female lead of Y-Films' Bank-Chor for a "cracker of a role" with Riteish Deshmukh.
"Bank Chor is a roller-coaster ride and I'm delighted to be on it. I've had a blast with the team on Mere Dad Ki Maruti and I'm sure this is only going to be bigger and better," Rhea proclaimed.
The actress started her career as a video jockey and then made her big screen debut in the 2013 entertainer Mere Dad Ki Maruti. She was also seen opposite Ayushmann Khurrana in his single, O heeriye.
Bank Chor is produced by Yash Raj Films' banner Youth Films Division Y-Films, which also brought out Mere Dad Ki Maruti.?For the role, the makers "needed someone with spunk, who could be cute and hot at the same time, besides being able to speak 2,000 words per minute".
"Rhea speaks 8,000 words per minute in real life," said Ashish Patil, the business and creative head at Y-Films. "She hit the ball out of the park on the other fronts as well and with her outrageous sense of humor she's going to kill it".
Bank Chor is a comic-caper that tells the story of three morons trying to rob a bank who pick the worst day possible when everything that can go wrong, goes wrong. They inadvertently get caught in the crossfire of cops, industrialists and corrupt politicians as a result.
The film received much media attention when it was announced, as India's most-loved comic Kapil Sharma was set to be the male lead. His exit from the project remains a mystery to this day.
Besides Bank Chor, Rhea has an exciting line-up of films. Up next is Rohan Sippy's Sonali Cable, in which she plays the title role. She will also be seen in UTV Spotboy's much awaited Babbu Ki Jawani. Looks like Rhea still has a while yet before her turn on the rollercoaster has ended. Just watch out for those unexpected dips!
Partners in pranking
Director Rohit Shetty and actor Ajay Devgn became partners in crime on the set of forthcoming movie Singham Returns when the duo decided to take up pranking crewmembers as a new pastime.
While on set in Ramoji Film City in Hyderabad, Ajay and Rohit planned an entire prank in advance and took a spot boy under their confidence.
The prankster duo made the spot boy wear white clothes and told the crew members that the set was haunted and that there was a ghost on the set, as it was a night shoot and quite deserted.
"Ajay sir and Rohit sir have been constant pranksters on sets," said a member of the movie's production team. "Once, they baffled and scared all of us by dressing up a spot boy in white clothes and making him behave like a ghost".
"Also, they always tried to scare us by telling stories of the ghosts in our hotel room," he added.
Singham Returns, which also stars Kareena Kapoor, will be released on August 15. It is co-produced by Ajay Devgn Films, Rohit Shetty Productions and Reliance Entertainment.
Humshakals, a Hum-shock-all!
Saif Ali Khan recently called his latest release Humshakals, directed by Sajid Khan, a mistake. Without making any direct reference, Bollywood filmmaker Sanjay Gupta has said it's an "uncool" practice.
"A film is your baby even if it fails to perform at the box office. It is so not cool for actors to trash it after release," Gupta posted on Twitter.?"Why do stars not criticise their trashy films that have worked at the box office? Hit hai toh sab chalta hai (If it's a hit, then it's okay)," he added.
The film's makers are struggling to come to terms with the colossal flop that was Humshakals, with other actors involved (Esha Gupta, Bipasha Basu) also trashing it in their own way.
I'm curvy and I like it: Huma Qureshi
Bollywood actress Huma Qureshi walked the runway as a showstopper for designer duo Rimple and Harpreet Narula on the last day of the Shree Raj Mahal Jewellers India Couture Week 2014.
However, it was her admirable comments about women and body image that drew the most attention.
"Indian women are blessed with naturally beautiful curves and they should not feel embarrassed about it," she stated.
"It's not just actresses but even the normal girl constantly tries to fit into the particular idea of beauty. They face the entire pressure of marriage madness where everyone tries to look prettier and forget who they actually are," the voluptuous actress added when asked about the pressure of maintaining a certain type of figure. "I agree that one should be fit and take care of one's body as there is no excuse to be unfit. But I feel that Indian women are naturally blessed with beautiful curves. Be proud of your curves".
You go, girlfriend.
Huma also said that one should not try to modify their body just because someone else does not like the way you are.
"Don't be embarrassed about your body. Yes, as an actress, if I have to play a model or wear something where I need to be super toned, I would obviously love to work towards that but that is part of my job. But my real life is mine and this is how I look. So don't be apologetic about how you look".
The actress also recalled her childhood memories when she used to get bullied because of her body weight.
"I was quite a chubby kid so I used to get teased by schoolmates," said Huma.
Bet those bullies wouldn't have much to say now.
The Gangs of Wasseypur actress looked like a true diva when she strutted her stuff on the runway for Rimple and Harpreet in a dull gold lehanga with antique zari detailing and a tulle trail.
She complemented the look with minimal jewelry and hair completely out.
The designer duo presented a collection titled 'The Eternal Wanderlust' inspired by nomads and wanderers who used to abound in the Khyber Pakhtunkhwa in Pakistan, the Thar and Sahara deserts, ancient Persia and Syria.
They used hand-crafted textures created by intricate fabric manipulation and crocheting, monogrammed coins, weaves of delicate tulles and gossamer silks.
Huma shared her experience of runway modelling for the designer-duo. "I have done a shoot with them and I really like their bridal work. It's interesting to walk for them".
Finally, a celebrity we can actually call a role model. And more importantly, make us feel better about eating that last slice of cake.