Reading Time:
4
minutes
Minoti Apte is named NSW Woman of the Year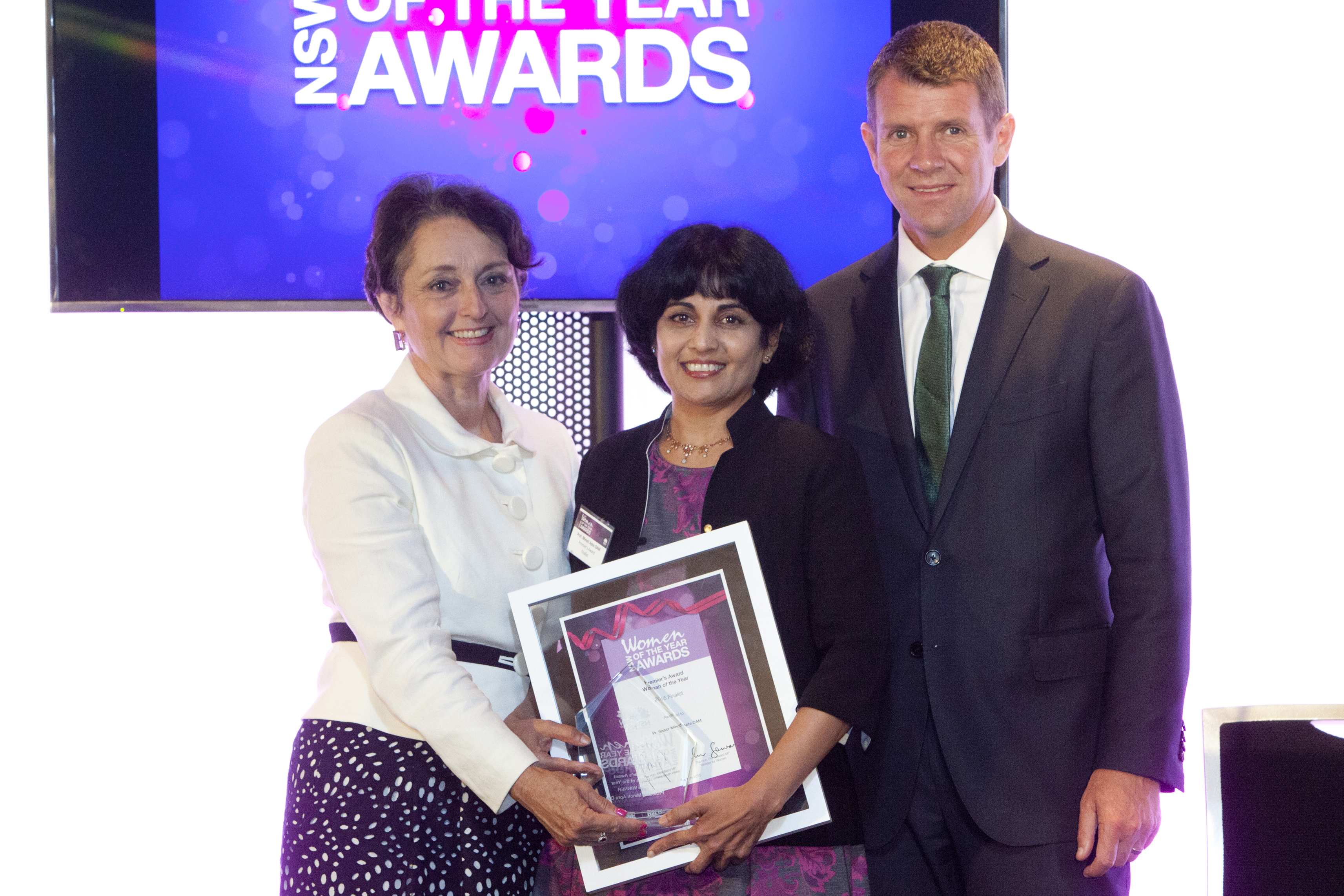 A leading researcher in the field of pancreatic cancers, Sydney's Prof. Minoti Apte OAM was named as the 2015 NSW Premier's Woman of the Year to mark International Women's Day.
Honouring her at a special reception at NSW Parliament House, the Premier of NSW Mike Baird said, "Professor Minoti is currently leading pre-clinical studies which aim to create a new combination therapy to improve pancreatic cancer treatment."
He added, "Professor Minoti is a highly respected researcher and member of the community, and her achievements inspire other women to follow in her footsteps."
She was bestowed the award by the Premier and the NSW Minister for Women Pru Goward after being chosen as the winner by a judging panel from a shortlist taken from public nominations.
In 2014 Prof. Apte was awarded the Order of Australia Medal for her service to medical research, tertiary education and the Indian community.
In her characteristically humble manner, Prof. Apte said she wasn't anticipating her latest honour, claiming instead that she was happy simply to be nominated amongst a list of distinguished women for the award this year.
"I'm pleased however that this brings recognition to the field of scientific research," she told Indian Link.
For nearly three decades now, alcohol-induced pancreatitis and pancreatic cancer, a highly aggressive form of cancer with high mortality-to-incidence ratio, have been the focus Dr Minoti Vivek Apte's research. So far, pancreatic cancer has defied traditional therapeutic approaches, spreading aggressively before visible symptoms appear.
Director of the Pancreatic Research Group at the South Western Sydney Clinical School, part of the Faculty of Medicine at the University of New South Wales and the Ingham Institute of Applied Medical Research, Prof. Apte was the first in the world to isolate and characterise the pancreatic stellate cell (PSC), the key cell responsible for producing scar tissue in the pancreas.
An internationally acknowledged researcher in the field of alcohol-induced pancreatic injury, she is particularly recognised as a pioneer in the field of pancreatic fibrogenesis. More recently, her work has established that close cross-talk between stellate cells and cancer cells is responsible for rapid progression of pancreatic cancer. These pioneering studies, have helped put Australian pancreatic research on the world map.
Prof. Apte has a very active service record at Faculty, University and Discipline levels. She is a founding member of the Australasian Pancreatic Club and Asian Oceanic Pancreatic Association. As past chair of the Faculty Higher Degree Committee and as post-graduate coordinator for the South Western Sydney Clinical School, Prof. Apte has mentored numerous medical and science students.
"Nurturing talent is a very important responsibility to preserve the future of medicine and research in our country," Prof. Apte acknowledged. "As medicine becomes more evidence-based, we have to engender strong research skills and critical thinking."
She added, "Research underpins everything you do in your everyday life. The pain-killer that you take for your headache, for instance, is a result of some 15-20 years of painstaking research!"
She also regularly engages with the research community worldwide through gastroenterological forums. In recognition of her significant contribution, she was recently made a Fellow of the American Gastroenterological Association (AGA).


Prof. Apte strayed into pancreatic studies quite by accident. An alumnus of BJ Medical College in Poona with an interest in ENT, she first arrived in Australia on a dependent spouse visa in the eighties.
"My visa did not permit me to work, so I volunteered in the Histopathology department at Newcastle University, where my husband was pursuing his doctorate in Chemical Engineering," she recalled.
She soon began researching alcoholism and liver disease, winning a Commonwealth scholarship for a Masters in Medical Science, and became one of the first graduates of the programme. She moved to Sydney and eventually found a job at the Prince of Wales Hospital.
In 1998, as part of her PhD thesis, she developed her world-first method for stellate cell isolation.
"We were the first in the world to show that a specific cell type in the pancreas helped pancreatic cancers grow," explained Prof. Apte. "Its unique feature is the huge amount of scar tissue. We proved that cancer cells recruited normal pancreatic stellate cells to help it grow and travel to distant parts of the body. Our ultimate aim is to develop new treatments that target the cross talk between the cells in pancreatic cancer so as to interrupt these growth-promoting pathways."
Before her research, nobody knew what the mechanisms behind scarring were.
"Scar tissue is found in pancreatitis and pancreatic cancer and plays an important role in the progression of both diseases," she explained.
Indeed, patients with chronic pancreatitis have a 15-fold higher risk of developing cancer than the normal population, according to Prof. Apte.
Unfortunately, alcoholism is now a major problem worldwide. "Drinking is no longer a stigma in Asian countries," she lamented. "Therefore, we have a responsibility to prevent alcohol-related disease through better education."
Prof. Apte is not only a great role model for women in science, she is in fact a passionate advocate for it as well.
"We need more women in science for their abilities in lateral thinking, their dexterity, their skills in multi-tasking," she noted. "And might I add, for the grace they bring to the work force!"
She agreed that there could be difficulties in the mid-career scene, with family commitments and so on, and advises that women must build supportive family structures around them.
Not one to rest on her academic laurels, Prof. Apte is heavily engaged in promoting Marathi culture and arts through the Marathi association MASI. Her passion for classical dance and choreography has led to an active involvement in event coordination and management, the highpoint being Durga Zali Gauri, a musical (dance-drama) with 120 participants.
Prof. Apte has found time in her busy schedule to fit in meditation and dance classes as well.
"I really enjoy them," she confessed. "Everyone needs a hobby, dance is mine!"