An interactive art installation gives everyone a chance to be a star with Bollywood's ultimate showman, writes PRIYADARSHINI CHIDAMBARANATHAN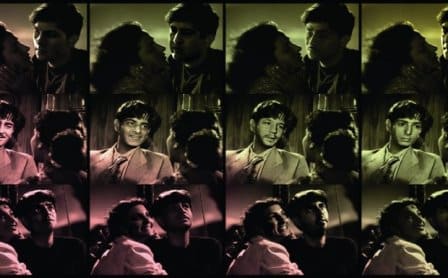 All of us have been guilty of putting ourselves in the position of the leading characters while watching a movie, taking on their struggles as though our own and rejoicing in their triumphs. Visitors to the recently concluded Perth Festival got to put themselves in the place of Raj Kapoor and his leading ladies, through My Name is Raj, a distinctive installation by artist Srinivas Krishna.
This was art at its interactive best. An old shop front on Beaufort Street in the heart of Perth was transformed into a magical homage to Raj Kapoor. One wall was lined with carefully mounted photographs from a bygone era, studio portraits of people in different guises. In the days before cameras were a part of every household, this is what people did. They photographed themselves strolling through beautiful gardens, leaning majestically on pillars, driving cars or even dressed as doctors or lawyers. Most of us have pictures of parents, grandparents or even ourselves in settings like these.
The aspirational quality of these photographs was carried forward into the realm of films through My Name is Raj, which gave people starring roles in iconic scenes from Kapoor's films.  Visitors could have their picture taken in a makeshift studio, and then watch as their photographs were manipulated and transformed into characters in the movie that was played on a screen outsid
e. They could also take home a photograph of themselves thus transformed.
Originally commissioned by Luminato and the Toronto International Film Festival, the installation travelled to Perth for the Perth International Arts Festival held from 18 Feb to 2 March.
Festival Artistic Director Jonathan Holloway praised the installation, saying "Srinivas Krishna brings a filmmaker's eye and a visual artist's sensibility to the celebration of 100 years of Bollywood films. Putting you right at the centre of the work – this is 15 minutes of fame that feels like it predates Andy Warhol".
Srinivas Krishna is an award winning film director and artist based in Canada. His first film Masala debuted to critical acclaim in 1993 at the Toronto and Sundance Film Festivals. It was voted among the Best South Asian Films of the 20th century by the British Film Institute in 2002. Since then he has produced and directed a number of films that have been critical successes. His first feature documentary as writer-director, Ganesh, Boy Wonder premiered in the Official Selection of Hot Docs, the Canadian International Documentary Festival, to standing ovations.
In 2008, he created When The Gods Came Down To Earth, a large-scale public video installation in Federation Square, Melbourne, where he recreated classic images of Hindu gods and goddesses using dancers and special effects.
While describing My Name is Raj, he states "… the installation is about – what does it mean to perform? (These days) when we take someone's picture we try and capture them unawares. A candid picture that we feel captures their authentic, unguarded identity. In those days, you would go to a photo studio and pose. Not just pose but put on a costume… there would be a painted backdrop and you would really create a kind of persona that you would present to your public".
The work proved very popular with the festival audience in Perth. The director said, "What's not to love? You get to become part of the art and take it away with you."
The India connection at this year's Perth festival was not limited to Raj Kapoor though. The glamorous Bollywood dancer and actress Isha Sharvani, a Perth girl herself, dazzled audiences in Shiva Shakti, a performance blending contemporary and classical Indian dance by her mother's Daksha Sheth Dance Company.
There was also British journalist and author, Anne de Courcy discussing her historical book The Fishing Fleet, which tells the story of hundreds young British women who went to India during the Raj period in search of husbands.