You might have seen SRK wowing the audience and the media at the press conference yesterday, to kick off the Indian Film Festival of Melbourne 2019. In its 10th year, the festival, which will began yesterday and runs until 17 August, has become more popular and prestigious than ever before. We're still getting used to the idea that Shah Rukh 'King' Khan is the chief guest and will be at the festival in flesh and bone. What else is on the agenda? Here are the Top 10 things to look forward to at the 10th anniversary of IFFM this year.

10. The venue: Besides Hoyts Chadstone and Highpoint, movies from this year's Festival will be held at the newly-built, super trendy Hoyts District Docklands, a brand spanking new 8-screen Hoyts cinema situated in the Docklands precinct, opposite the Melbourne Star Ferris wheel. With features like recliners, Xtremescreen theatres (and a Ben & Jerry's!), this venue will ensure your movie-watching experience is lit.
9. The festival's theme: This year's theme is Courage. The movies you'll see, the people you'll hear and the events that will unfold, will all demonstrate the theme in some form.
SRK has already stated he's very pleased with the theme; according to him, courage is an emotion that resonates with storytellers who really have the might to change the society and the world.
In keeping with the theme, IFFM will close with a screening of Gurinder Chadha's ground-breaking film Blinded By The Light on 17 August at 7 pm. The movie is inspired by the life of journalist Sarfraz Manzoor and his love for Bruce Springsteen songs.
8. Celebrity flag-hoisting: This year, the honour goes to Karan Johar, who will be the one hoisting the Indian tricolour at Federation Square on 10 August.
7. Celeb spotting: The litany of celeb guests gracing the IFFM scenes include Johar, Zoya Akhtar, Arjun Kapoor, Malaika Arora, Tamil actress Gayathrie Shankar, Vijay Sethupathi, Thiagarajan Kumararaja, singer Amaal Mallik and the reigning Miss Universe Australia Priya Serrao.
Malaika Arora returns with (cue Bollywood gossip) beau Arjun Kapoor to judge the Telstra Bollywood Dance Competition with Gayathrie Shankar and Priya Serrao. Amaal Mallik is set to preform at awards night.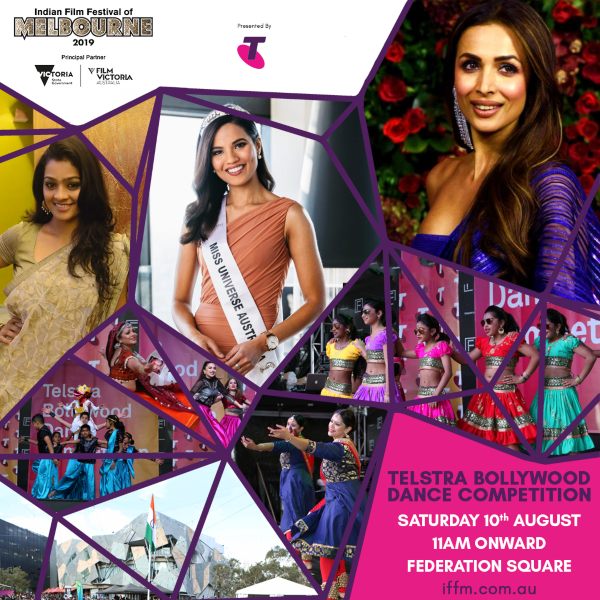 6. Tabu's debut: The ever elegant and talented Tabu (also a Best Actress nominee for Andhadhun) will attend the Festival for the first time.
7. IFFM Chats: If you've ever wanted to ask questions to some of your favourite actors and filmmakers, this is your opportunity! Hosted by Rajeev Masand, IFFM Chats will give you a chance to be up close and personal with the stars – ask questions to Karan Johar about the 20th anniversary of Kuch Kuch Hota Hain or raise your hand at a panel discussing the Future of Cinema with Arjun Kapoor, Sujoy Ghosh, Onir and others. Tickets are on sale on the IFFM website.
6. Melbourne Symphony Orchestra: For the first time ever, the incredible Melbourne Symphony Orchestra (MSO) will perform live at IFFM's awards night, providing the perfect soundtrack to celebrating the best of Indian Cinema.
5. Bulbul Can Sing on the big screen: Assamese National-award winning filmmaker Rima Das' Bulbul Can Sing is the opening film at the Festival this year.
Interestingly, the opening night session for Das' coming-of-age drama sold out real quick, prompting IFFM authorities to organise another screening session by popular demand.
4. Dr Shah Rukh Khan: SRK will be conferred an honorary degree by La Trobe University today (9 August) at 1 pm. Be there in person, if you can. If not, you can watch the live stream here.
3. The competition: All those movies. All those actors and actresses. A handful of very important awards. The celeb quotient in the awards category is legit – Amitabh Bachchan, Tabu, Alia Bhatt, Rituparna Sengupta, Ranveer Singh – and so are the movies and performances they (and all the others) are nominated for. Good times to be a movie lover!
2.  #IFFMHero: Films are about heroes and villains, but real heroics are simple choices that enrich lives. At the IFFM this year, you can take a photo or a video of you doing something, anything, good, and tweet or share with the hashtag #IFFMHero on IFFM's social media channels (Facebook, Instagram, Twitter).
How can you be a hero? It could be anything simple, such as cooking a meal for your grandparents or coaching a local kids sports team. Go on, bring out the SRK in you!
1. Shah Rukh Khan in person: Let's face it, nothing's bigger than seeing King Khan in person. Premier Daniel Andrews has said that, with SRK topping the Festival guest list, IFFM 2019 might just be the biggest and most exciting festival yet. We concur.

Festival Director Mitu Bhowmick Lange and her team have done an incredible job planning and organising everything for IFFM for months, including several trips to India to acquire/invite guests, brainstorming sessions to improve the Festival from previous years and handling the ever-increasing popularity of IFFM with care (there have been requests to interview SRK from over 150 media outlets in Australia and elsewhere).
Can't wait!